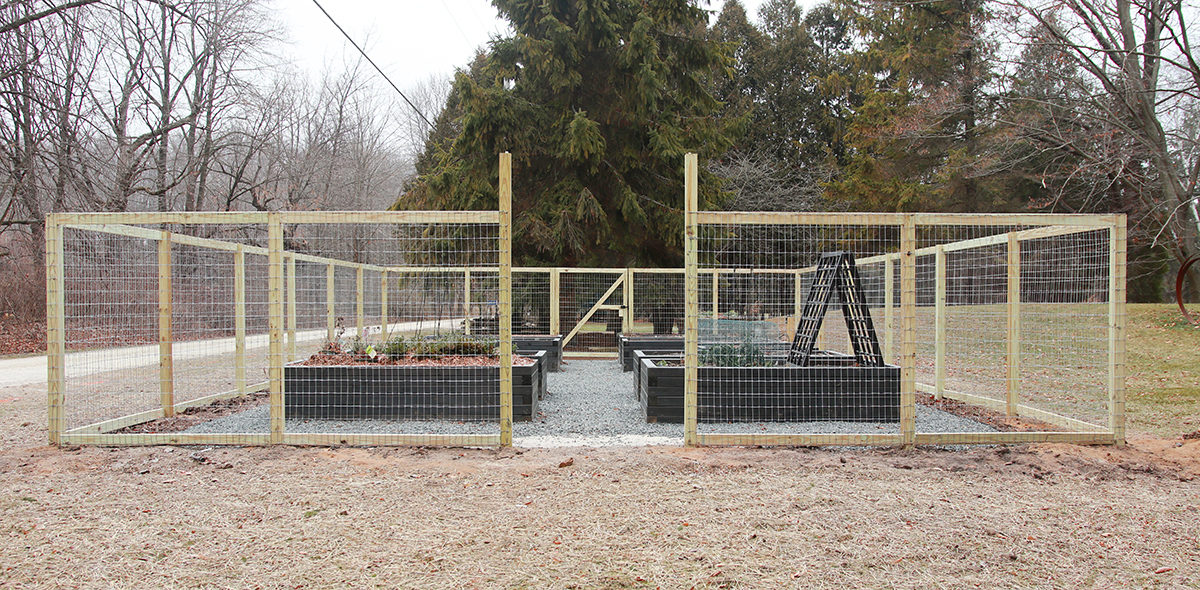 If you had told me last March when I wrote on this blog about my rather grand plan for a new vegetable garden that I would still be updating you on it nine months later, well, I probably wouldn't have done it.
Suffice to say, I had no idea what a big project I was dreaming up. But progress on the vegetable garden continues.
A few weeks ago we had a fence installed. Its main purpose is to protect those precious vegetables and fruit from the marauding gang of deer in the neighborhood, but it turns out it has other benefits too.
I just didn't recognize it until I walked inside my newly fenced garden. 
Enclosing a space is always a funny thing. You assume it's going to make a space feel smaller, but it almost always has the opposite effect. I noticed this same phenomenon when we were renovating the house and the drywall went up.
It's a good lesson: boundaries that define spaces can help make those spaces feel larger rather than smaller. 
When I walked around in the fenced-in garden I was delighted at how the space felt bigger, but also somehow more private, which is a little silly because especially now, with nothing growing, it's just as open as it was.
Lest anyone thing this very long project is really finished, allow me to just briefly share what else is planned.
First of all, I'll be staining the supports—posts and top and bottom panel supports—as soon as possible. I'm leaning toward black, but I could be persuaded to do gray if collectively we think there's too much black happening. Weigh in in the comments, please!
I am also considering cladding the posts so you can't see the metal panels stapled on the outside and to make it look a little more finished. Speaking of the metal panels, it's not really panels. I think it was just welded wire on a big roll. I specified 4-inch square holes in the welded wire and was surprised to find 2-inch by 4-inch holes instead. For a moment I thought about asking them to change it (and brought it up seeking comment on Instagram) but dropped it because it has the added benefit of keeping more smaller critters out and, well, it was finished. It just didn't seem like a battle worth fighting.
A decorative gate is planned for the main entrance, and we'll be building (very soon, I hope) a simple arbor for over that gate and I'll be planting climbing roses there. 
And then there is in-ground fruit growing area. Espalier apples and pears are planned, but I also would like small raspberry bushes, espalier currants (more on this later), strawberries and more in those skinny beds on the sides. And along the back (the north end), I would like to plant an espalier Belgian fence, although I don't know if that will happen this year.
And of course there is the center focal point to be determined. In terms of daydreaming, this project just keeps delivering. Stay tuned!
More on the vegetable garden: