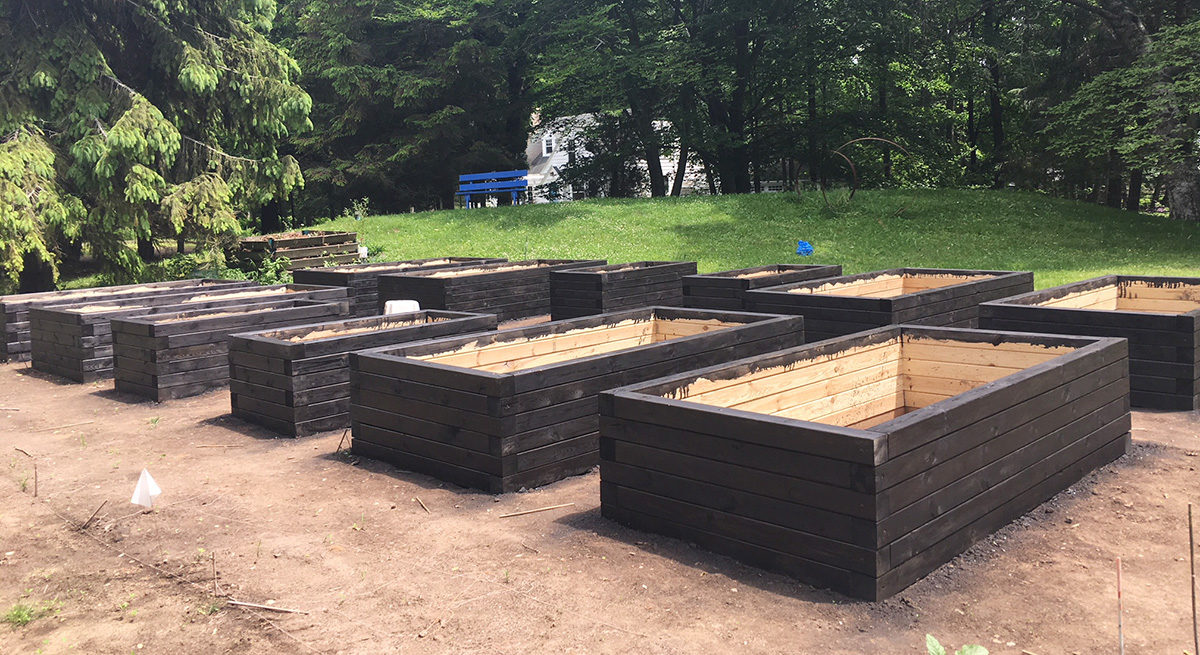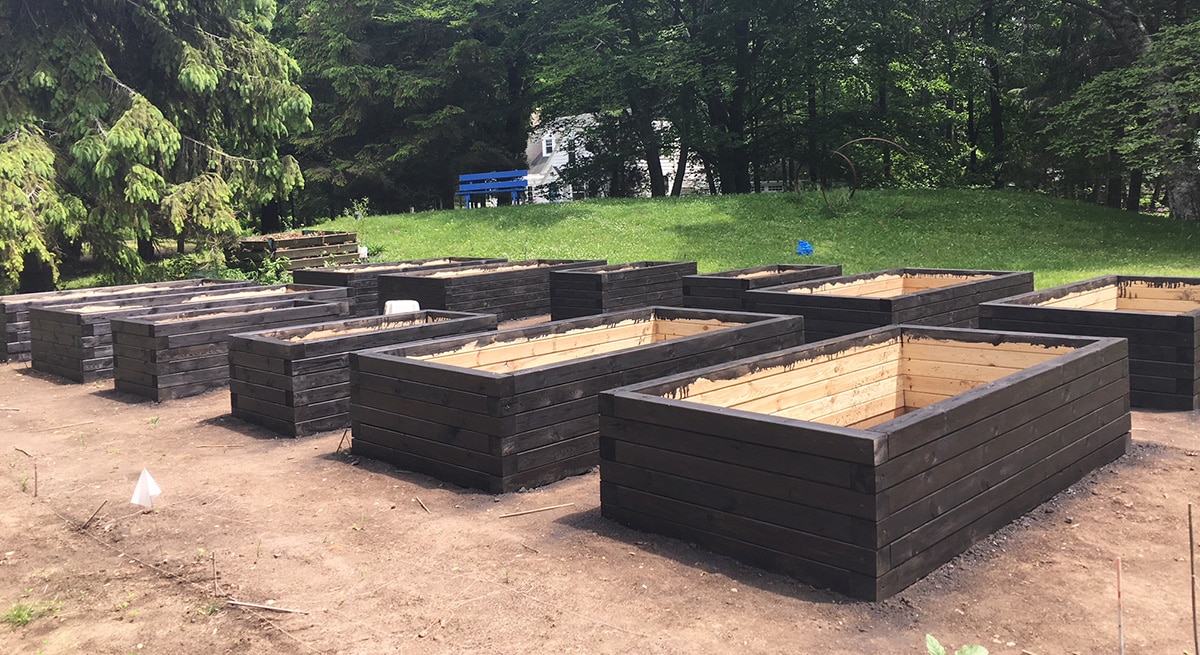 Here's my philosophy on vegetable gardening: I'm more interested in growing interesting and delicious food than I am in getting very high yields or never having to deal with a bug. In other words, organic is important to me. As you know, I'm all about encouraging people to do what they want in their own gardens, but for me, organic is the way to go. 
And that's why the decision about what material to use to construct my raised beds was important to me. If I'm going to go to the "trouble" (although honestly, since I've never grown vegetables any way other than organic it doesn't seem like trouble, it just seems like how you do it) of growing my own organic food, I don't want some creepy chemical leaching into my soil. And that's why I chose to use cedar and untreated pine to construct the garden beds. Obviously using all cedar (or redwood) would have been optimal, that would have tripled the cost of building the beds, so we only used cedar for the first course where there would be ground contact. I also opted against using pressure-treated wood, even though it is said to be safe to use in such an application.
We built our first raised garden bed out of untreated pine with cedar posts and did nothing to protect the pine. It succumbed to very bad rot after eight years. I'd like to get more time out of these beds. 
There aren't a lot of treatment options available that meet my food-safe requirements. Raw linseed oil is one (but not boiled, which contains solvents to help it dry quicker). The problem with raw linseed oil is that it is very slow to dry and it's difficult to find information on how effective it is. 
I had almost given up hope on finding something until I came across a company called Timber Pro UV in Portland, Oregon. This family-owned company has been making "green" wood coatings that don't rely on petroleum oil derivatives since 1996. I was most interested in their Internal Wood Stabilizer, which is said to be safe for use in many applications including garden beds and chicken coops. Here's how it works, according to their website: "IWS absorbs and a chemical reaction occurs when it combines with the free alkali that exists naturally in wood.A waterproof gel forms deep within the pores. The gel hardens to hard silicate-like glass crystals which remain permanently imbedded deep within the wood which becomes so dense it can absorb little to no water. IWS does not wear off, never needs re-applicationand does not attract dirt and spores."
I don't pretend to fully understand all that, but the reviews I've seen online seemed positive. And then I called the company and talked with one of the owners for about 45 minutes! I asked tough questions, she provided great answers and the product's safety data sheet reinforces the information. Timber Pro also very nicely offered to send me some to try.
The product is very thin, with a waterlike consistency. I used a brush to apply two coats (with drying time in between) on the bottoms of the cedar layer, the side that would be touching the ground. Then, after the beds were built, I did two coats on the insides. The best method of application was a pump sprayer, which allowed the wood stabilizer to get in the cracks between 4-by-4s. The wood stabilizer, however, will not allow anything to penetrate the wood once it's dry, so I had to tape off a lip on the top board so that I could go back later and stain that. 
When I removed the tape after two coats, the wood was a different color, so it was easy to see where I had treated it and where I hadn't. And that's all there was to applying it. I was really thankful for one very quick step in this drawn-out process of creating these gardens. One three-gallon bucket covered everything in two coats exactly.
Unfortunately, that's all I can tell you about it, because the proof of this product's effectiveness won't really be known for several years. I have great hopes for it. Check back in eight years for an update! 
After the beds were treated with the wood stabilizer, I turned to the exterior of the beds. Although I like the silvery look of aged wood, I thought black stain would be really sharp. For this I used Timber Pro's Deck & Fence Formula, which is a waterborne, plant oil-based (not petroleum oil-based) semi-transparent stain, in Ebony. After doing two beds with a brush, I realized it was going to take a long time and I felt like I was using a lot of stain, so I revisited the directions. Funny what you find when you actually pay attention to the direction! Turns out that the pressure sprayer was also listed as an option for applying the stain. Once I got that dialed in, spraying one side then immediately back-brushing, things went quickly. After one coat it was quite transparent and looking a little greenish gray when it dried, but after the second coat it was a deep black that still allowed the wood grain to come through. Exactly what I was looking for.
All of the usual prep to staining is required for both the staining process and the internal wood stabilizer application. The wood had to be clean (I just dusted off the sides with a brush since this was all new wood) and, most importantly free of mill glaze. You know how when you get some wood it's sort of shiny? Turns out that's from the resins in wood melting against the heat of a saw blade and it can prevent products from penetrating the wood. We got great wood from the local lumber supplier and it was almost all free of mill glaze so very little sanding was required. Win for me!
So that's the process we followed to treat the garden beds inside and out. It was by far the simplest part of this whole garden experience so far and the black stain on the exterior makes me happy. It's what I had envisioned two years ago when I first started thinking about this project. And better yet, with the inside sealed and the outside stained, it's time to fill these garden beds with soil.
Catch up with how we got to this point. Here's the garden plan and parts 1 and 2 of construction.