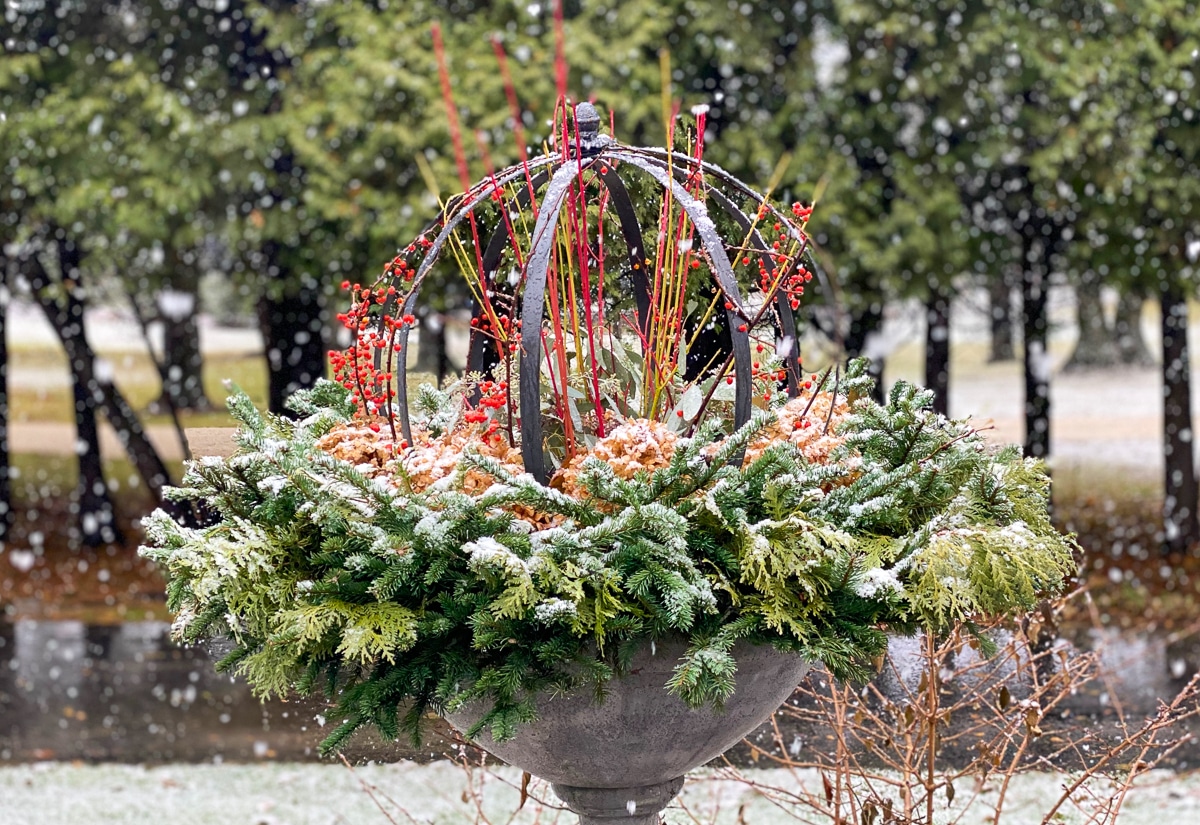 In what has become something akin to a tradition around here, we're just days away from Christmas and the outside of my house is fully decorated (at least as fully decorated as anything gets around here), and the inside has a long way to go. 
I'll be honest, I have a lot more fun doing outdoor holiday containers than decorating a Christmas tree. This is undoubtedly why I have no problem walking by a bare Christmas tree in my living room multiple times a day without losing my mind. 
Fortunately the weather cooperated as much as it can in Wisconsin at this time of year. After an unseasonably cold November with a fair amount of snow, December was warmer than usual and dry. Perfect conditions for making holiday containers. 
I did a mix of more complicated designs and very, very simple designs this year. I'd like to tell you that I did that because I thought they balanced out the overall picture, but I'll be honest: at some point I just needed to get them finished up, so the simple containers had the great advantage of being quick and dirty.
What I discovered was that the amount of time and money you spend on a winter container is not necessarily relative to the amount of enjoyment they bring. It's a good lesson. I mean, don't get me wrong, you know I'm always to go just a little bit too far on some containers, but now I know I'm doing it because I enjoy the process, not because I think I have to in order to have a beautiful container.
But why don't you be the judge? Here's a peek at some of my outdoor containers and holiday decor this year.
CENTER GARDEN URN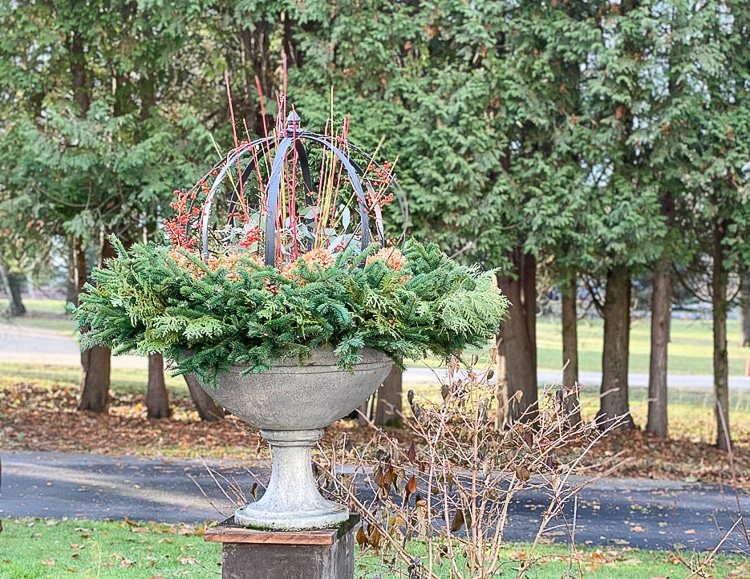 This pot just begs for a tutu skirt, doesn't it? I felt compelled to go full Sugarplum Fairy outfit on this, so I started with short, firm evergreen branches sticking straight out, and filled in with cedar from the trees that line the driveway.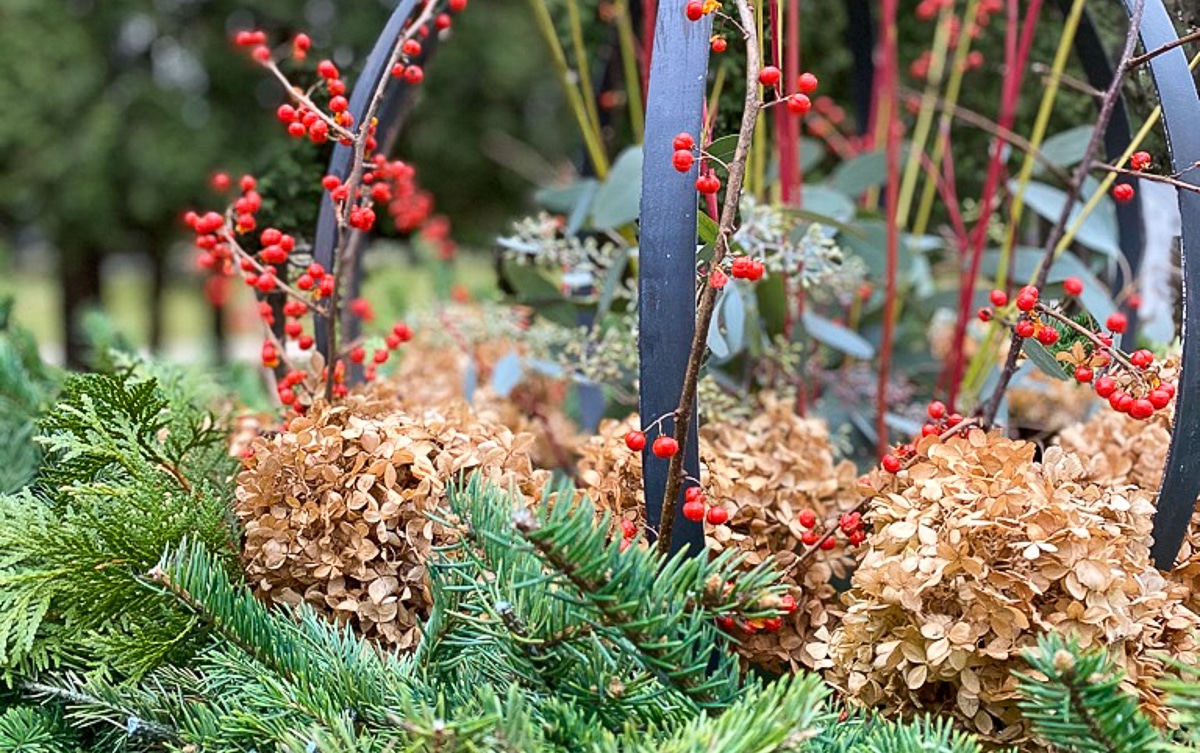 From there, I used a great orb (sphere?) in the center and filled with red and yellow twig dogwood, seeded eucalyptus and wrapped some bittersweet harvested from the side of the road not far from the house around the structure. It felt like it was missing someone so I put some dried hydrangeas  in to add a little more dimension.
A light snowfall was the perfect finishing touch.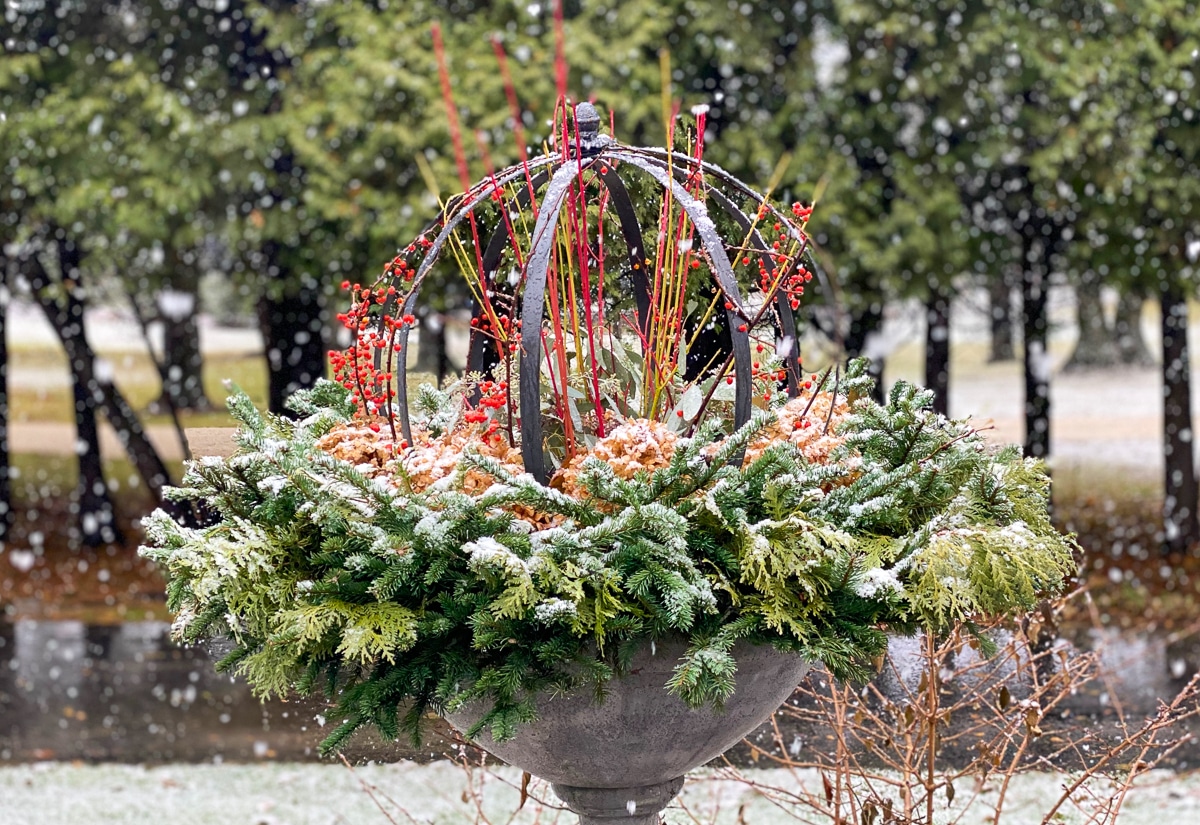 TALL POT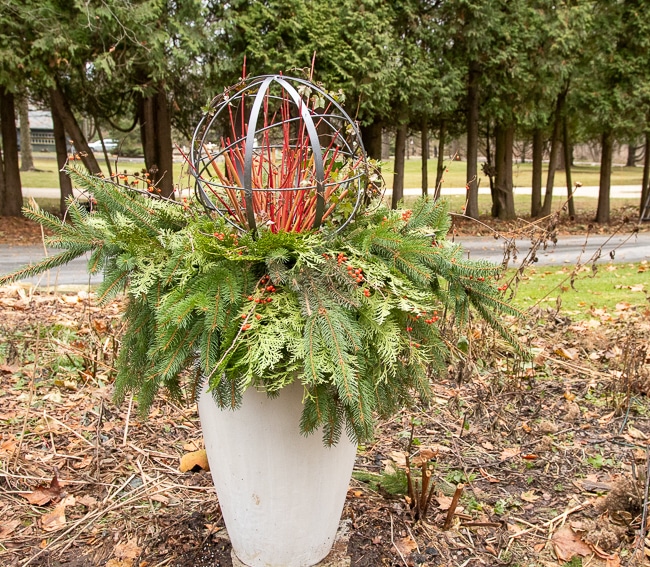 I don't love this container. I found it on sale in midsummer and it filled a spot, but it doesn't really go well with the garden. But I did love the idea of having another area in the middle of the garden to add a little winter color.
I used a sphere I had kicking around, spruce tips from a tree in our yard, a bit more bittersweet and lots of dogwood in the center. The dogwood looks a little bit like it has been imprisoned. Wonder what it did to deserve that?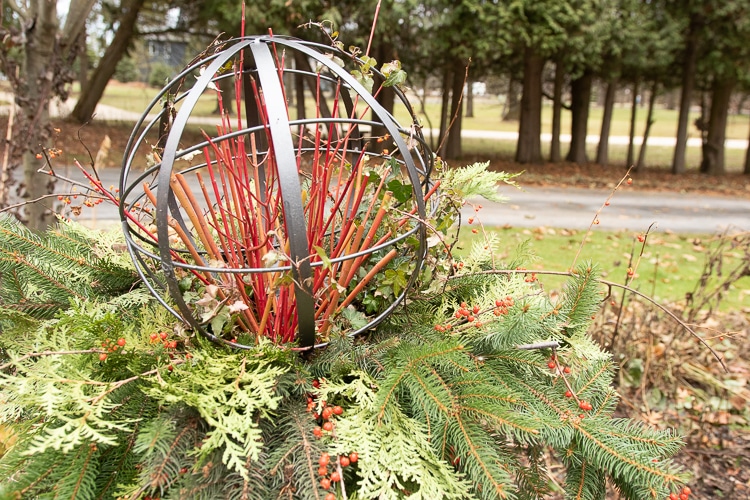 FRONT DOOR CONTAINER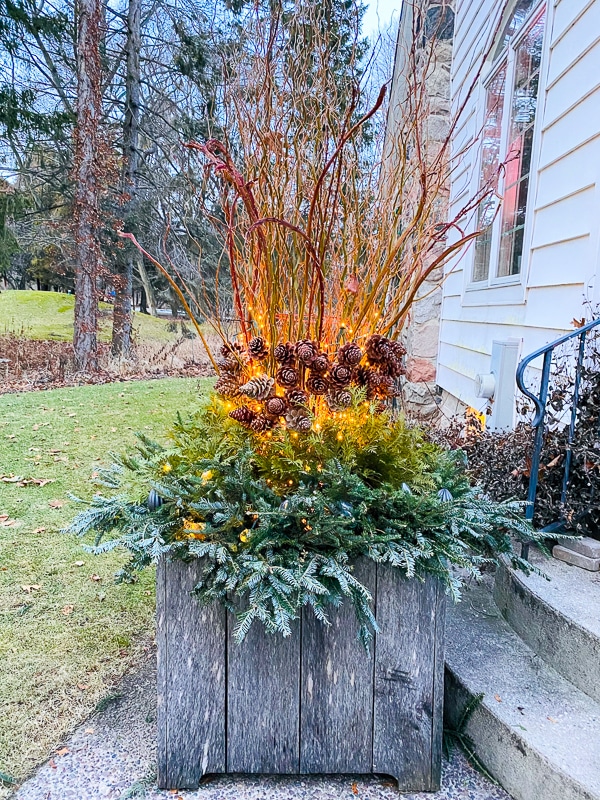 Here's where things got a little involved. This year I sprung for a variety of branches from Blue Sky Flower Farm and I really wanted to show off the curly and fantail willow I bought. The idea was to make it look like I had a huge bunch of branches in the center, without actually having a huge bunch. I took a note from a method used by Deborah Silver and attached branches to a tomato cage, then lit the inside to create that beautiful lit-from-within glow. 
Then I bleached pine cones and individually wired on pine cones and finished the bottom with fir and cedar, and of course more lights. I could have used more branches and more pine cones (don't look at this one from the back), but all of it is reusable, so if I decide to do a similar design in future years, I can add more.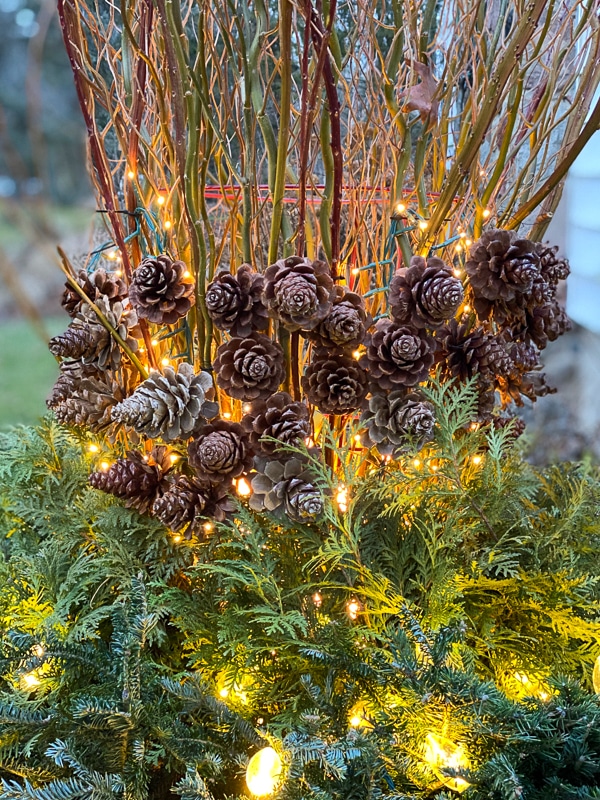 Because the front door is set at the top of several steps, this container always needs something bold and big in order to feel in scale to the door. I think this design accomplished that.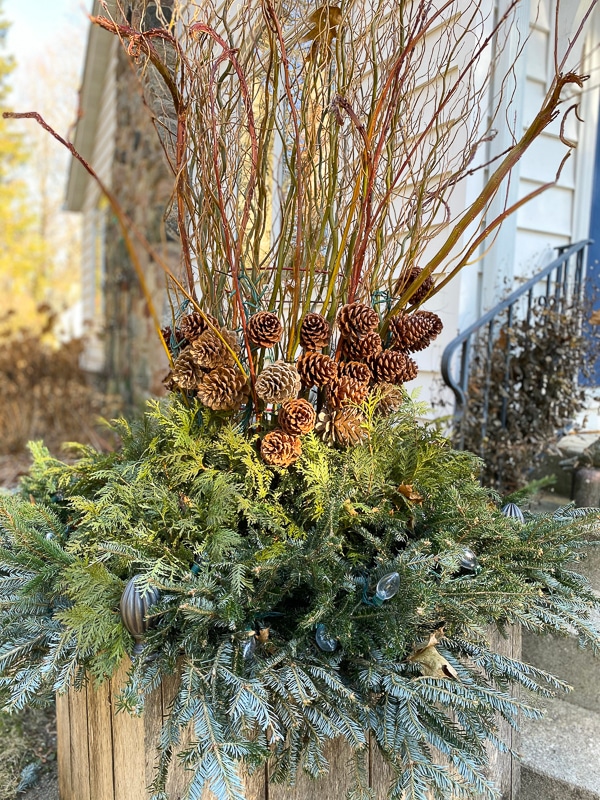 WINDOW BOX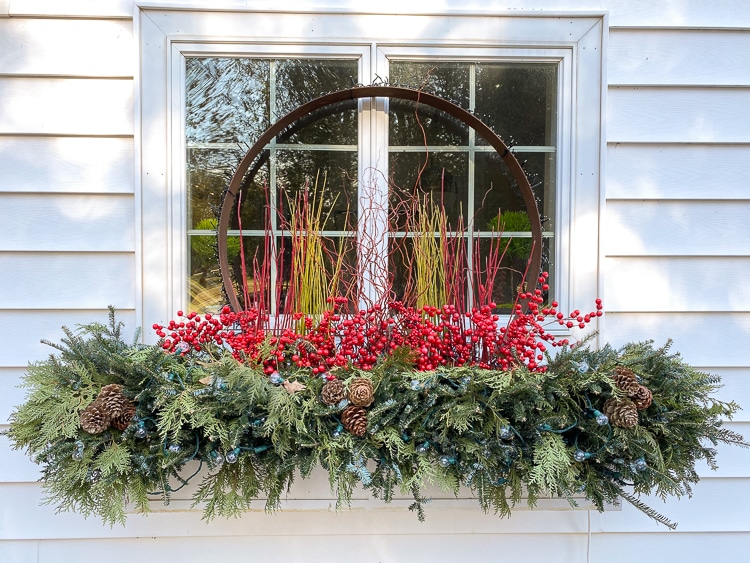 You know how I love a good window box display, so I tend to go all out here no matter what the season. For the holidays, it always starts with the lighted ring. I've used this for several years now and love it enough to repeat it year after year. 
I used more yellow and red twig dogwood as well as some curly willow tips in the center of the ring and I liked the combination of materials. That yellow twig dogwood is really stunning and I'd like to use more of it in the future. Faux berries add a big splash of color.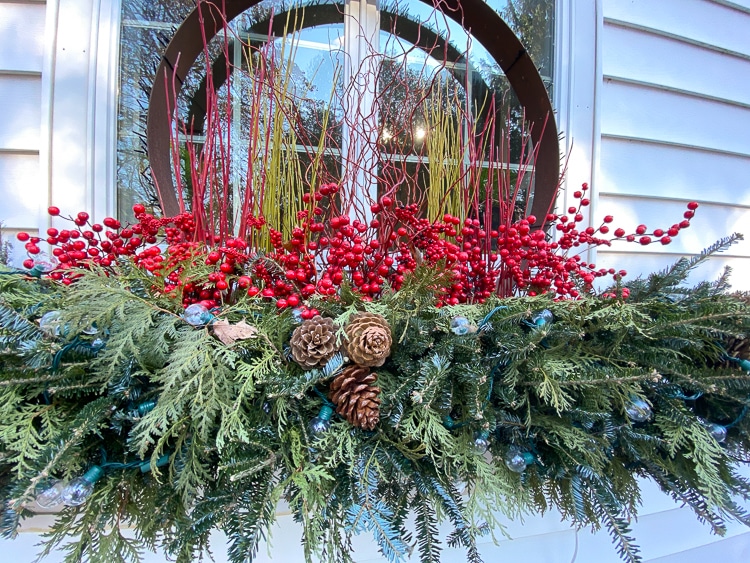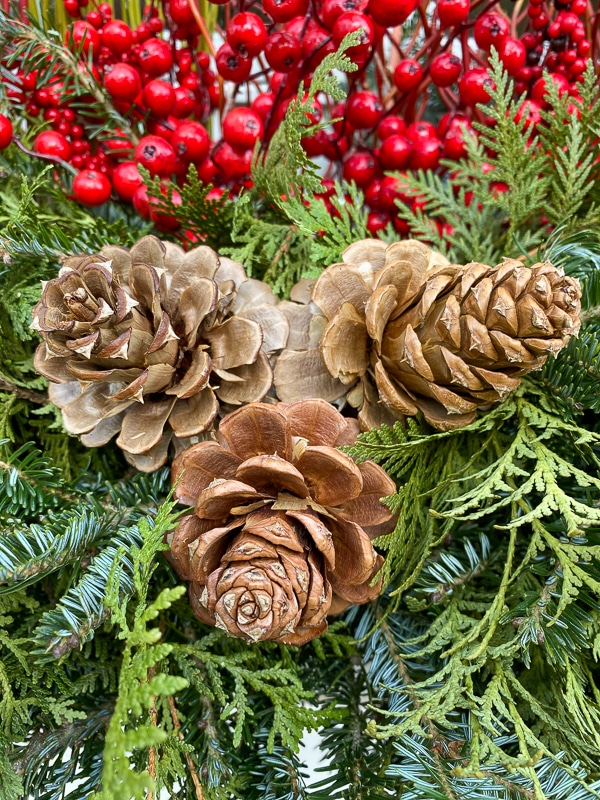 As with the other containers, I filled in with fir and cedar and then a few clusters of bleached pine cones. Light always plays a big role in this containers, so in addition to the LED lights around the ring, I also dotted some bigger lights through the greens and put a string of lights at the base of the branches to help create uplighting that is best appreciated from inside.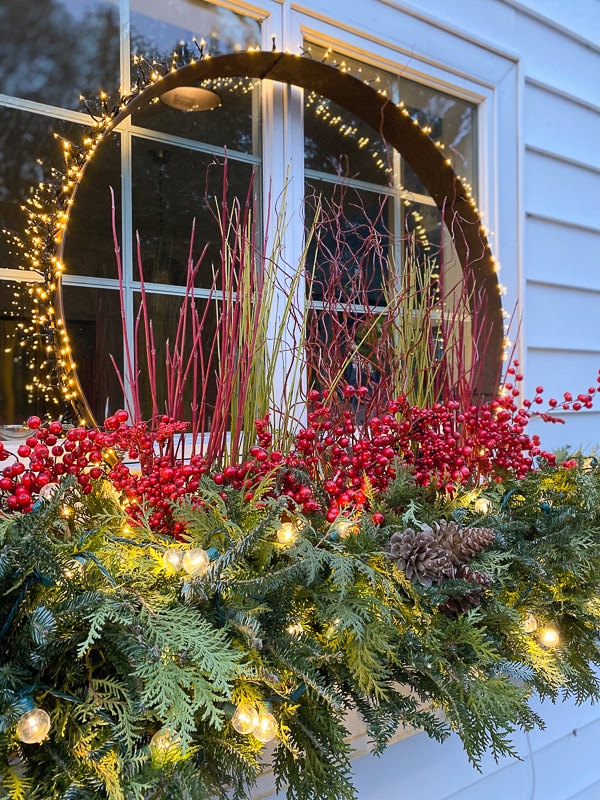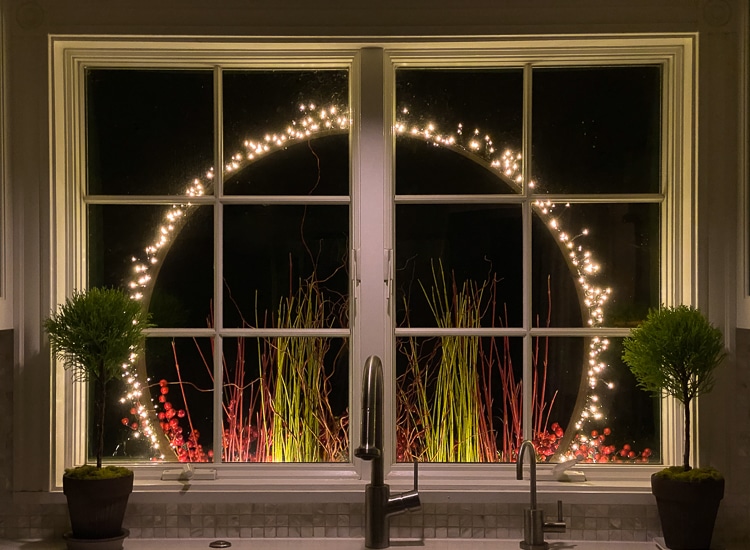 OTHER CONTAINERS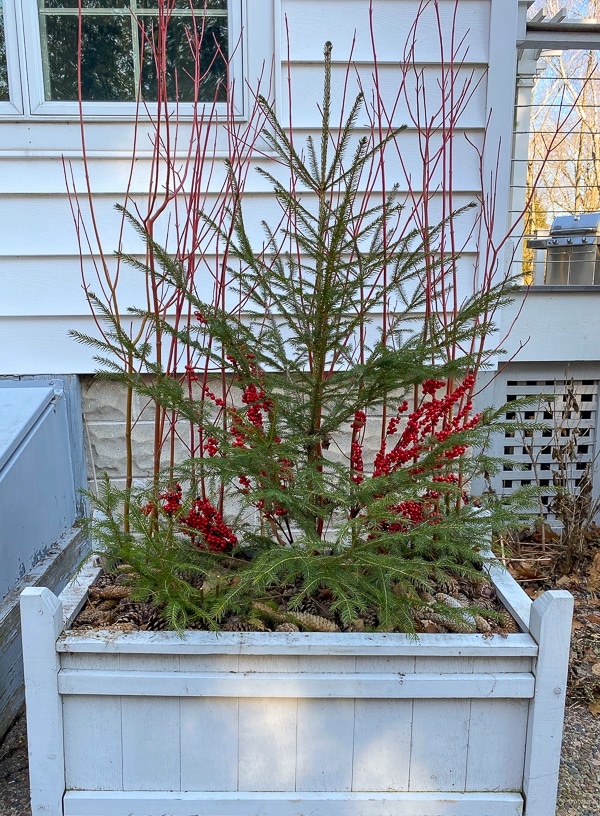 By the time I got to this point, I was craving something a bit simpler, so for both the planter by the back door and the trough by the garage, I just used spruce tops and seedlings from our woods, the rest of the dogwood, a few faux berries and, for the garage container, some birch branches.
I topped the bare soil with pine cones to make it look nicer, although this touch seems to be appreciated only by the red squirrels, who have found a new winter stash.
I always do very simple garland on the garage, which is in keeping with the "theme" in the nearby container.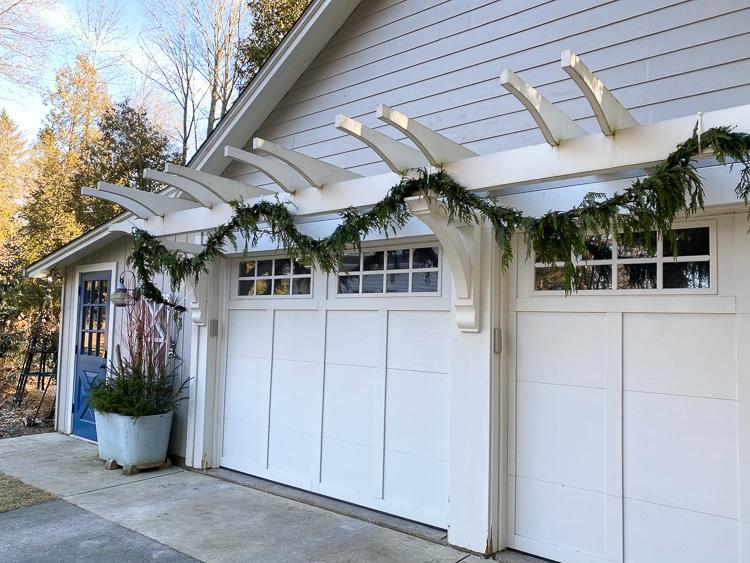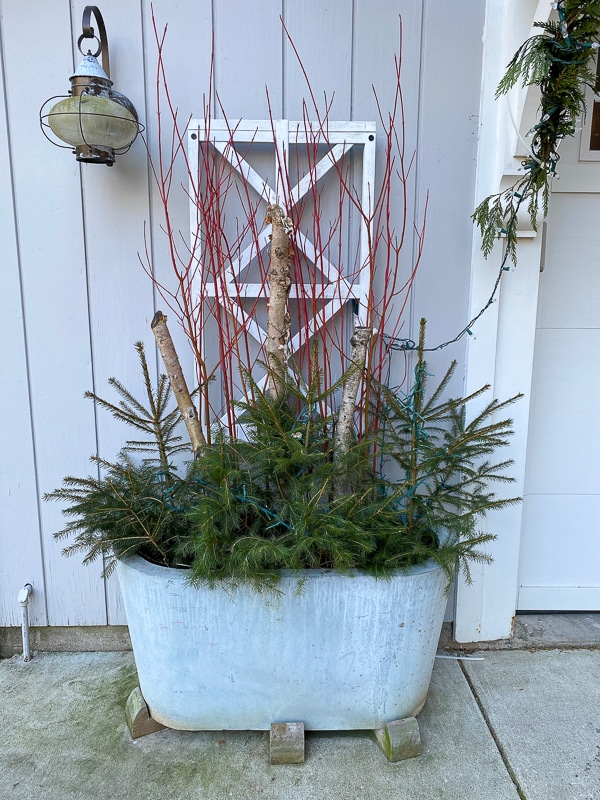 VEGETABLE GARDEN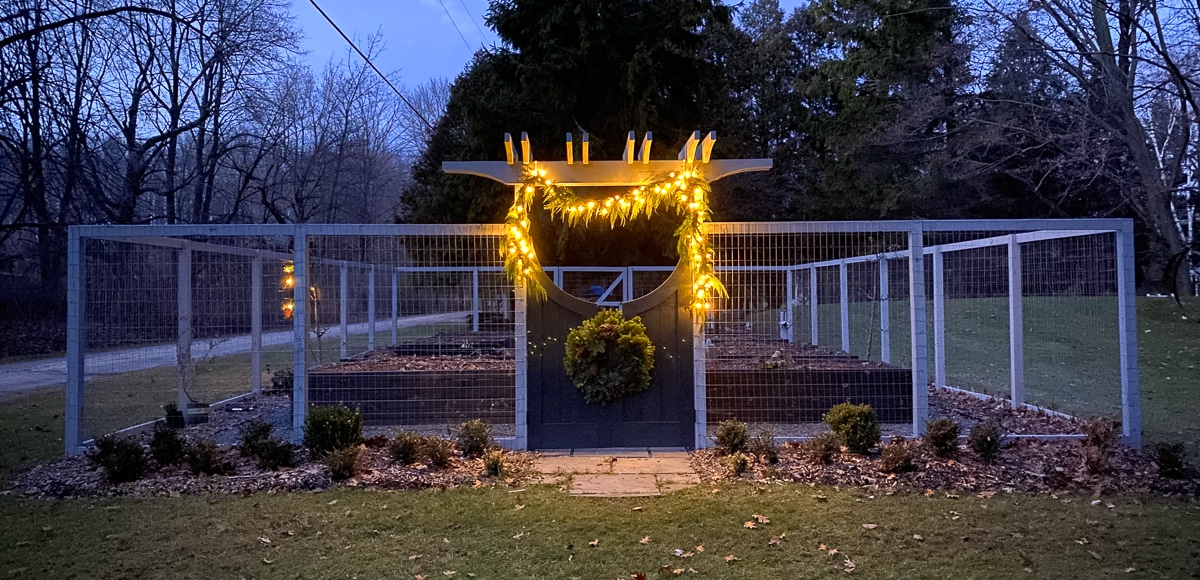 I couldn't resist adding a little holiday cheer to the vegetable garden, so I just added a simple garland and a purchased wreath to the entrance. A lit wreath on the side of the garden that faces the road is a little surprise for the neighbors. 
I love these little touches so much, and it is making me appreciated the vegetable garden even at this time of year.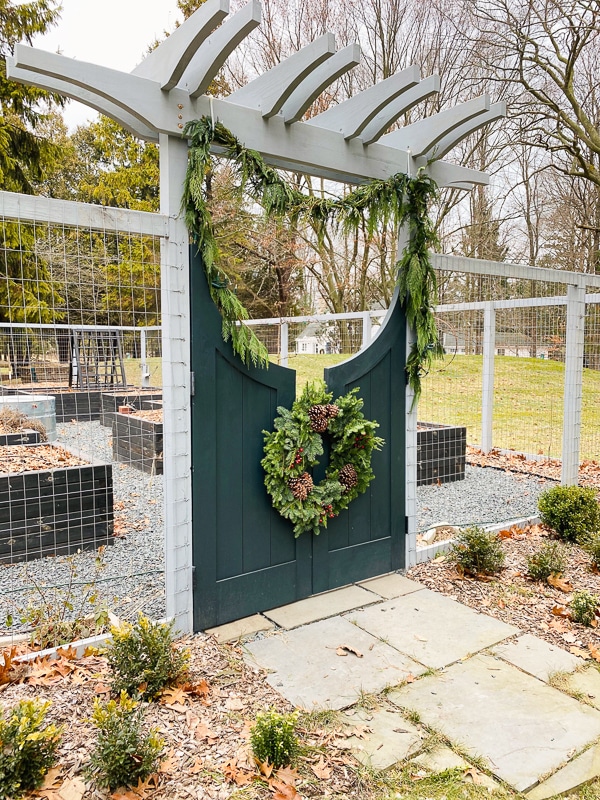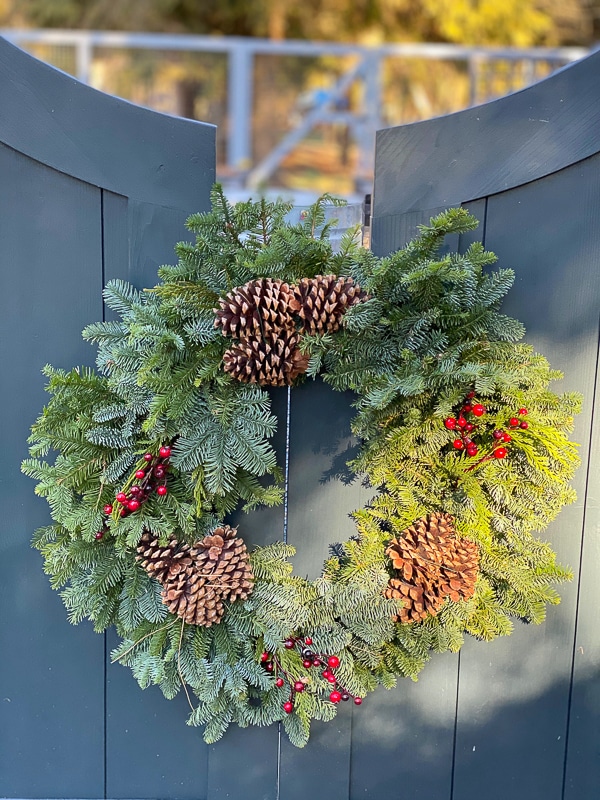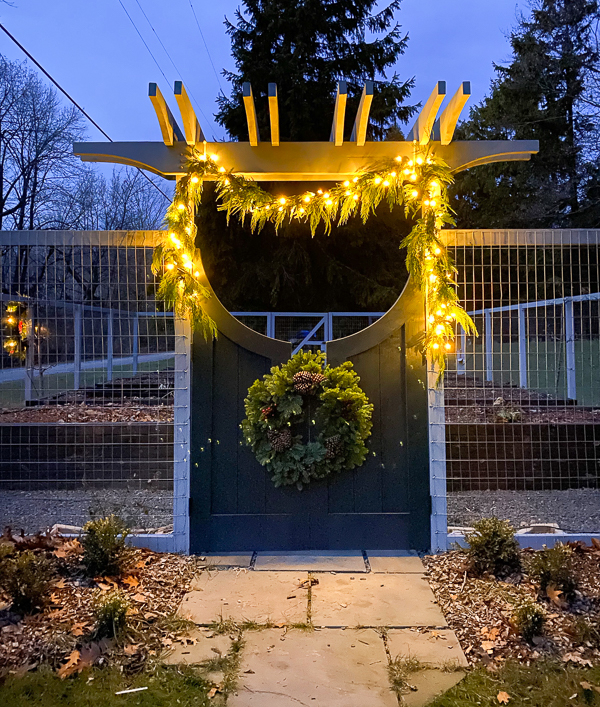 You can watch how some of these containers came together in a couple videos I made. Watch them here or on YouTube. 
You can also see some of the winter containers I've done in the past here, here, here, here, or just by searching "winter containers" in the search bar.