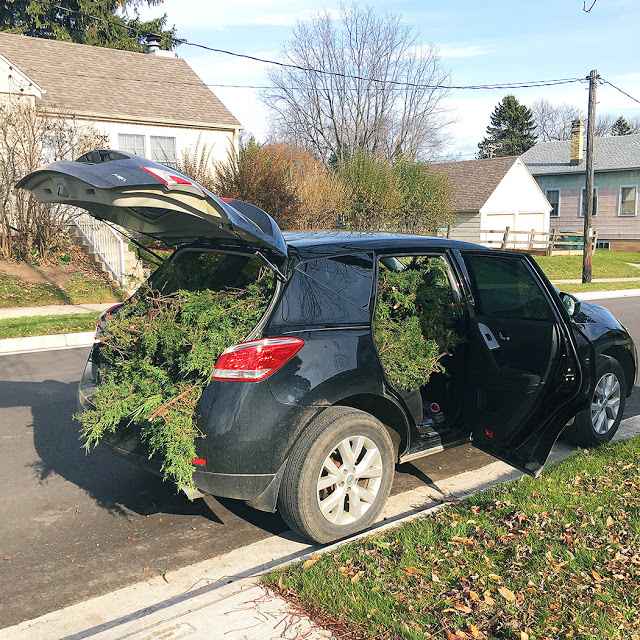 One of my favorite projects to do this time of year is decorate outside with winter containers. In the past I've used a combination of found and purchased materials. I always cut my own red twig dogwood because the even though the dogwood you can buy is brighter, straighter and, by all accounts, prettier, it's also incredibly expensive. I also usually find greens as well, be it from trees in the yard or by raiding the cart full of branches cut from trees at Home Depot, which are free for the taking, but I occasionally supplement that stash with fancy evergreens purchased in bundles.
In the past, though, I've purchase a lot of other elements of the outdoor containers. I bought birch branches a few years ago that I save from year to year. I have also bought huge bundles of beautiful eucalyptus which really do make for stunning displays. I've purchases giant pinecones and faux berries, all of which I've saved. I'll be honest, buying some materials helps make really stunning displays and it is certainly easier and less time consuming than foraging for materials
This year, though, I'm not going to spend a penny on outdoor containers. I'm looking at it as a challenge. I'll allow myself to use items I've saved from year to year, but I'm not going to spend any money on anything that goes in the containers.
I spent a good amount of time over the weekend collecting materials, probably about four hours. My grandma's house has foundation plantings (perhaps come kind of arborvitae) that have gone nuts, so I spent a lot of time pruning the worst of them. That netted a lot of material for containers and a fair amount of dead wood to be disposed of. I also went to one of my secret dogwood gathering spots to collect what I could. Unfortunately I didn't come close to getting the amount I needed and I'll have to go back to a spot I found last year for more.
All of that led to a rather ridiculous scene in my car.
With all foraging and a case of frozen fingers (I cannot find my winter gloves; where do they go every summer?) I only got as far as doing two containers for a neighbor and, to be honest I was in a bit of a rush and chasing daylight. Still, I think they turned out OK and the neighbors will enjoy them. The design is pretty simple: a thick bundle of dogwood circled by 'Limelight' hydrangea flowers as the centerpiece, with prunings from grandma's house and a bit of some kind of pine (also from grandma's) to fill in.
There are many more outdoor containers to decorate. And with my found-materials only pledge, I'll be testing my creative mettle.
Do you do winter container designs?