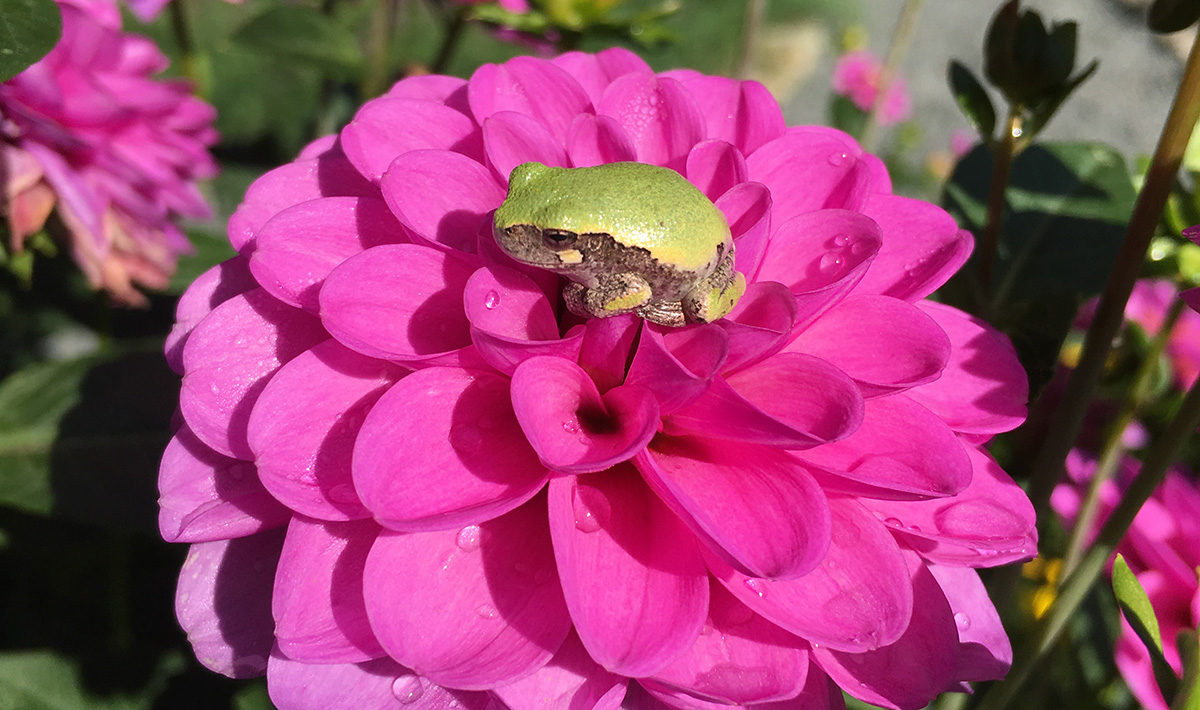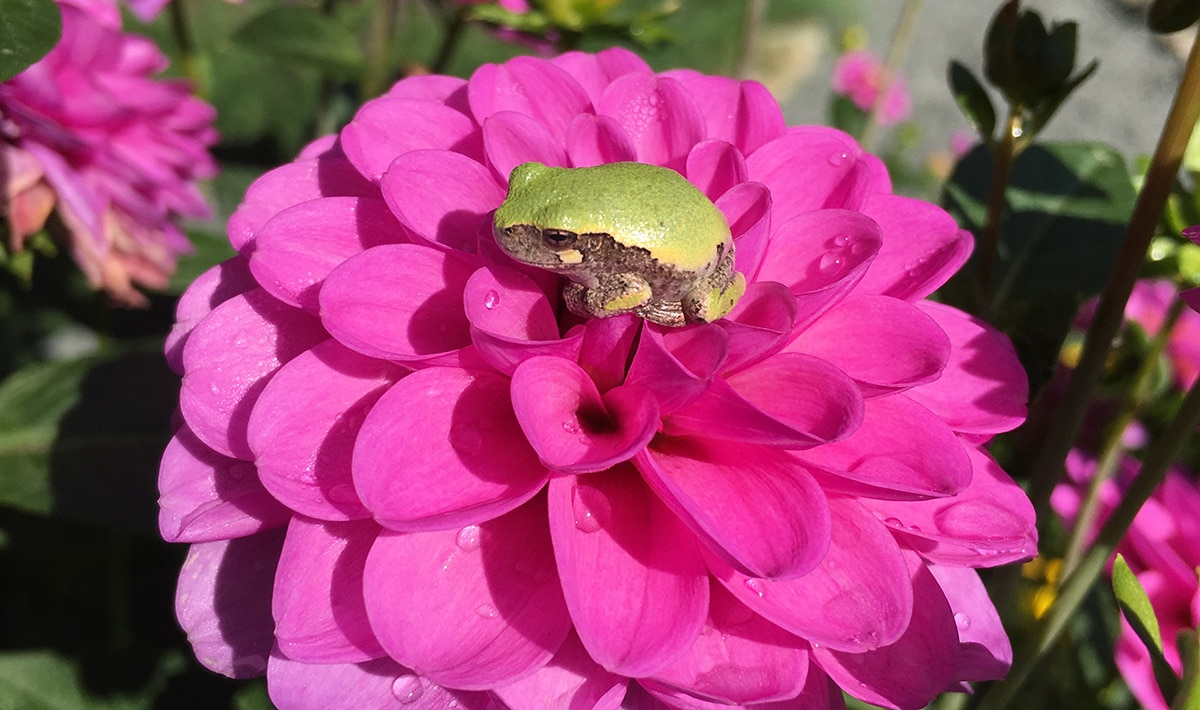 Few plants pack as much punch in to a flower as dahlias do. Colorful, free blooming and often structurally interesting, just about the only thing that dahlias lack is scent. And the secret is out. In recent years dahlias have surged in popularity, which is good for gardeners because never before has it been so easy to find so many great dahlias.
With so many amazing dahlias out there, how is a gardener supposed to choose which dahlias to grow? Here's a guide to selecting the best dahlia varieties to grow and how to choose which to grow together. 
SIZE
For me, the most important factor in selecting a dahlia is size. And I'm not talking about the size of the flower; I mean the size of the plant. Many dahlias grow to be 5 feet tall, and you need the right place to accommodate a plant of that height.
Taller dahlias will also need to be staked, so gauge your ability to manage that chore. Longtime readers will know that I admit to being a poor staker. Almost without fail, I will keep an eye on a fast-growing plant and think, against all logic, "This is a strong plant that's going to hold itself up." And it does for a long time, until one day it flops and there's rarely any recovery at that point. 
Don't make that mistake. Any dahlia 3 feet tall or more will need staking, so just set up the stakes when you plant and tie in the plant as needed. Even 'Crichton Honey', which grows to only about 2½ feet tall in my garden tends to get so many flowers that it wants to tip over. The Gallery series of dahlias are very short, growing to only about 18 inches tall or so, making them perfect for container growing as well as the front of the border, and particularly suited to lazy gardeners who don't want to bother with staking. 
COLOR
Dahlia blooms come in just about any color other than green or true blue (although there are plenty of blueish purples and pinks). You can even grow a color of blooms approaching black, such as that found in 'Nuit d'Ete'. There are many bicolor dahlias that range from a soft variation in hues to bold contrasting colors (check out 'Tartan' to make a statement.)
TYPE
There are several categories of dahlias, none of which are that important to know the specifics of unless you plan to enter dahlia shows. To my knowledge the shape and size of the flower is the determining factor. The names aren't important, but it's helpful to know what the options are.
Dinnerplate dahlias are the giant flowers that are probably what you think of when you picture a dahlia. These can grow to be huge—up to 8 to 10 inches across in optimal conditions, which includes pinching out side buds to put more energy into a smaller number of flowers.
Ball dahlias are a favorite of mine and are exactly what they sound like: a tight collection of petals shaped into a neat little ball. These have the added benefit of providing a little more structure in the garden and act as a nice foil for more natural flowers. They come in a variety of sizes from button-mushroom size to softball sized. 'Petra's Wedding' falls somewhere in the middle, about the size of a tennis ball. 
Waterlily type dahlias are an interesting bunch with a flower that is sort of flat on the bottom and lovely opening petals on the top like, well, a waterlily. I grew 'Serkan' last year and several visitors to the garden didn't even recognize it as a dahlia.
Cactus dahlias are the rock stars of the dahlia world. They are bold and a little wild looking, with petals that create lovely points. Some are straight but others, like 'Yellow Star' get a random bend that gives them a bit oa bed-head look. And the decasplit varieties, which have petal tips that are split, look like they enjoyed the party even more. 'Myrtles Folly' definitely won the party.
Perhaps the most underrated dahlias are the simple, single-flowered varieties. Gardeners often want big and blousy, but the simplicity of the single-flower varieties can be the stars, because what they offer that many other dahlias do not, is that they start blooming earlier and continue blooming like crazy, so long as you continue to deadhead them regularly. Check here for a quick dahlia deadheading tutorial. I grew 'HS Flame' last year because I needed a warm color, low-growing flower for a specific spot and it was probably my favorite dahlia of the year. It just kept going and going. 
OTHER SPECIAL FEATURES
Some dahlias have special features that can make them very attractive. The one that immediately comes to mind is dark foliage. I can't tell you how fabulous dark foliage looks against a colorful flower, and it certainly offers an extra design element to the garden. One of my all-time favorite dahlias is 'David Howard', which has beautiful orange flowers with dark foliage. I was thrilled to find a single white dahlia with dark foliage in 'Bishop of Dover' to grow this year. I can't wait to try it.
'Bishop of Llandaff' was developed in 1928 and was one of the first (or maybe the first named variety) dahlias with dark, almost black, foliage. It is the parent of dozens of other dahlias, many  of which have "Bishop" in their names, so if you find a dahlia with "bishop" in its name, the odds are good that it will have dark foliage. 
With so many fabulous dahlias on the market, it's easy to narrow down the features that are most important to you. I only have one word of caution: Order now. I can't believe how quickly some in-demand varieties are selling out.
But you know I wouldn't leave you hanging like that. Longfield Gardens has offered two collections for me to share with The Impatient Gardener readers, so I picked their Pink and White Dinnerplate collection (which includes the most popular dahlia of them all: 'Cafe au Last') and their HS Flame and HS Date combination. 
Two readers will win one of these combinations to plant in their own garden. Enter below!
In the meantime, here are some of the posts I've written on growing dahlias so you can bone up on your dahlia growing before spring:
Dahlia collection giveaway with Longfield Gardens
Disclaimer: Longfield Gardens has teamed up with me on this giveaway and provides some dahlias to me to try.