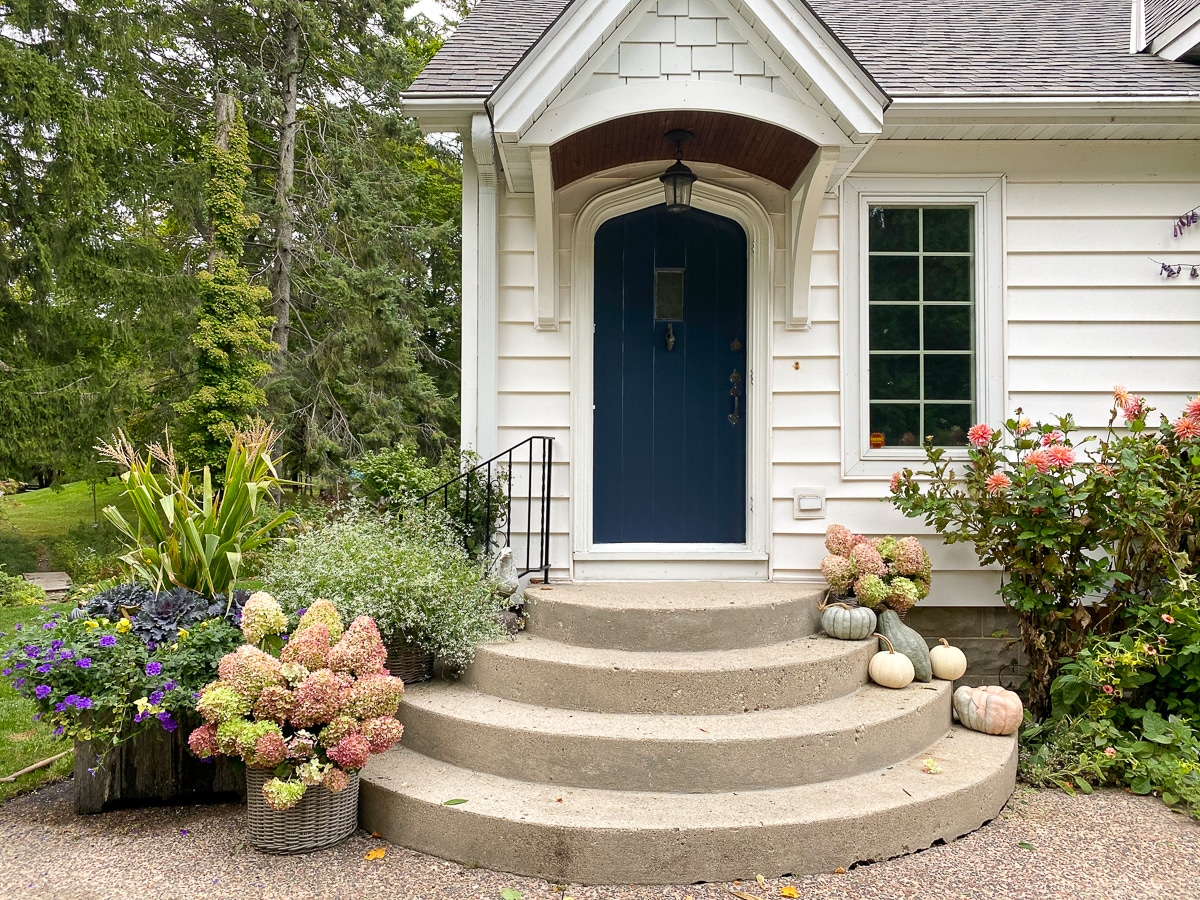 This post is sponsored by 3-IN-ONE® Brand, but all opinions and questionable design choices are my own.
Oh the poor front door. These days it just doesn't get a lot of use. In fact the only person who's seen it in several months is the UPS guy. But even though we might not actually be using it to receive guests these days, we're committed to spending as much time as possible outside this fall, and if only for my own sanity, that calls for a bit of fall on the front porch.
So here's where this area started: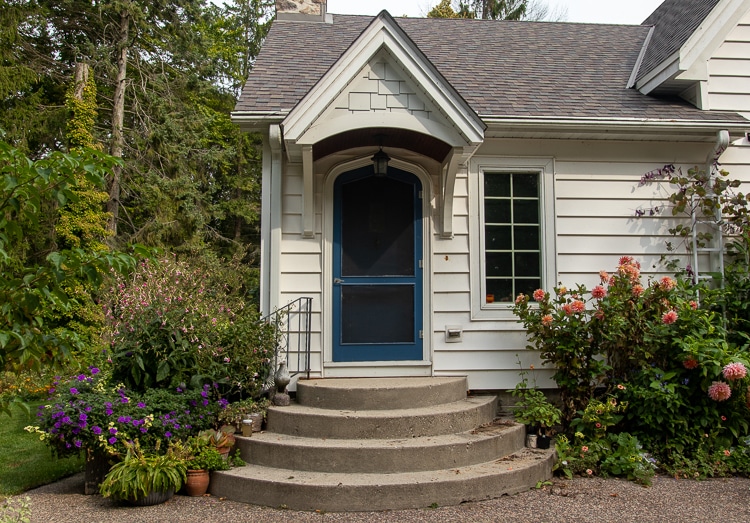 We are blessed with long autumns here. It's the deal with the devil that nearby Lake Michigan made on our behalf: We have cold, late springs and long, warmish autumns, all thanks to the temperature of the lake. That usually means that frost comes later here than it does in many other zone 5 areas, so I'm generally not ready to go into full fall mode until about Halloween. All of which is why I wanted to do a little something to spruce up the front porch area to enjoy autumn while still hanging on to the last vestiges of summer.
It's been a long time since I've paid much attention to basic maintenance items here, so this little makeover was a good excuse to check some of those items off the list too. 
UNSTICKING A STUCK SCREEN DOOR
That started with removing the screen door. Our front door and the matching screen door are treasures, surely handcrafted 85 or so years ago by our former neighbor who built our house along with most of the rest of the older houses in the area. But when we built the portico over the entrance, I made one crucial error: I used a hanging lantern, that hangs lower than the outward-opening screen door, rendering the door mostly useless. So we put the screen door on every spring, but it only serves as a way to open up the door for fresh air, not as a functional form of ingress or egress. The consequence of this unmoving door is that the screen door hinge pins pretty much get stuck every year.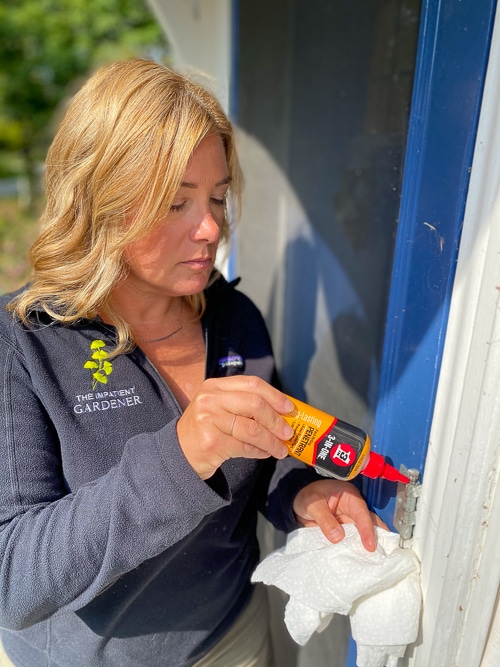 I used a couple drops of 3-in-ONE® Fast-Acting Penetrant on each hinge (a paper towel keeps it from dripping) and let it sit for a few minutes to free the stuck hinges. I'm not kidding when I say a couple drops; that's all it needs. It's mighty handy to have around when one of these weird old-house problems pops up.After the penetrant did its job, I was able to pop the hinge pins out with a screwdriver and a hammer, and I was able to free the screen door from its unmoving state.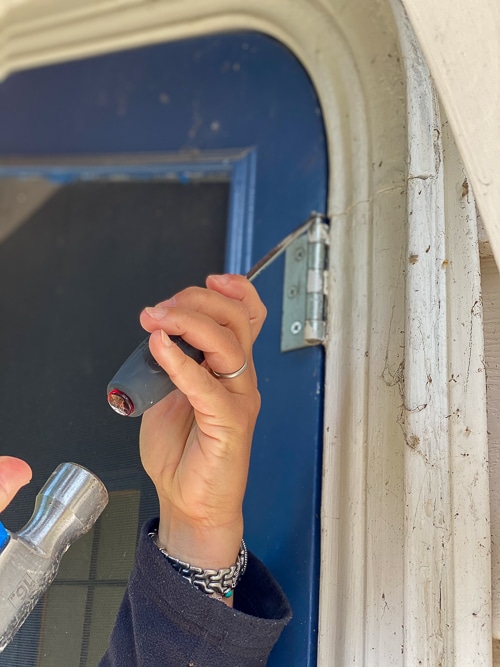 PRIMING AND PRIMPING
With the screen gone, I could get in there and do some cleaning. It always amazes me how many bugs and crud ends up on house siding. I also pressure-washed the steps at the same time, something that I think hasn't been done for many years.
The small metal railing to the left of the door doesn't get used much, but it was looking faded (as it should since it was last painted in 2002). I used a wire brush to scrape off any loose paint, and hit it with a couple quick sprays of black paint. It's pretty amazing what a difference something so simple can make.
A lot of the paint on the door trim had chipped off exposing bare wood, so it was important to remedy that. I scraped off any loose paint and then sanded the edges to try to smooth out the edge on the existing paint. A bit of primer, followed by two coats of paint (Benjamin Moore Simply White seems to be the best match for our vinyl siding, so I use that on any painted trim).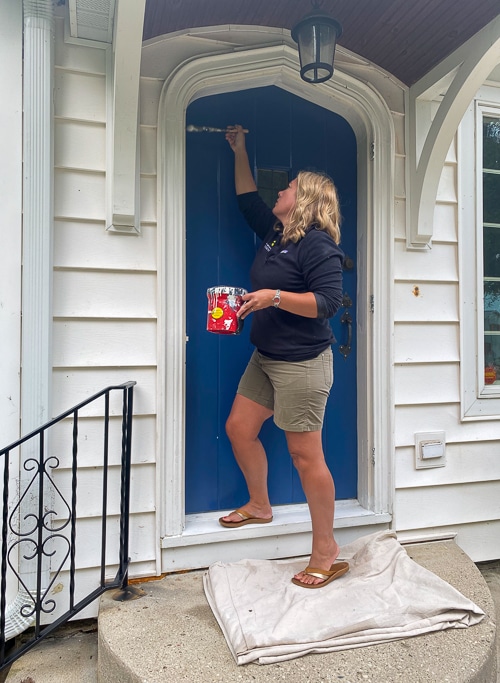 A NEW COLOR FOR A NEW SEASON
And just for kicks, and maybe because sometimes change is good even if it's not necessary, I painted the door. When we bought the house, the door was forest green and I quickly changed to that to a really bright blue (picture the white and blue buildings of Greece). A few years later I repainted with a slightly less bright blue (Benjamin Moore Downpour Blue). And this time I went darker still to a true navy, Benjamin Moore Hale Navy (a go-to color that never goes purple, which is my greatest fear when dealing with any blue paint). 
Here's the first blue I used way back when, as seen in this photo from the day we started our renovation as we were literally moving out of the house (hence the furniture on the patio). It was really blue. This is also a good picture of how odd the front door looked before we added the portico.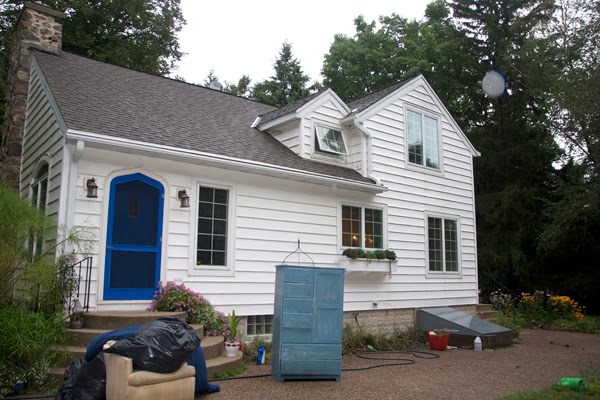 FINALLY, SOME FLOWERS
With all the structural stuff finished, I could move on to my own version of understated fall. The spent Nicotiana alata x mutablis 'Bella' in the big front planter got the heave-ho, but I left the rest of the plants, which were still looking good. I just can't wrap my head around pulling out plants that are still thriving.
Some ornamental kale, a few yellow pansies and a bunch of corn stalks (for height) turned summer into fall. From there I added a few pumpkins in non-traditional colors to the other side of the steps. Because the Diamond Mountain Euphorbia planter was still looking good, I moved that onto the steps as well.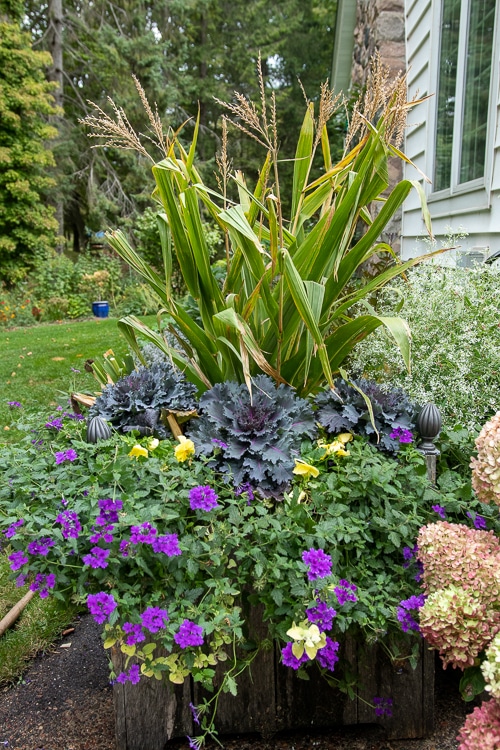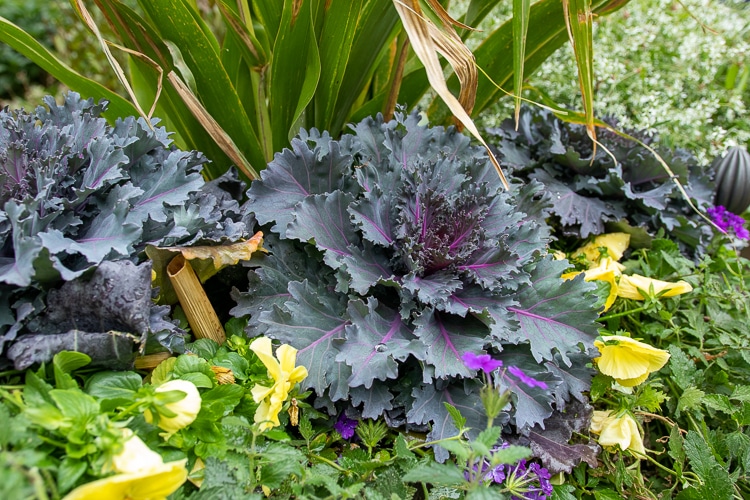 And then I did what any self-respecting blogger would do: Violated the Limelight hydrangeas. Is there any limit to what this plant can provide? I think not, and in this case I just stuck a bunch of stems into wicker planters that I was cleaning out anyway so I could bring their beautiful pink and lime flowers to the front porch.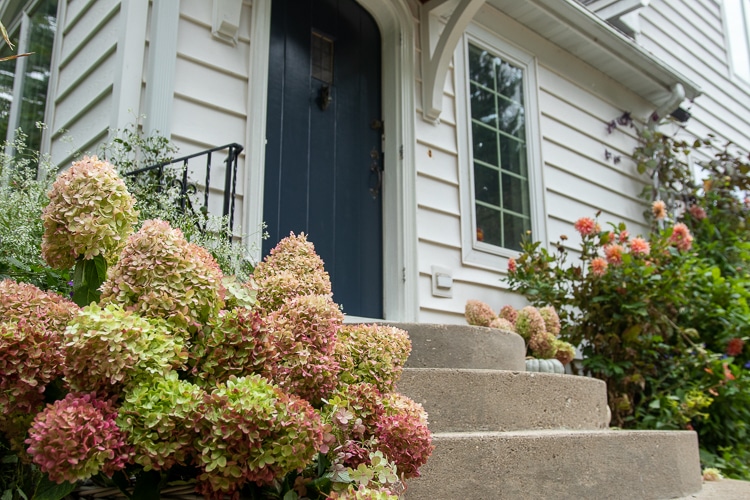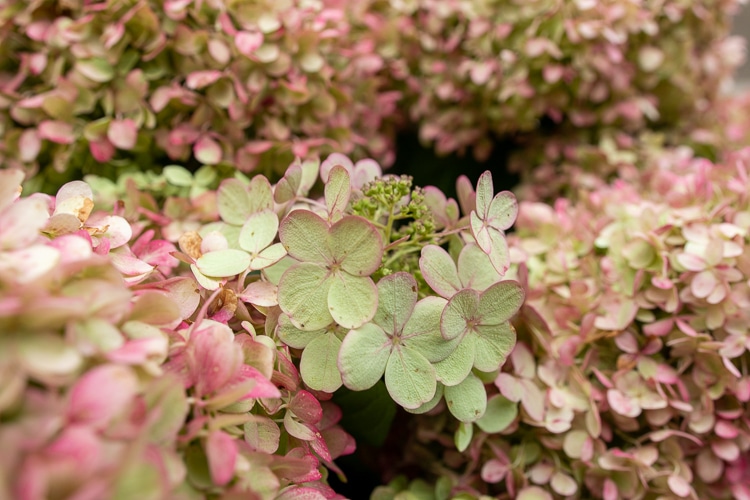 It's far from a traditional autumn porch theme, but I think it works for this transitional time as we hover been summer and fall. And better yet, it was a great excuse to check some important maintenance items off the list and freshen things up to enjoy every moment of fall we can.
I'm sure the UPS guy will appreciate it.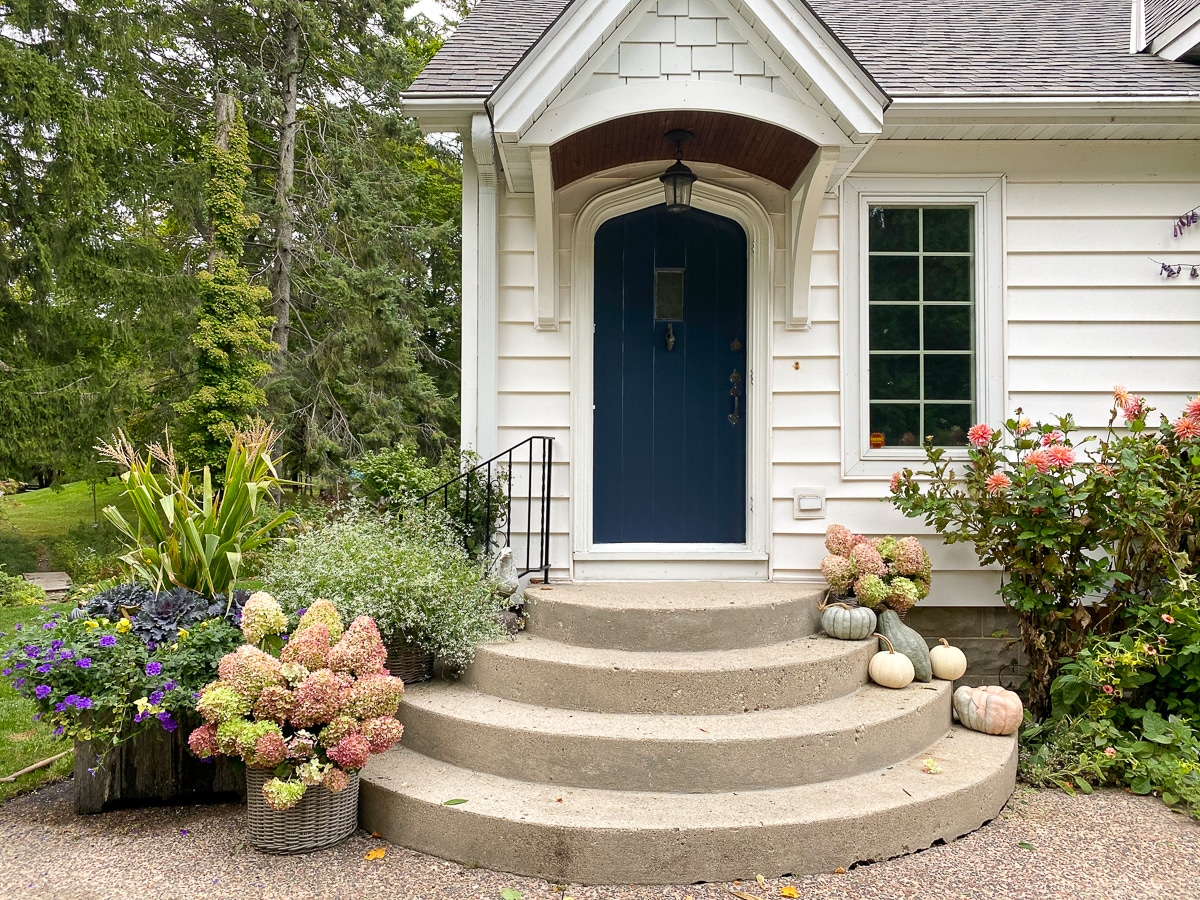 You can find 3-in-ONE® Brand products at Walmart and other retailers. Click here to find other stores near you that carry 3-in-ONE® Fast-Acting Penetrant. For more handy tips, follow 3-IN-ONE Brand on Facebook and Instagram. 
Care to see it come together? Check out the video I made about this project.