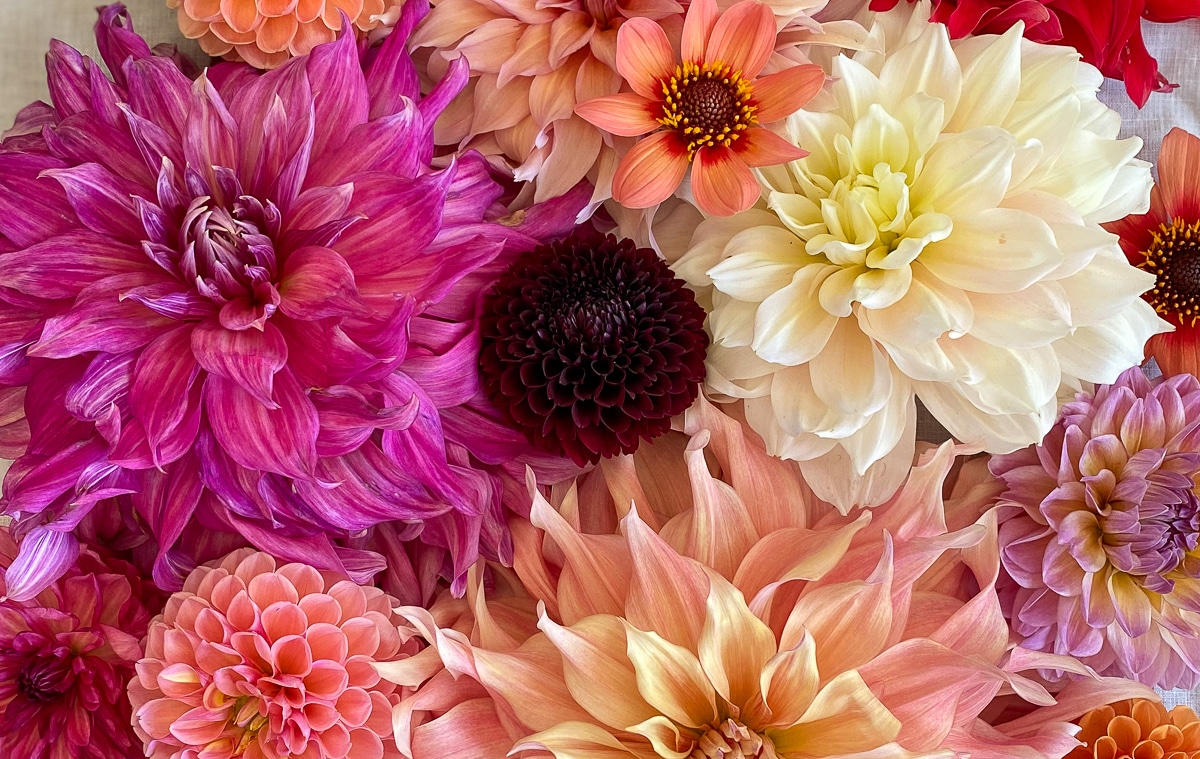 They say the first step is to admit you have a problem.
So I admit it: I have a dahlia problem.
I grew about 100 dahlias this year, and I estimate there were between 25 and 30 varieties. I try not to count these things too carefully because denial is easier if you don't have real numbers.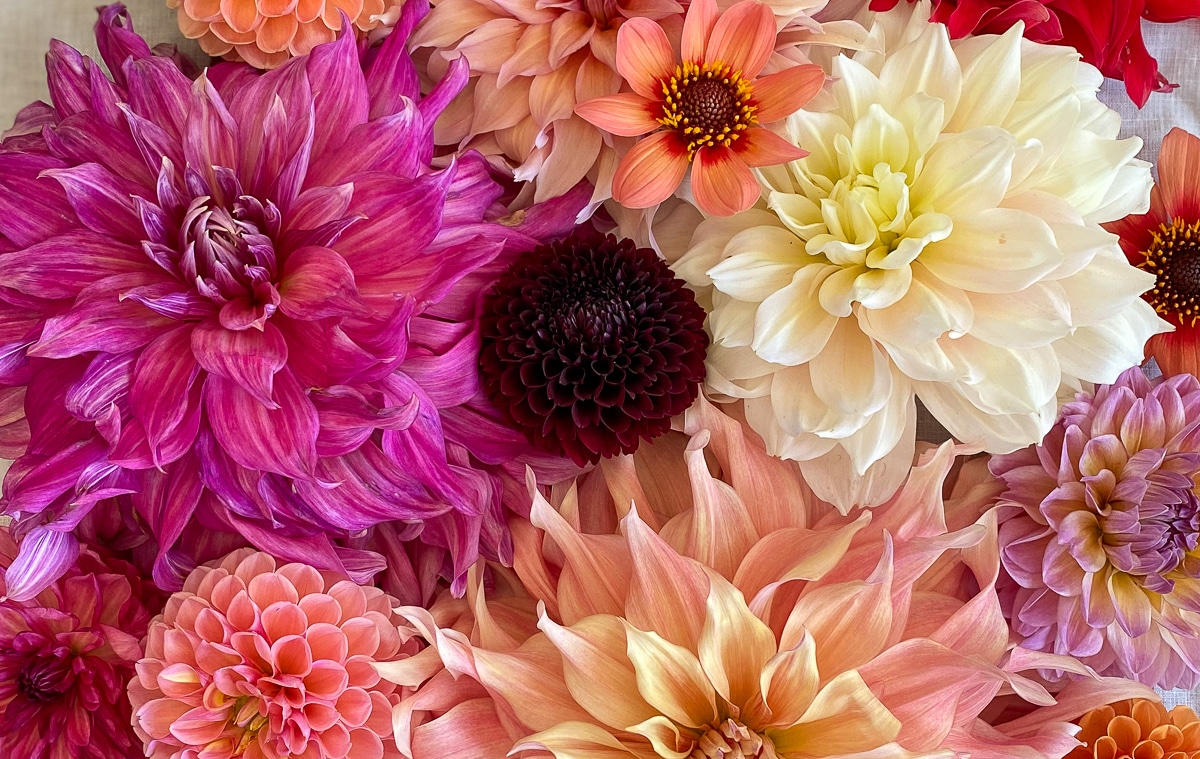 Now that the end of dahlia season is just weeks away (if I'm lucky), it's the time of year when I make decisions about what dahlias are worth saving, and which ones I'll grow again next year and which ones I'll rehome. Which leads me to a little exercise I call: Playing Favorites.
In this case, if I what dahlias would I grow if I could only grow five varieties?
5. PENHILL DARK MONARCH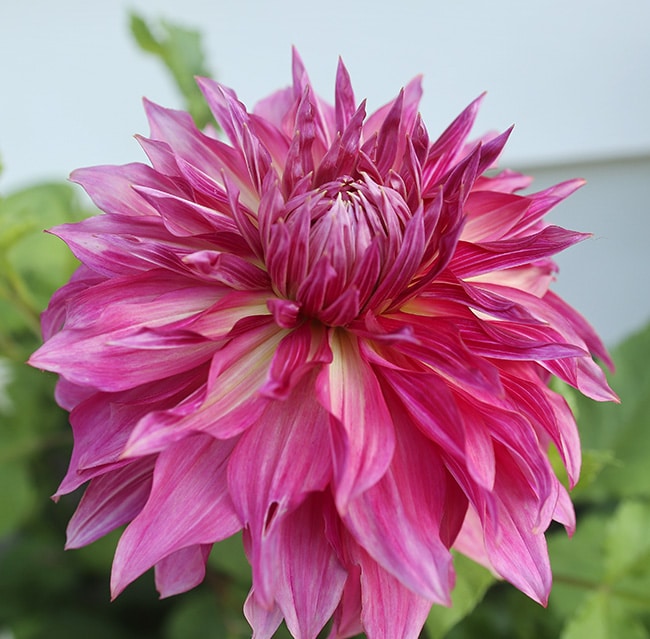 In my limited dahlia palette, I'm only allowing myself one real biggie and in this case the deep pink 'Penhill Dark Monarch' is just barely edging out its sister 'Penhill Watermelon'. Both have striated petals and the changing colors of Watermelon, which I grew for the first time this year, really has won my heart. But there's a depth to Dark Monarch that I like and I feel like it does a better job holding those heavy blooms up. These are both really big dahlias that need serious staking.
4. NUIT D' ETE
You have to have some variation if you're only going to grow a few varieties, so I think a dark dahlia is called for. 'Nuit d' Ete' is a cactus that brings a great texture variation as well. It's not perfect:  It's taller so really does need staking and I wish the stems were a bit stronger. But for color and shape, it's tough to do better. 'Jowey Mirella', a perfect ball that is almost as dark is a close runner up. 
3. CAFÉ AU LAIT
You knew it was coming right? I like be a little bit unpredictable so it pains me a little to put everyone's favorite dahlia on this list. But every time another large (but not huge) dahlia comes into my life that I think might displace 'Café au Lait' from the list, I find a reason why Cafe is better. It changes quite in a bit in color, from buff to almost medium pink, but all are very agreeable colors that seem to go with everything in a vase. It's also a nice size for a vase. Very large dahlias just don't play well with others in bouquets. Runners up in this category are 'Breakout' and 'Labyrinth'.
2. HS DATE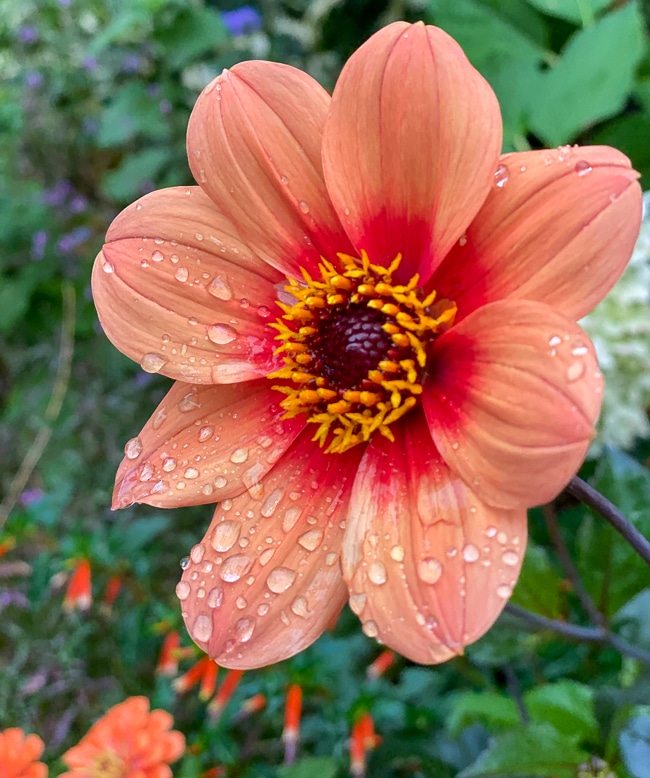 Many people don't even realize the bright orange single flower that very nicely bends over the path (no need for the Deflopper) with the dark olive, almost black, foliage is a dahlia. But it is. HS stands for Happy Single and I can't think of a better name for this series, which includes several other colors. I've grown at least three of them and have decided that the clear orange of 'HS Date', which seems to have larger flowers than the others, is my favorite. 
1. CRICHTON HONEY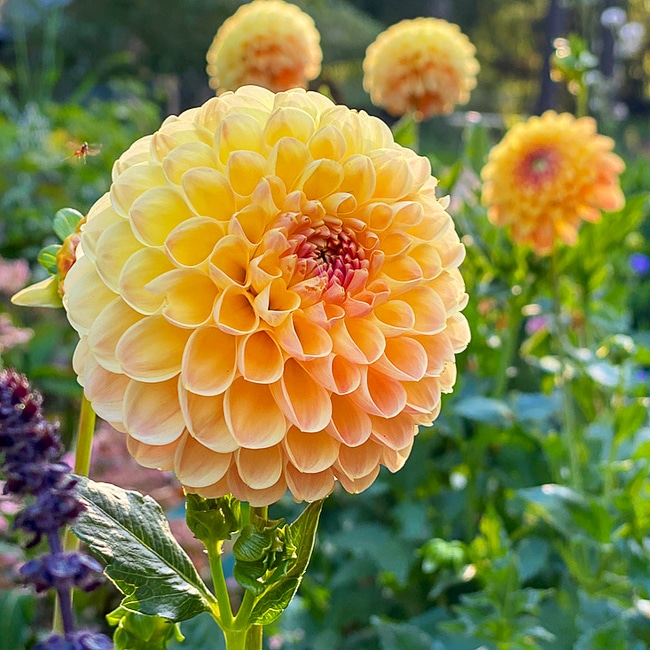 My weakness for ball dahlias led me to 'Crichton Honey' several years ago and she still charms me to this day. The colors vary widely from pure salmon to butter yellow to tangerine and often all three at once. It flowers early and puts out tons of flowers right until frost and needs very little staking. I have photos of 'Crichton Honey' on most things The Impatient Gardener, so it's likely the dahlia people most associate with me, just because they see it the most. It always gets a spot at the front of the patio garden where I love to see it mingling with the purple foliage of 'Wild Magic' basil.
It wasn't easy to choose. At any moment I'm falling in love with another dahlia. So with that in mind, I am going to put a big asterisk right here: This list is bound to change. Because I'm willing to do the hard work, and grow way too many dahlias, all in pursuit of more favorites.