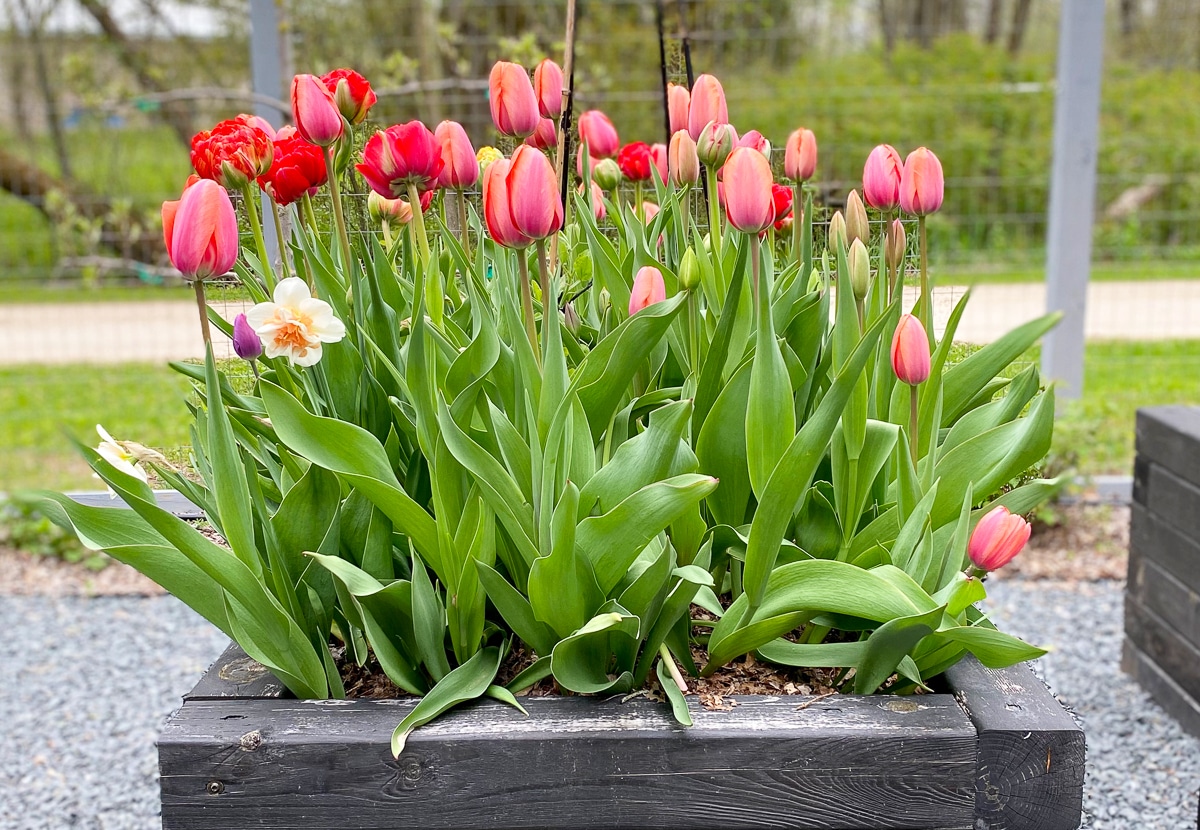 Thank you to Longfield Gardens for partnering with me on this post.
I'm starting to think that old gardeners can learn new tricks.
I'm not sure what else would explain that for the first time, possibly in history, I have a bulb plan.
Allow me to explain: Typically my bulb-purchasing strategy is to order some of everything that looks pretty in the picture and sounds good in the description and then express dismay when thousands of bulbs show up on my doorstep and I rush to get them all in the ground.
But this year I have a plan. I mean, don't get me wrong, I still have thousands (well, 2,000 or so) of bulbs to get in the ground, but this year I know where they are all going.
THE NEW GARDEN
I designed new garden area (which I wrote about here and here and did a recent video tour of here) to be simpler than most of the rest of the garden. My goal has been to plant more plants of smaller palette for dramatic statement and easy maintenance, and that continues to my bulb plan. Instead of plunking in daffodils randomly one at time, I've selected a grouping of three varieties of bulbs that I'll plant in large clusters (about 25 or 30 bulbs per clump) around the garden, rather than sprinkling them around.
Each cluster will include:
'Silver Smiles' daffodil
'Jetfire' daffodil
Muscari Armeniacum
And some will have Muscari 'Ocean Magic'
All of these bloom in early to mid-spring so with luck they'll all bloom together. I suspect Jetfire will bloom first but there should be overlap with the rest of the bulbs. 
I used marking flag to lay out where each clump will go.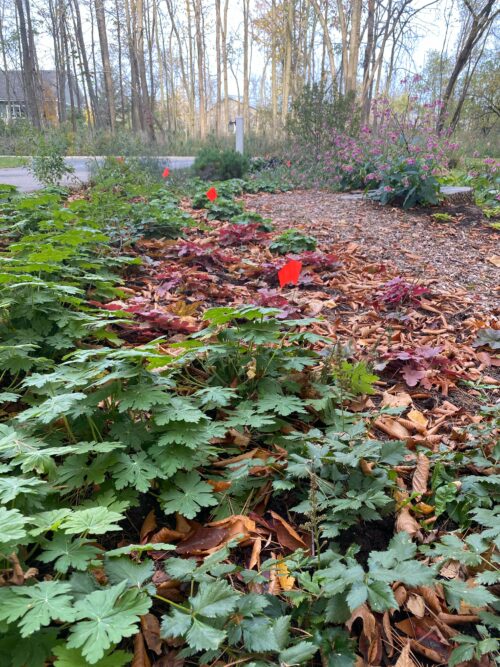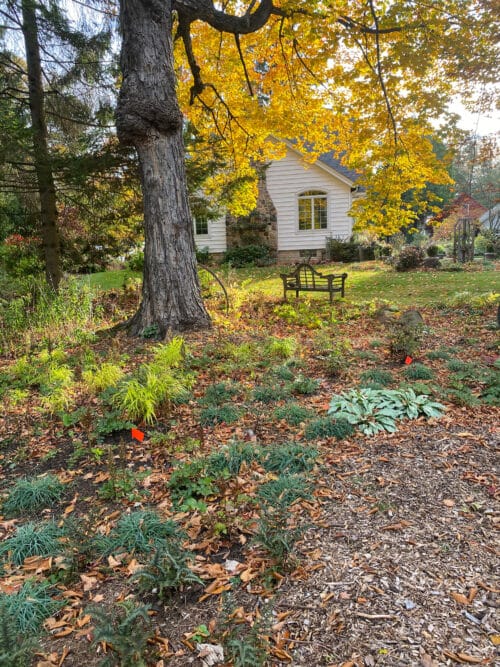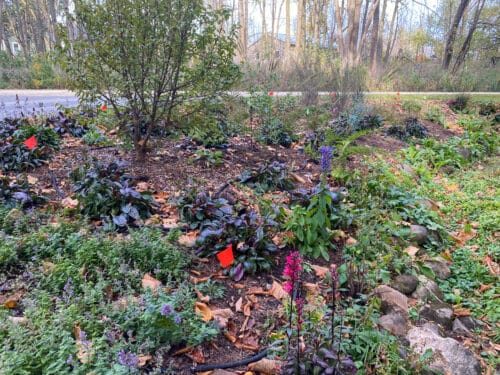 This year I paid way more attention to bloom time than I usually do, and I took a non-typical approach to planning as far as bloom time goes. Typically you would use bloom time to ensure that you have varieties that bloom in early, mid and late spring to make the most of the bulb flowering season. But I did it the other way. Because we have such late springs here, by the time the late bloomers are doing their thing I'm kind of over it and ready to move on to the rest of gardening. 
Longfield Gardens has handy bloom-time planning guides for a variety of bulbs:
I'll also be adding some alliums to the new garden, particularly Christophii and Nigrum, both of which will be planted in groups of three to seven.
And lastly, I'll be planting Anemone blanda  in the shadier, more woodland area. I've never grown these before, so it will be to try something new. These are corms, rather than bulbs, but are also planted in fall like bulbs. 
VEGETABLE GARDEN
For the past few years I've grown tulips and bulb collections in the raised beds that I reserve for cut flowers and it's been wonderful. But my oddly late spring can cause issues, because some of the late-flowering tulips are just getting going when I need to be sowing early seed-grown flower varieties.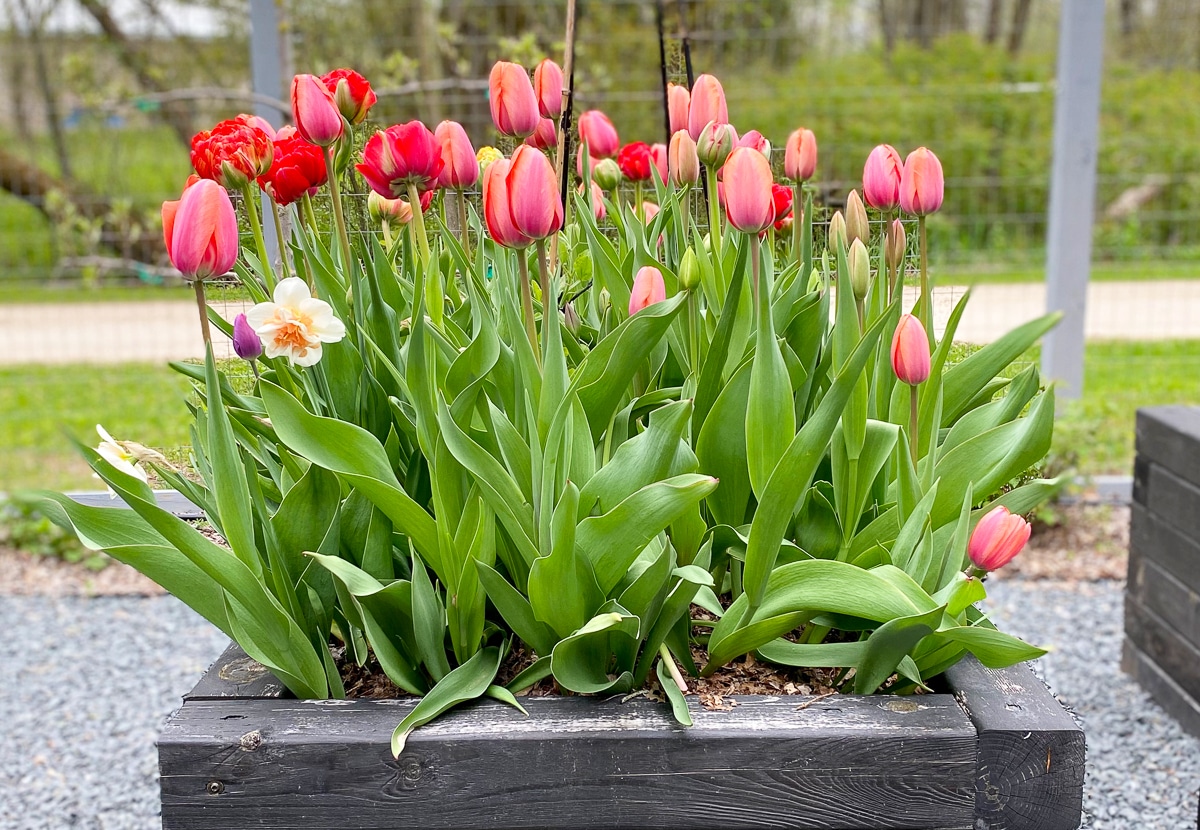 So this year I'm changing it up. Instead of putting bulbs in the raised beds, I'm going to plant them in the skinny beds along the sides and back of the vegetable garden, which is fenced, allowing me to plant tulips that would be decimated by deer otherwise. 
My plan is for a very bright and colorful mix on the sides, working tulips around the apple and pear espalier trees and the raspberries and strawberries in the center of those beds. I'll be using a mix, along with some extra dark tulips and a bright orange:
Brilliant mix
Monte Orange
Continental
Again I'm relying on early to mid-season bloomers, which unfortunately eliminates some great varieties, but it's not like any tulips are shabby.
On the north (back) edge of the garden where I started a Belgian Fence made from 'Royal Raindrops' crabapples this year, I'm going with a more muted palette that I plant to continue into summer. I'm going with white tulips—both a single and double variety—with a few pinks thrown in. 
White Emperor
Exotic Emperor
Toronto
The best part of all these beautiful flowers is that I'll have enough to pick and bring inside. Because by spring, a little color will be great to have around.
I'll be doing some videos on bulbs this year as well, so make sure to subscribe on YouTube so you don't miss any of the good stuff. 
UPDATE: GIVEWAY IS NOW CLOSED
Two lucky readers are going to win one of Longfield Garden's gorgeous Blue and White bulb collections (90 bulbs in each collection)! There are lots of ways to enter by using the widget below. Entries close Sunday, October 25. Bulbs can only be mailed to addresses in the continental U.S.