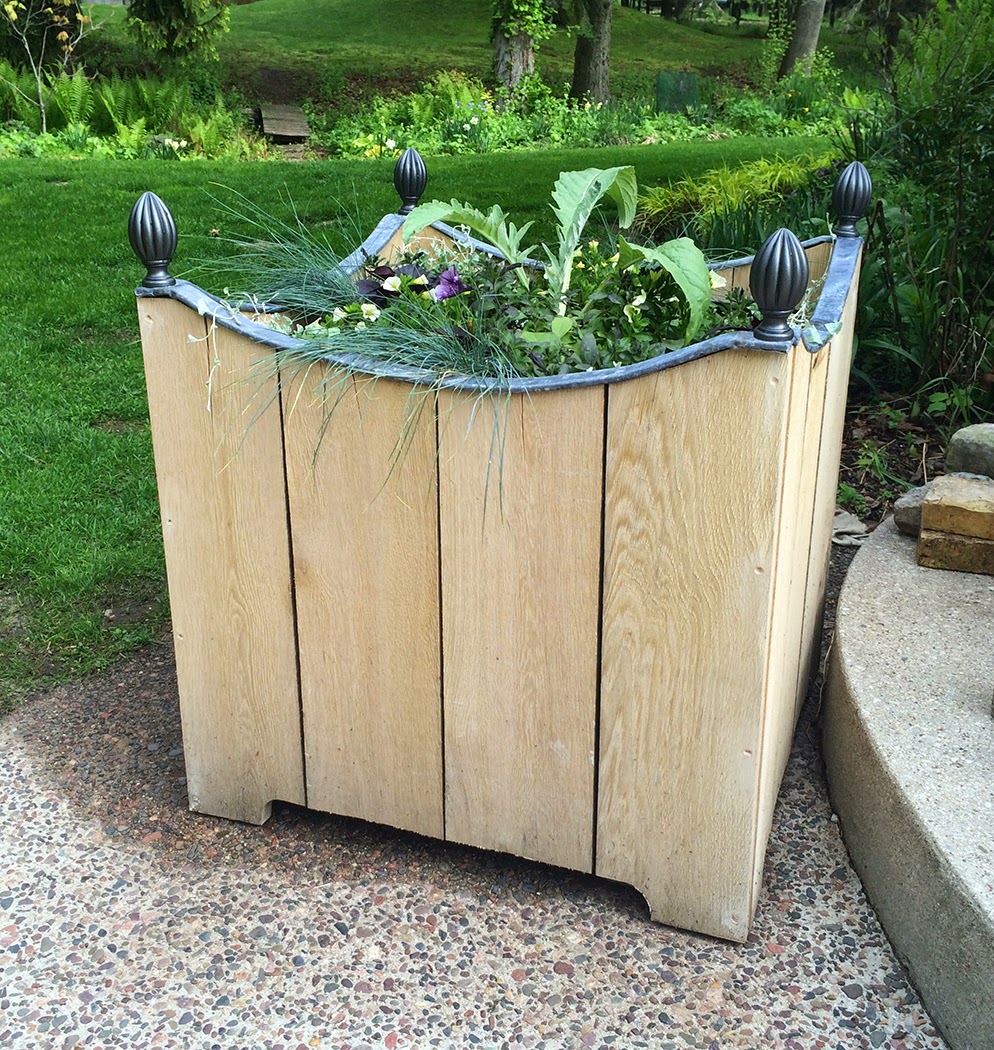 Since it's finally finished and planted, I think it's high time I share with you how we built the wood planter by the front door.
When the old planter fell apart after five or six years of year-round service, I was shocked when I found out how much large planters cost. Having found some wood ones at Restoration Hardware that I really liked the look of, but not the price of, we set out to create our own.
Before I get into how we did it (and how long it took us), there are a couple of things to declare right away:
It didn't turn out exactly how I had planned but I'm still very happy with it.
There are things I would do differently if I were doing it again (see the bottom for those notes).
It ended up costing way more than I expected, even though we built it ourselves.
We ended up with a planter that is 32 inches wide and about 30 inches tall (and weights probably 150 pounds). Yes, that is enormous, but with the stairs that lead up to our front door, I feel like we need a large planter there to balance everything out.
This is where we come to the first, and biggest, mistake I made. The guy at the lumberyard suggested I buy "wet" wood to help keep the price down and be able to get what I wanted. Buying wood that was not kiln dried was a huge cost savings (I got all of the 1-inch-thick white oak for $60 including planing and cutting) and the guy at the lumberyard figured that since it was going to be outside, it would just swell up anyway. I think I underestimated just how wet the wood was when I bought it. It has continued shrinking (widthwise) since I got it (you will see that through the progression of building pictures) and there are now quarter-inch gaps between the boards. I wanted nice, tight boards, but it still looks OK. Anyway, if I were doing it again, I'd definitely just spend the money for the kiln-dried wood.
We used all stainless steel screws for the construction.
On the bottom frame, we screwed in 2x4s to create the bottom for a metal insert to sit on.
On the edges where screws would not go into the frame, we drilled in from the face and I later filled those holes with wood putty. The proper way to do it that would be to make wood plugs from leftover white oak, but I was more interested in efficiency at that point.
Since the curve on the top of the container is straight for two inches in the corner, I cut a piece of wood off for that, then started the cuts for the curve (having measured the length of it ahead of time, of course).
With all my cuts made, I laid the wood strip, uncut side down, in the center of the lead and then started bending the lead up around it. A note about this: please wear gloves when handling lead and wash your hands well when you're finished.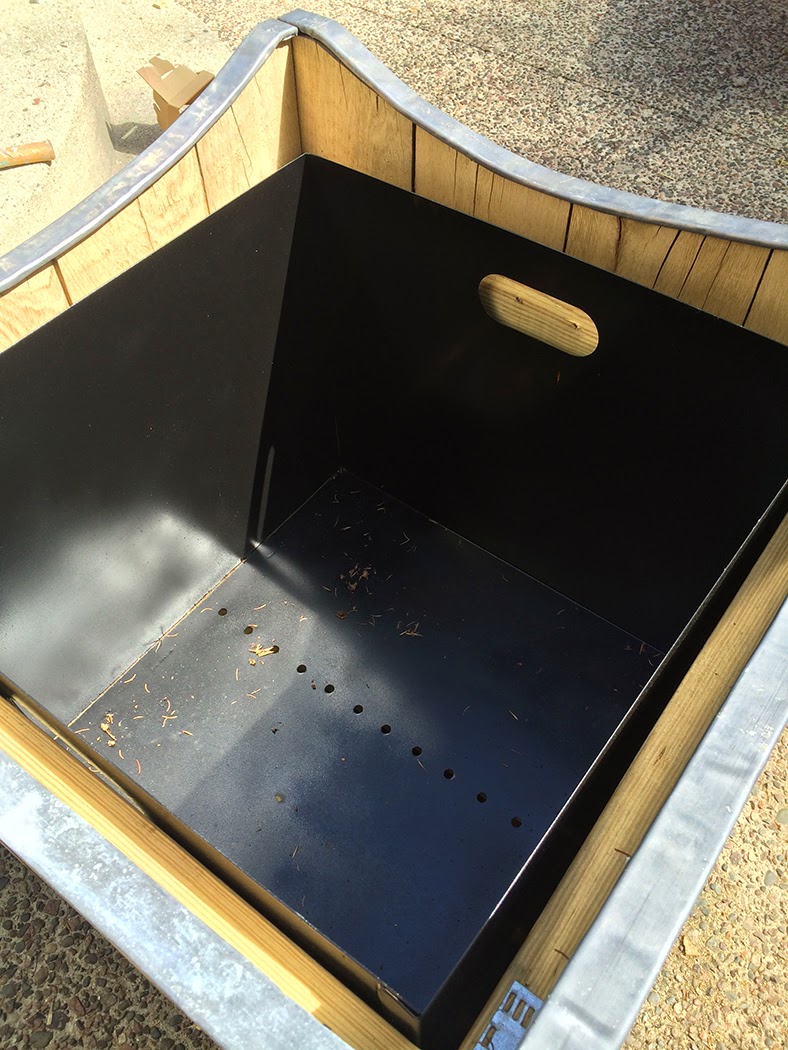 The steel insert is super sturdy and has a lot of drainage holes in the bottom. The handles on the side will help me remove it if I need to. When I planted it, I just covered those holes with paper towel to keep the dirt from falling out.
Instead, Mr. MMP had a local steel worker build a box to our specifications, so it fit perfectly. I had handles built in to the sides to make it easier to remove and had several drainage holes (I feel pretty strongly that a large container needs more than one drainage hole) drilled into the bottom. I primed and painted it with spray paint to help protect it because it was not galvanized and therefore will rust.
And this is where any concept of this being an inexpensive project blew out the window. Although he would not appreciate me saying it, Mr. MMP doesn't have the best hearing. So when he talked to the steel guy he thought the quote was for $50, but when he picked it up, he found out that it was actually $150. Ouch. The good news is that it will probably outlast the planter itself so we can do this all again in a few years.
So that's how we made it. And here's what it cost:
Budget breakdown:
White oak (not dried, rough cut): $60
3 pressure treated 2x4s: $9
Stainless steel screws: $30 (we have some left over)
Sheet lead (including shipping): $35
Drapery finials: $20
E6000 glue: $8
Casters: $20
Steel planter insert: $150
—————————–
OK, that's not at all inexpensive. And honestly it's about three times as much as I planned on spending. But there are ways that you could make this and have it be much less expensive. Obviously, you could line the inside with a thick plastic membrane or do something else for a liner. You also skip the decorative details like the lead and finials. And you could reduce the size and it would all cost less.