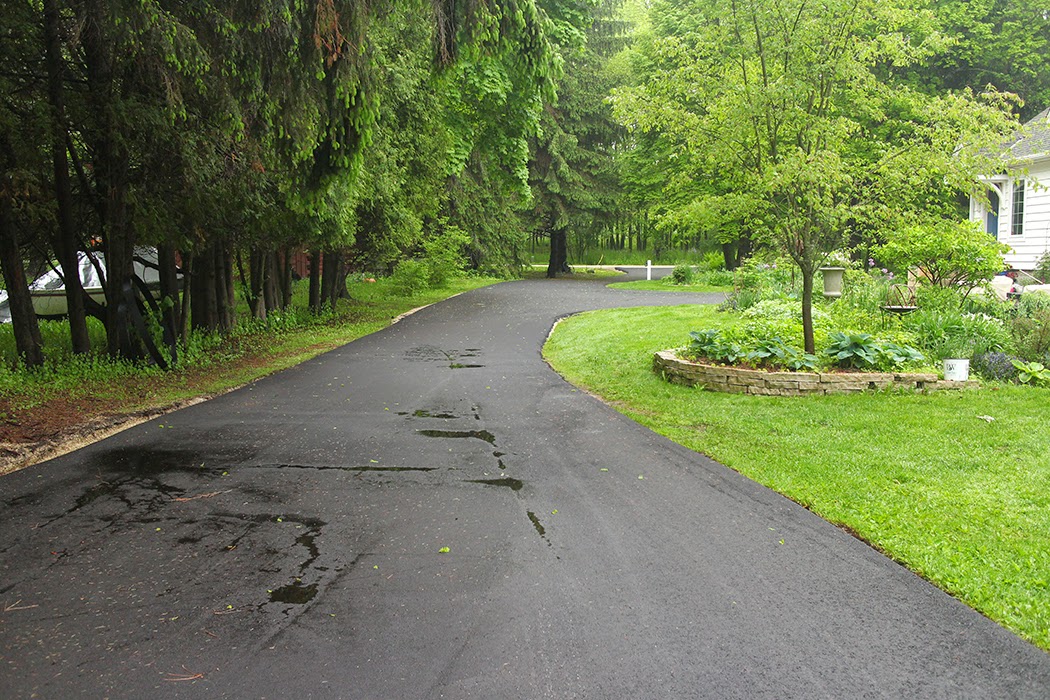 We didn't plan it this way, but this year has become the year of the back yard. Between the renovation of the gardens there and fixing up the garage, I think we're finally taking care of some of the things that have needed attention since we bought the house 12 years ago.
As an aside, this is a good reminder to get lots of quotes. The first quote we got to asphalt the driveway was more than twice the amount of the quote we ended up going with. I think the first company just didn't want the job so they purposely inflated the quote. 
A bigger concern for me was the look. I don't particularly love the look of a fresh black driveway. I think gravel is charming and more in keeping with our house and the area (our road, which is a private road owned and maintained by all the homeowners, is also gravel). And if I lived in an area where there wasn't much snow or ice, I think it would probably be perfect. But our driveway is big enough that it has to be plowed, and plowing a gravel driveway creates a huge mess. Every spring we'd have to scrap gravel out of the grass and the flower beds and the driveway sort of creeped into the lawn. 
To make matters worse, it was a huge ice rink that rarely thawed until late April. All in all, it was a pain. So, although I think I like the look of gravel more, the downsides were just too great. And I'll be honest here, Mr. Much More Patient really wanted it paved (far more than I did) and sometimes he has to get what he wants too.