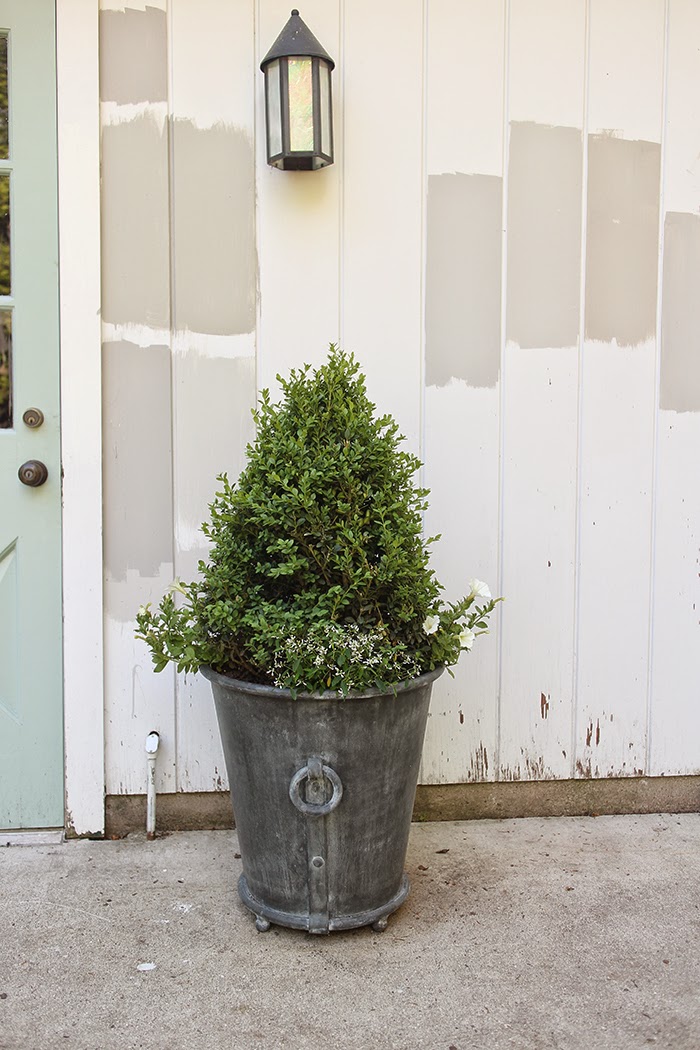 Our poor garage. We've ignored it so much over the years (12 of them actually; the anniversary of closing on our house was last weekend!). As you may, recall, we're working on fixing that, but I also made a change I could have done any time and just never did.
I added a bit of greenery.
The bit of garage between the car doors and the service door has been screaming out for some sort of plant life, but it's not the ideal place for annuals. For one thing, it's a western exposure, but for another, I'm just not very good about getting out that direction with a hose to regularly water something. If I was going to plant something there, it would have to be something in a big enough container that daily watering is not necessary.
A 'Green Mountain' boxwood fit the bill. I planted it in the container we used for the Christmas tree and surrounded it with a few white annuals. I used petunias and Diamond Frost euforbia, but I think I should have gone for impatiens, given the low light situation. I can always change them out if they don't work.
This the first time I've ever planted a shrub in a container that I intend it to spend its life in. My plan is to move the whole container into the unheated garage in winter to protect the boxwood from winter winds and the harsh winter sun. You can also pull shrubs out of containers and plant them in the garden to overwinter.
I like to control my potting mixes, so I never buy the mixes that contain fertilizer. I also try to avoid ones made almost exclusively of peat, which takes forever to get wet and then tends to stay damp. Because I buy mixes with no fertilizer, I knew the boxwood would need more nutrients than just plain potting mix, so I mixed up a special blend for this container.
I started with about half of my usual potting mix (this year I used Fafard 3B and something called Metro Mix, which I buy in enormous bags). To that I added a little bit of composted manure, some finished compost from my own pile, perlite (for drainage because those last two amendments are moisture retentive) and some pine bark fines (which I finally found at a local nursery after searching for them for a decade). I also threw in some organic fertilizer, careful not to overdo it.
I mixed it all up, planted the boxwood, firming it in more than I usually do for container plantings, and added the annuals. Then I topped it all with some more of the bark fines as a mulch.
I'm doing my best to rotate it every few days because I don't want the back side to die out.
It's hard to tell how it will really look with my patchwork "quilt" of paint samples on the garage. Can you tell we're going to paint it gray? (sarcasm)
In good news, the roof is finished! What a difference that makes. We've also added a rain barrel there, which will make watering easier, since I won't always have to drag the hose all the way over. The rain barrel is a special kind of ugly right now, but I'm hoping once the area is planted and the garage is painted it won't be as noticeable.
We trimmed a few branches that were laying on the garage roof, which was a good thing, but I didn't realize until I saw this picture how the neighbor's garage looks like it's trying to eat ours.
I have to laugh that I actually thought we'd get the garage done last fall. Silly me. Because the siding needs to be scraped and probably sanded, I'm getting quotes from painters for it. I'm feeling better about spending the money, but it's very hard to get on a painter's schedule right now because they are all catching up from the cold spring. We're having the driveway paved in a few weeks too. And of course we're still planning on putting a pergola on the front of the garage, but I have a feeling it will be late summer before that project gets moving. It will all get finished. Sometime.