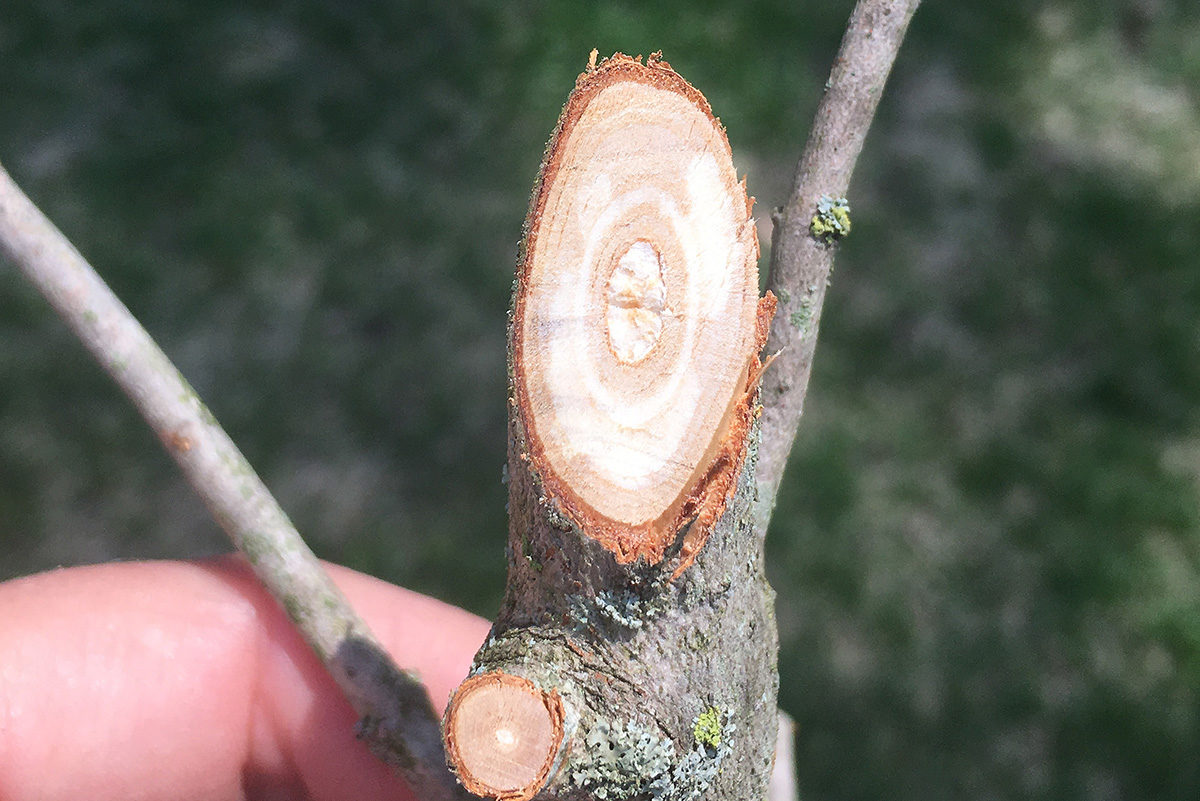 One of the jobs for the weekend was digging out three large Viburnum lantana 'Mohican' shrubs from the "back" (which is really the side, but that is a story that is too long to go into) of the property. One by one, they've been fading, with more parts of each looking worse by the month. Given that we'd planted them for some screening they were no longer doing their job. 
In order to dig them out, we cut them back first. And those cuts into the woody bits provided proof of what I had suspected for a couple years: verticillium wilt. The brown and olive rings are a sure sign of the culprit (click here to see a comparison of affected wood vs. unaffected wood). Technically, I would need a lab to look at a tissue sample to definitively  diagnosis verticillium wilt, but the symptoms are enough for me in this case.
The first sign of verticillium wilt was in 2016, when in the course of a week my Sambucus racemes Lemony Lace (aka elderberry) went from gorgeous to a wilted mess. Few things can do that to a plant that quickly. I disinfected my tools, and cut it back. Then last year, I ended up digging out what was left of it along with a large amount of soil around it. Later I lost another elderberry growing in a different part of the yard, which was sad because that is an excellent plant.
The viburnums grow about 8 feet from where I dug out that elderberry and I noticed last year that the southernmost viburnum was not looking great. Viburnums are one of the shrubs that can be affected by verticillium wilt (here's a list). 
How this area became infected by verticillium wilt is anyone's guess. It's a soilborne fungus, so it's possible that I plant I brought in was infected with it. It's possible that it was there all along. At this point, it doesn't really matter how that area of the garden became infected with it because there's very little to be practically done about it. Solarization (covering the soil with plastic and letting it bake for several weeks to kill the fungus) is challenging and problematic, not least because I'm not interested in digging up everything that's there and moving it for a year or having an empty garden. 
The far more practical approach is to just plant things that are resistant to verticillium wilt. Thankfully the list is long. My goal is to avoid spreading the disease to other areas of my garden where I have treasured trees and shrubs that I would hate to lose (like my Cercis canadensis 'Forest Pansy', aka redbud). It appears that plants under stress are more likely to succumb to verticillium wilt, so I'm going to be careful about watering that redbud and a few other trees over summer, even though I normally wouldn't do that with established plants. 
And I've already bought the replacement for the viburnums. I'll be planting six pyramidal Carpinus betulus (European hornbeam) close enough that they will form a hedge at some point. The "at some point" is always an issue for me, but I'm hoping in four years we'll have excellent coverage. Hornbeams are resistant to verticillium wilt and tend to hold their leaves through winter, so even though they are deciduous, they'll provide a little screening in winter. Ideally I'll prune this into a raised hedge, but that's a decision for the future.
Honestly, although I'm not happy about the reason for the death of these viburnums, I'm not all that upset that it happened. When I planted them in 2014 when I reclaimed this area of the yard from what could only be described as a weedy mess, they were chosen because they grew big and were inexpensive. That's not to say this isn't a great plant. I love most viburnums and 'Mohican' is a really good one, but it wasn't quite right for what I was trying to achieve here. You can see what they looked like in the photo below, three soldiers at the back of the bed after it was planted. 
Looking at that garden when it was planted is rather shocking to me. I can't believe how quickly things filled in. Some things didn't last long. The Lysimachia atropurpurea 'Beaujolais' lasted just that one year (although it was fabulous while it was there). Spiraea media Double Play Blue Kazoo grew from a 4-inch pot to a 3-foot shrub that is a star in the garden. 
It's one more reminder that gardens are always changing. The garden adapts and so does the gardener.