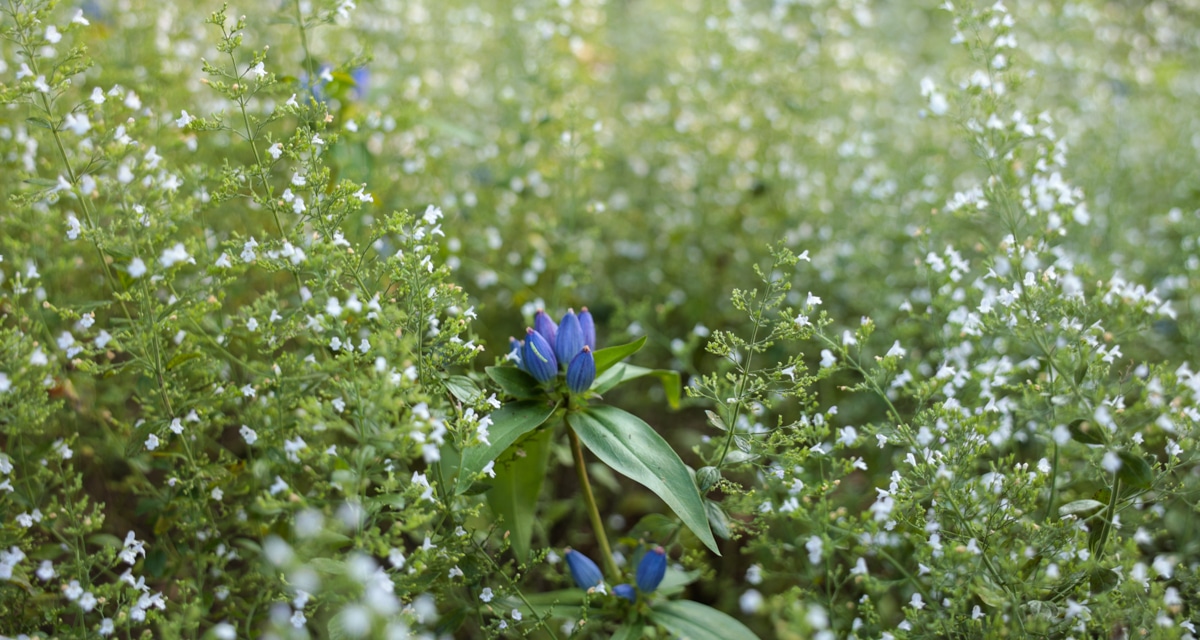 This time of year is all about soaking in the garden and making mental (or more likely, photographic) notes about what worked and what didn't. Some things are as simple as a plant that just didn't perform or as complicated as being happy with how a design sketched on paper came to fruition. But somewhere in the middle is simple acknowledgment of particularly good plant pairings to be filed away for future reference.
Here are a few that I'm really loving this year.
SALVIA + JEWELS OF OPAR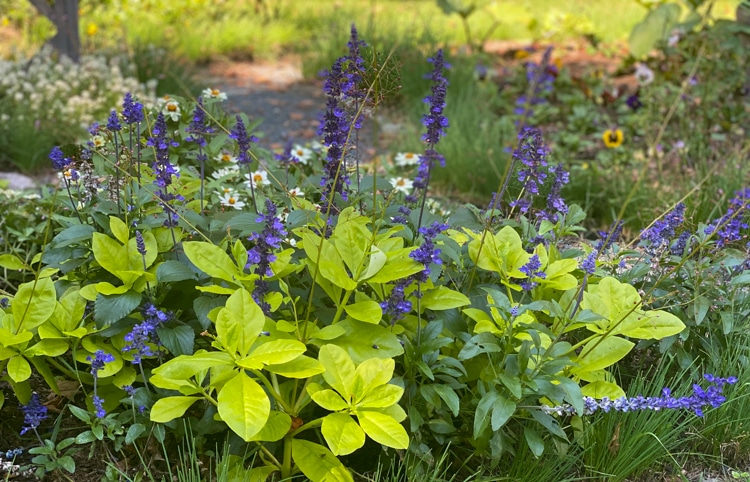 There's nothing like a bit of desperation to come up with something great. When the Nicotiana I had planted in this section of the circle garden ended up being a big, floppy mess, I ripped them out and frantically shopped online find anything that would fill in quickly, in time for a photoshoot in the garden. I got a combination of Salvia Unplugged So Blue and and Rockin' Playing the Blues. But I was worried that they wouldn't fill in quickly so transplanted some Jewels of Opar (Talinum paniculatum) seedlings and ended up with one of my favorite color combos.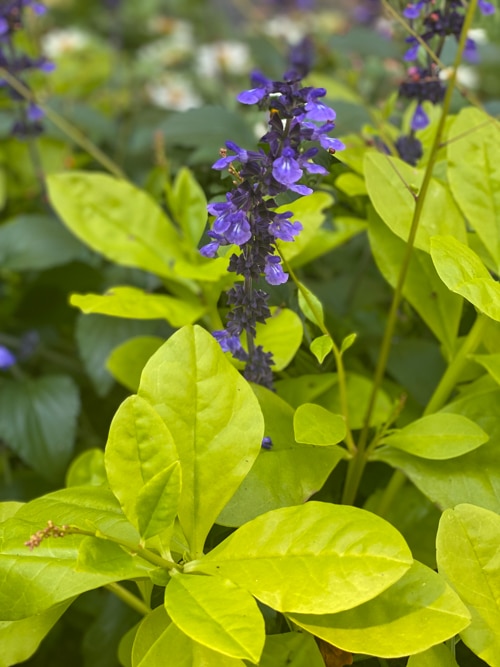 DAHLIA 'THOMAS EDISON' + CANNA + BLUE GLOBE SPRUCE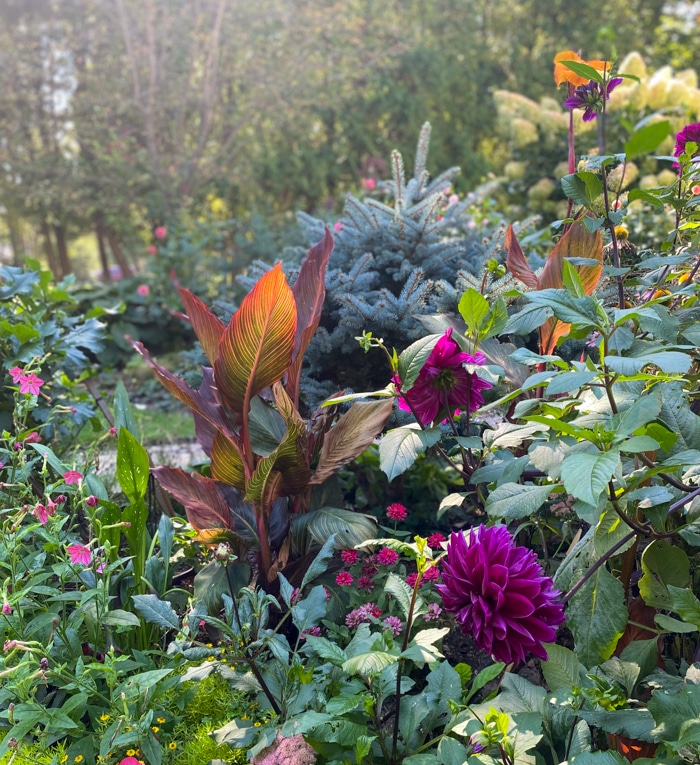 'Tropicanna' canna is doing all the heavy lifting in this combination. Those dark stripes pull out the best in 'Thomas Edison' and the icy cool blue of Picea pungens 'Globosa' brings this threesome to the next level.
BOTTLE GENTIAN + CALAMINTHA NEPETA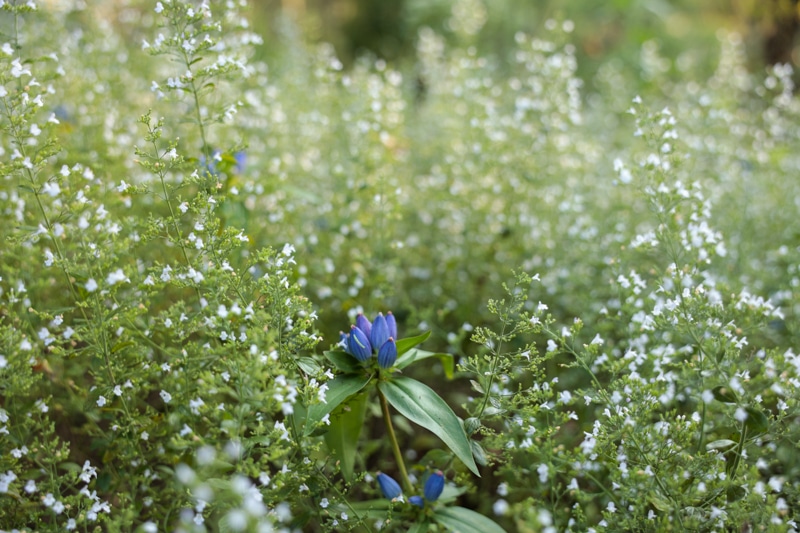 I take no credit for this combination. I stole it straight out of a presentation by Roy Diblik and was captivated with it immediately. I've since learned that this combination is also featured at the Chicago's Lurie Garden.
Gentiana andrewsii, the closed bottle gentian is a native that is a bit slow growing, but in time should bulk up nicely in this cloud of Calamintha nepeta 'Montrose White', which is probably in my top five favorite perennials. The combo, at its peak in late summer, is also great for pollinators. 
HAKONECHLOA 'ALL GOLD' + IMPATIENS
For bright, colorful impact in the shade, I'm not sure you could do much better than this combination. The impatiens, both from the new mildew resistant Beacons line, are planted in an old tree stump that I use as a simple planter, and the chartreuse Hakonechloa couldn't work better with them. That pink-tinged hydrangea (Firelight, possibly) is a nice addition to the pairing as well. 
ANGELONIA + COLOCASIA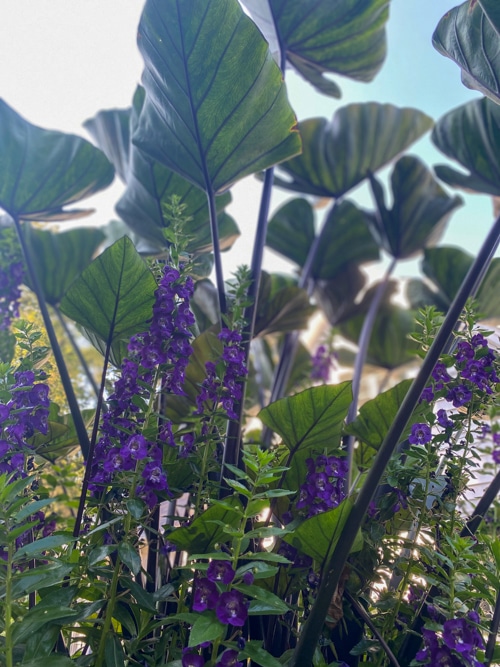 Colocasia 'Coffee Cups' has been an incredible success this summer, but it is the nature of elephant ears to have some very long, bare legs. That wasn't the look I wanted for the urn, especially since it's raised up, so I used Angelonia Superface Blue to shield some of those naked legs. The Angelonia has bloomed nonstop and done a great job to connect the tall Colocasia and the shorter plants in the pot.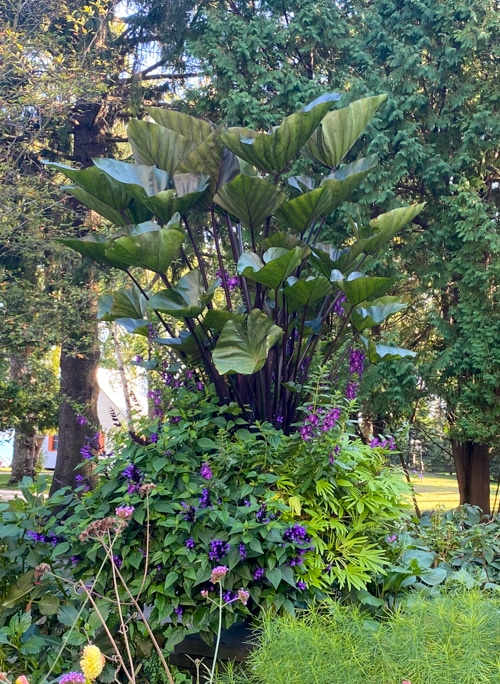 PLECTRANTHUS 'SILVER SHIELD' + GAURA
I used a ton of Plectranthus 'Silver Shield' in my garden this year, but it looked best in this spot where I combined it with gaura. I can't tell you the specific gaura I bought (a white one) because I picked up several from different brands. I also let the Plectranthus bloom, which I don't typically, but I think it worked really well.
What plant combinations are you loving your garden this year?