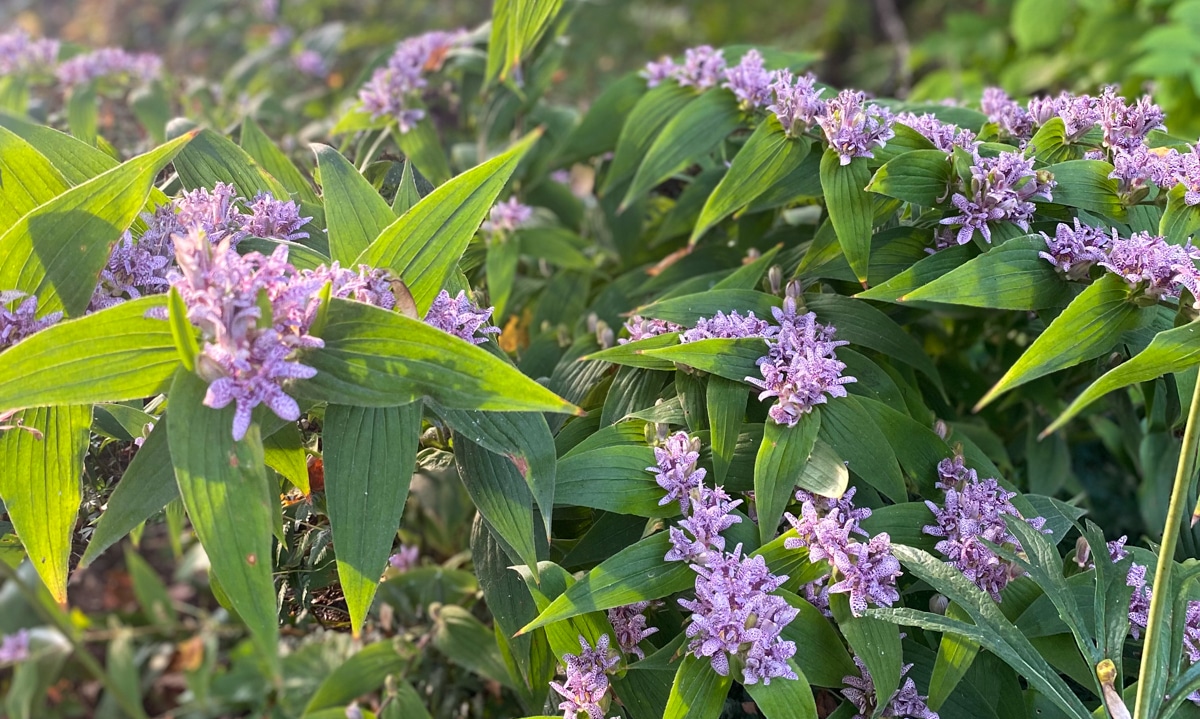 I'll admit it: My gardener brain switched into fall to-do list mode awhile ago. But somewhere along the line in between planning where bulbs will go and remembering which plants need to be moved, I looked up and found some great plants showing off in the garden. It was, once again, a good reminder to not get so caught up in doing things in the garden that you miss enjoying the garden.
That's probably only one reason these great plants can be overlooked. The other, undoubtedly is the same fate that befalls all plants that don't bloom in spring: They don't look good when everyone is buying plants.
So put a few of these on your list for next year, and remind yourself you'll pick them up at the garden center even though they don't look like anything special when you're buying them.
ORNAMENTAL GRASSES
It's hardly a tough sell to talk people into putting ornamental grasses in their gardens, but if you're a holdout, just take a peek at what they do in fall. By this time of year they are blooming so they up the texture factor considerably. But what may be surprising is the color range you'll find them in. Some, like Andropogon gerardi (big bluestem) 'Blackhawks'  is a wild combination of blues, dark green and even purple. Others are that gorgeous gold color that lights up when the sun hits it just so.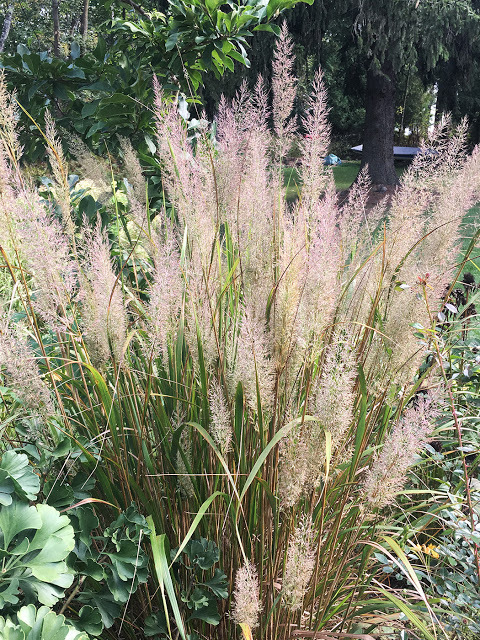 TOAD LILY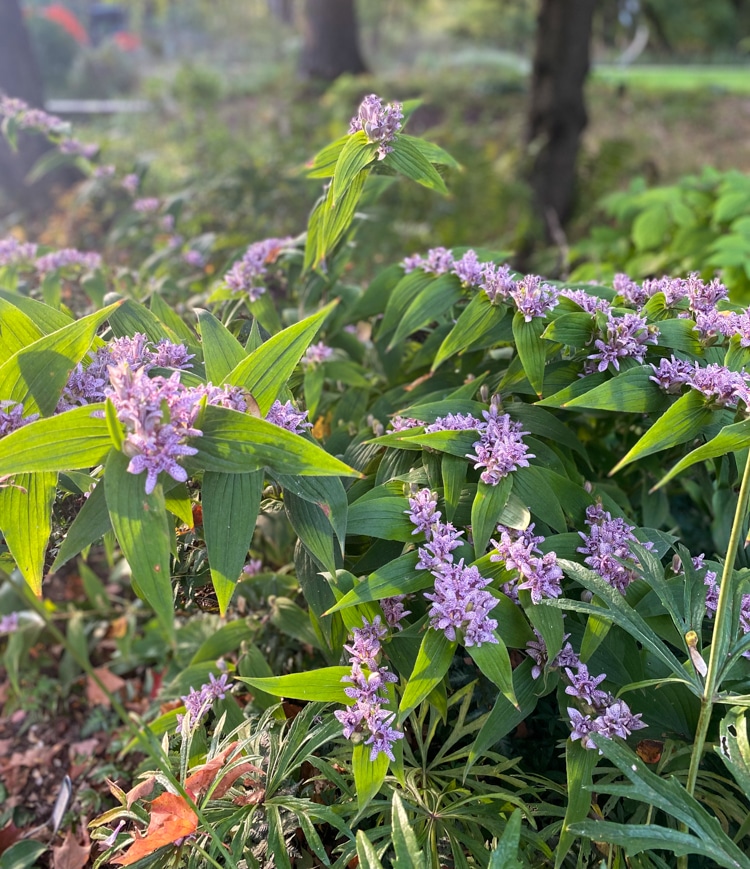 One of the most tropical looking hardy plants I grow is Tricyrtis (toad lily). If you're none the wiser you could easily turn around and think an orchid was in full bloom. It produces small flowers, usually white to purple with a few speckles, depending on the variety, along most of the length of its stems. 
It has interesting foliage for much of the year, perhaps a bit reminiscent of Solomon's seal, and just when you've completely forgotten about it, you turn around there it is, in full bloom. Better yet, it likes a shady situation. Picture a plant growing on the edge of a woodland and it will be happy. I've noticed that it can be susceptible to deer and rabbit damage so you may need to protect it (I use deer repellent on it). 
MONKSHOOD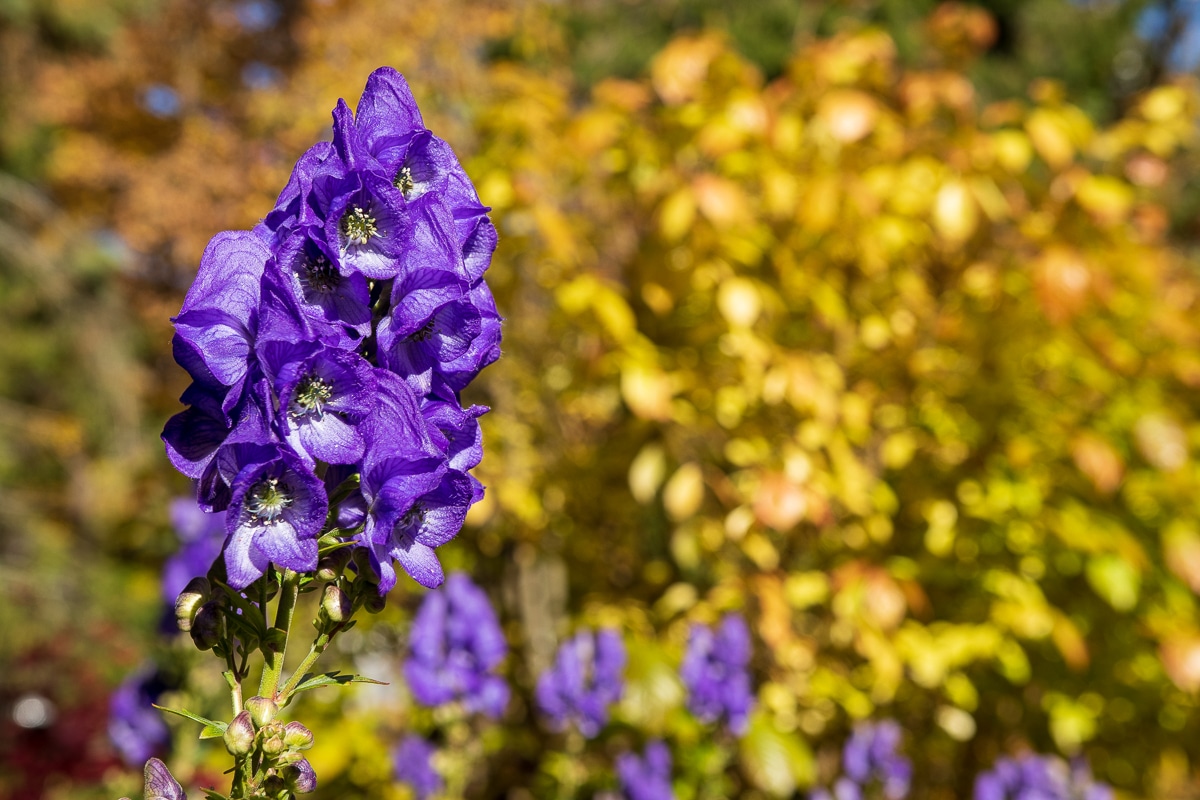 Aconitum  (monkshood or wolfsbane) is the very last perennial to bloom in my garden every year and since it has blue to purple flowers that works out just fine as it absolutely dazzles in the fall landscape surrounded by yellows and oranges.  It's not a small plant—mine is probably pushing 4 feet tall— but if you tuck it in a sunny spot it will rise up through the garden and shoot those beautiful flowers up.
A warning on this one: I'm not typically one to get too worried about poisonous plant, but this one can be pretty dangerous to people and animals. That means the deer will stay away from it but it's probably best to plant it in a place where no one can get into trouble with it.
HYDRANGEA
You might be surprised to see hydrangeas on this list, but bear with me for a moment. Some hydrangeas, in particular some varieties  of Hydrangea paniculata, have stunning fall color. So much so that I'd argue it's the main reason to grow them, even though they offer a good show all summer. 
Quick Fire and Fire Light are two tried-and-true varieties that turn a deep pink earlier and more deeply than other varieties. There are others as well, and new hydrangea varieties being released every year, but if you're in it for the fall color (and really, why wouldn't you be?) look for varieties that turn pink early.
JAPANESE ANEMONES
Before we get too far in the weeds on this one, I'll just say that Japanese anemones are native to China, not Japan, but now everyone knows these plants that are typically Anemona hupehensis, A. tomentosa, A. vitfolia and A. hybrida as "Japanese Anemones" and I'm not ready to lead the charge on that fight.
OK, yes, they can be a bit, shall we say "enthusiastic" in the garden but let's think of it as being a good naturalizer where they are happy. They spread by rhizomes but I've not found them to be hard to control with a bit of shovel pruning. My favorite variety is 'Honorine Jobert', which was a Perennial Plant of the Year a few years back. It has white flowers and doesn't get too tall, but looks so nice and fresh in the fall landscape. They like part sun but I push them into more shade than that successfully.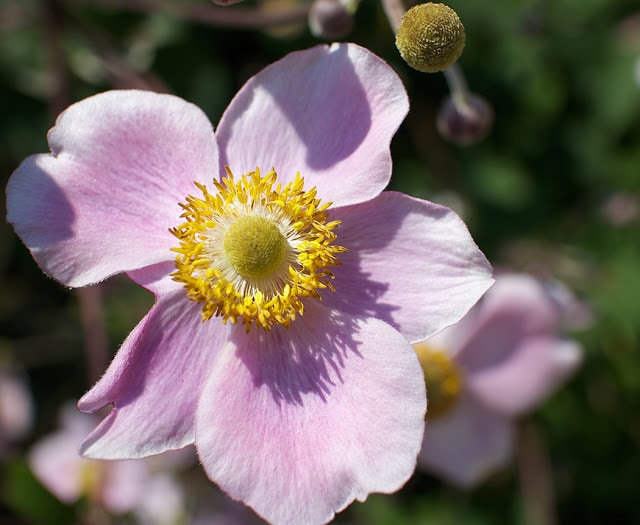 As you can see from these photos from previous iterations of my garden, I used to grow mostly pink varieties and they were quite happy. This part of the garden looks much different these days and all but one of those pink anemones is gone now. I did plant several 'Honorine Jobert' in the new garden this spring they haven't done much yet. I hope they take hold do their naturalizing thing to make a beautiful colony.