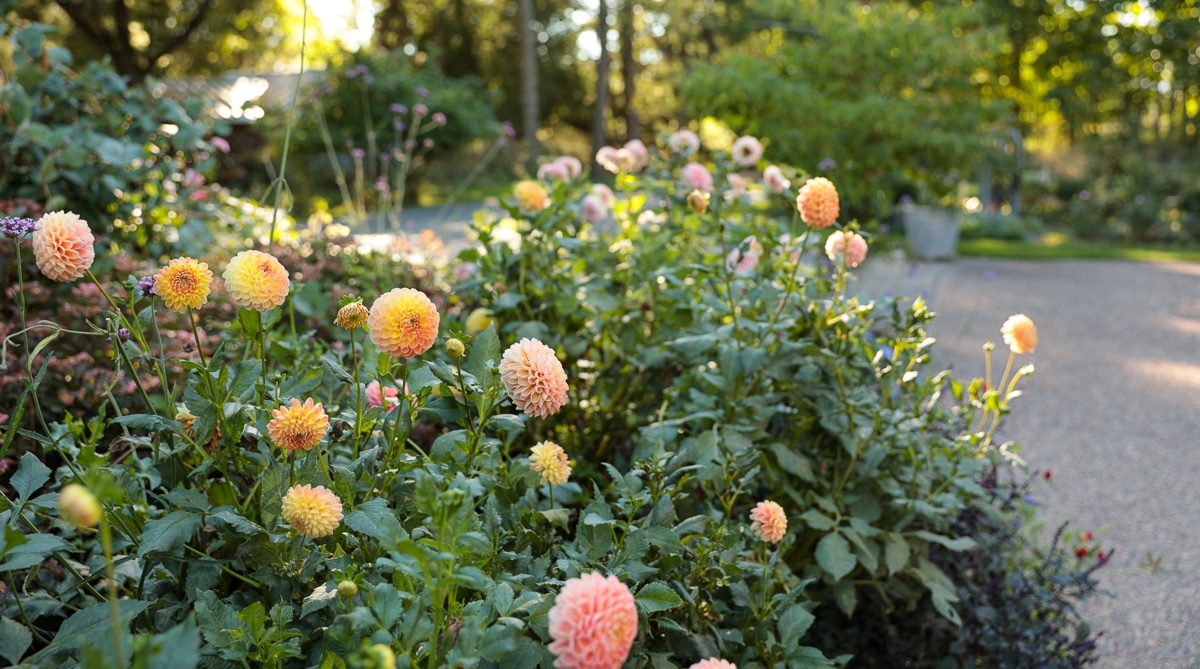 Thanks to Longfield Gardens for partnering with me on this post. 
You don't need to look far on this blog or in my garden to know that I am mildly obsessed with dahlias and have been for a long time. And while I admire, and maybe even envy, those photos of a field with row upon row of backlit dahlias just glowing in the sun, it's not the way I've ever grown them. For me, dahlias are grown like any other plant in the garden, cheek to cheek with other plants.
That's mostly a matter of practicality; I don't have a field in which to grow dahlias. But mostly it's because I want dahlias close to me. I enjoy studying them every day, watching the progression of flowers, and catching issues before they become huge problems. That's why I grow them primarily in the garden bed closest to the house, so that I'm almost immersed in them.
It's not the easiest way to grow dahlias, but it makes for a stunning late summer and fall garden at a time when many gardens are winding down. Here are some tips for growing dahlias right in the garden.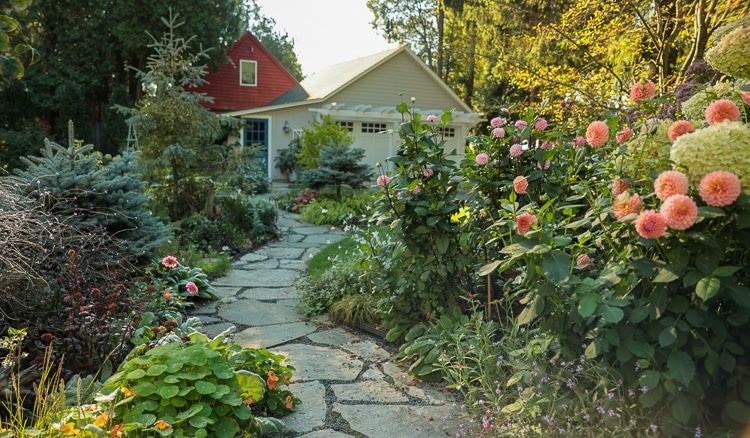 GROW SHORTER VARIETIES
The key to not losing your mind when you grow dahlias in a border is seek out varieties that will only need minimal, if any, staking. Ideally this means something under 30 inches tall, but sometimes you can push that a few inches taller. This means that it's usually best to leave those huge so-called dinnerplate dahlias for another spot. 
I also like to look for varieties that start to bloom early, continue to bloom consistently and produce a lot of flowers. If dahlias are going to grow in a garden they need to be held to a higher standard and prove their garden value.
A few of my favorites that fit the bill are HS Date, Crichton Honey, Kelsey Annie Joy and Bishop of Dover.
Any of the dahlias in the Gallery series are also perfect for the front of the border as they only grow to about 15 inches tall.
My general rule when I'm looking for dahlias to grow in the garden (versus a special dahlia area), is that ideally I want to see a height of 30 inches or less, but I'll consider those listed as getting to 36 inches because even though I know I'll need to stake them, it will be a manageable job. And I'll grow a handful that get taller, maybe to the 40-inch range, but I try to limit them and know that they'll have to be planted toward to the middle or back of the border.
A few other shorter varieties that I haven't grown, but are on my list are Milena Fleur, Melody Swing, Melody Pink Allegro, Totally Tangerine, and the deep, dark Tamburo.
HAVE A STAKING PLAN
Ideally you won't have to stake these shorter varieties at all but things don't always turn out how we planned. Drought was a huge challenge in my garden this year so there was very little moisture as dahlias were putting on most of their growth. This lead to weak stems, so some varieties that normally don't need staking in my garden ended up needing support this year. 
I plant a lot of Crichton Honey every year but typically only have to stake one or two plants. This year every single one had to be staked. 
When I do stake I like to use a wood stake, about 3/4-inch square and 3 or 4 feet tall, which gives me plenty of length to pound it firmly in the ground. I always pound them in quite a bit because otherwise they'll start leaning right along with the dahlia they are supposed to be supporting.
I place the stake either at the back of the plant or the center, taking care not to plunge it through the tubers underground. Then I use soft twine (black or natural hides best) and tie one end around the stake, simply loop it around the stems and tie it back onto the stake. The secret is to obscure the stake as best as possible and not tie it too tight, which will create and unnaturally upright plant with all the stems jammed together. Sometimes I'll even purposely leave a smaller stem or two outside of the tied-up portion to make it look more natural. Tucking the twine under leaves helps hide it but the plant will likely quickly grow to cover it.
For those dahlias that I know will need staking no matter what, I put the stake in at the time of planting and tie the plant in as it grows.
PLANT STRATEGICALLY
Dahlias are not plants that you can stick in the ground and walk away from. They need regular deadheading as well as staking, removal of browning or diseased leaves and any number of other little jobs. And in order to do all that you have to be able to access them. This means planting them in places where you can step in the border to get to them.
If there is one of these tips that I have to work on, it's this one. When I plant dahlias in June, the garden is just getting going and I have a tendency to forget how big everything gets. Soon my easy pathways are reduced to areas where I can only carefully tiptoe through the garden. Make life easier for yourself and plan for how big they'll get.
You may also need to reach dahlias with a hose for supplemental watering. I rarely water dahlias planted in the garden but when I do, it's with a hose. Overhead watering with a sprinkler is a recipe for disaster with dahlias (guess how I know).
PLANT PLANTS
In gardens that are very full it can work best to start dahlia tubers ahead of time in pots and grow them out a bit before they are planted in the ground. Tubers planted directly in the ground can have a tough time in packed gardens as plants around them grow and block the light. 
You can find out more about how I start dahlias early here or watch this video:
It takes a little more planning to pull off growing dahlias in the garden amongst other annuals, perennials and shrubs, but the effect is gorgeous and your garden will be full of gorgeous color in the second half of the gardening season.