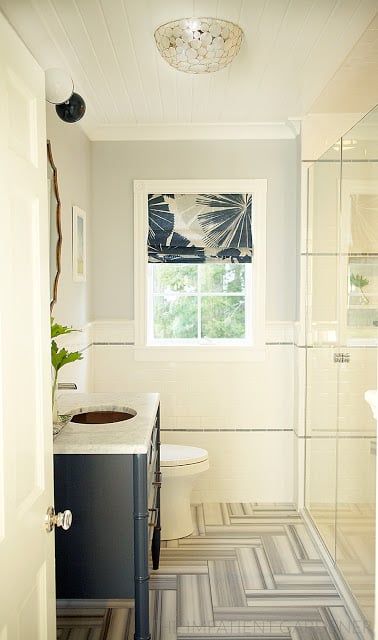 Thanks for your patience on this. I got behind on all the last minute details and just couldn't finish this up in time to join the first wave of "big reveals" Thursday morning.
If you're wondering what all this is about, I joined the One Room Challenge, hosted semi-annually by Linda at Calling it Home and attempted to renovate our downstairs bathroom in just six weeks. It was the first room we planned to renovate when we bought the house and it turned out to be pretty much the last room we touched, mostly because it was just daunting.
And here's where it ended up.
To fully appreciate how far it has come, you have to remember what it looked like before. Highlights, or rather lowlights, include highly textured walls, pickled pink wood, a pink counter, weird shower insert, rope sink, shiny gold (not in a good way) hardware and, of course, a boob light.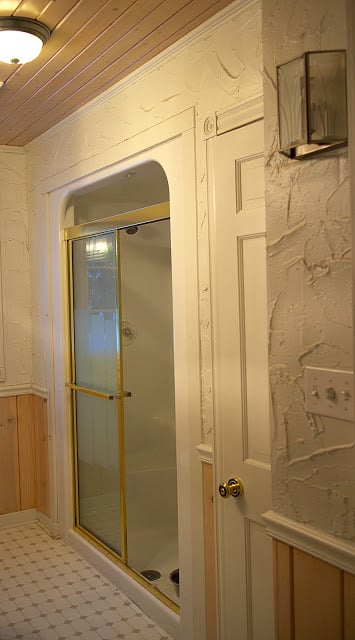 By taking out the shower insert and tiling the shower up the ceiling and using a very low threshold shower pan, the room feels twice as big.
Unfortunately the vanity top is not finished. If you recall, it was cut incorrectly and is too small for the vanity and the sink hole wasn't cut correctly. We've been waiting for another carrara marble remnant to become available but no luck so far.
The fabric for the roman blind was not what I intended to use originally but that didn't seem quite right. I ended up looking for something with a hand-printed look and in the middle of a mad internet search I found just that in Australia and just a few days later, freshly printed fabric from halfway around the world was on my doorstep. Like I do about once a year, I pulled out the sewing machine, tried to remember how to work it and sewed that baby up, saving somewhere in the neighborhood of $130, which was the going price I found to have someone make a custom roman blind. I was fairly impressed with myself, particularly given that I literally sewed THROUGH my finger when I took a machine sewing class in summer school in 7th grade.
To find out more specifics about how this project all went, check out previous weeks here:
SOURCES
(Some affiliate links may be used)
Vanity: My design, semi-DIY constructed
Please take a moment to check out all of the other guest participants in the One Room Challenge as well as the featured bloggers.
Thanks for following along!