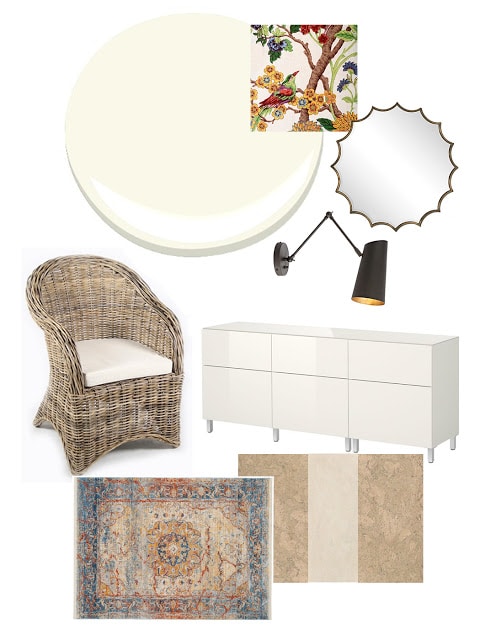 We are asking this room—the finished half of our full basement—to be a bit of everything. Its main function will be to serve as an office for Mr. Much More Patient, who started his own business at the beginning of the year. There will also be a sitting area that may some day become a small workout area and room for storage. It needs to be bright (did I mention it's a basement with teeny windows?) and durable because we'll be in it and walking through it to get to the business end of the basement. And it needs to be done on a budget.
The budget, actually, has budged a bit since I introduced this project. Pennies, which was the original budget, was not exactly realistic, so we've found a bit more to dedicate to it. But the plan is still to DIY everything, reuse furniture and materials wherever possible and call upon a few main features to carry the design.
Speaking of design, the mood board above gives an idea of where the space may be headed. The overall palette is cream with black accents. The floor will be warm and cozy and still very functional and with the exception of the office furniture, will use pieces we have on hand to fill the space.
And frankly, it can only get better. Remember this before picture? Ouch. It's so painful.
To review, here's what we're dealing with: A long, skinny room  with three small glass block windows, a cold floor and a low ceiling that also houses essentially like the electrical panel and a sump pump. But it does have a beautiful fireplace so it's not devoid of character.
Can we make something of it? Stayed tuned over the next five weeks to see it come together and find out what we can do on a tight budget entirely done DIY.
And don't forget to check out all the amazing projects linked up and participating with the One Room Challenge hosted by Calling it Home. Since I got a late start on this, I'll be back with more in a couple days!