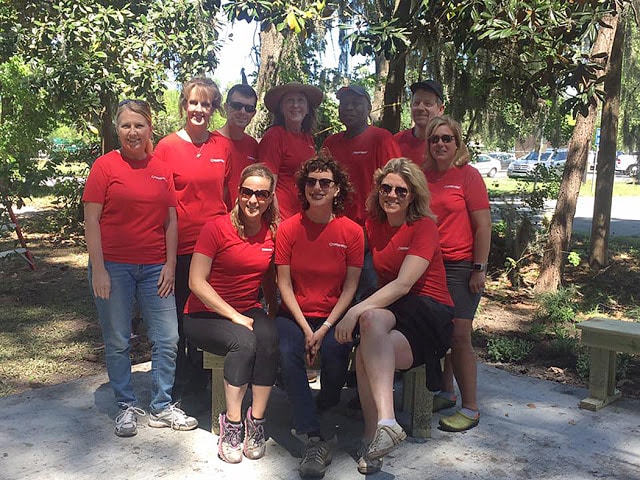 Holy smokes. I'm finally sitting down to reach out to you all to just let you know I'm still around a little bit about what's been happening.
I tend to do little personal updates as part of Friday Finds, but there was no getting to a computer on Friday. Last week I traveled to Savannah, Georgia, for a fun event with all the Troy-Bilt brand ambassadors, a group I'm happy to be included in.
Unfortunately we all got caught up in the Delta airlines mess related to storms on Wednesday. I won't bore you with the whole horror story, but I left my house at 5 a.m. Wednesday and didn't get to the hotel in Savannah until 10 a.m. Thursday. And as if that weren't bad enough, flights were screwed up when I was supposed to fly home on Friday as well, so I didn't get home until Saturday night.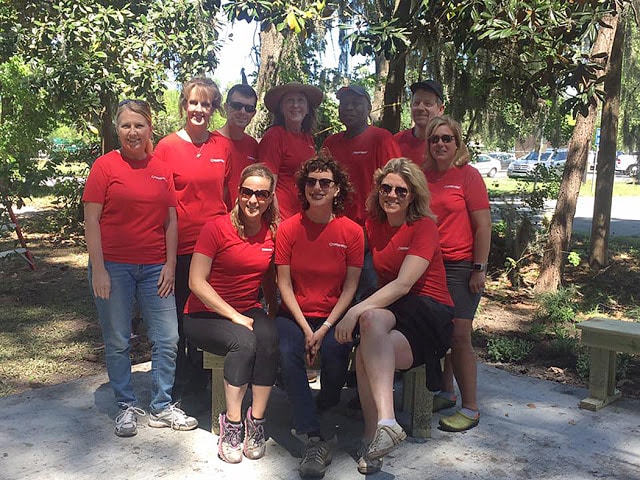 The whole group of garden blogger brand ambassadors. Of course they took this photo AFTER we gardened all day!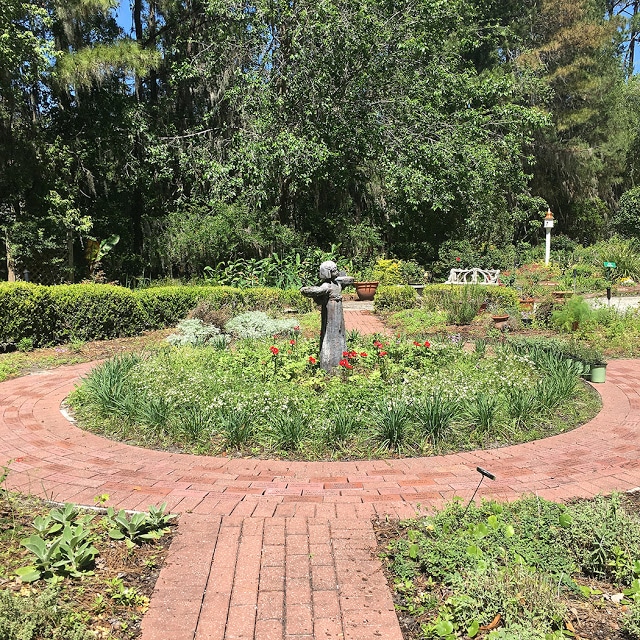 This cute herb garden was beautiful but we also added a few plants and cleaned up some beds here as well.
The good news is that I did manage to get to Savannah to help rebuild and expand a children's garden at the Savannah Area Council of Garden Clubs Botanical Garden that was damaged in Hurricane Matthew. Along with Planet in Action and some local Troy-Bilt representatives, our group of 10 brand ambassadors put in several new gardens that should develop into really lovely places for kids to enjoy. I'm proud to be associated with a company that really reaches out to help and not only did Troy-Bilt organize the whole garden makeover, but they left behind a collection of equipment to help maintain the garden and gave the organization another $5,000 to help support the garden.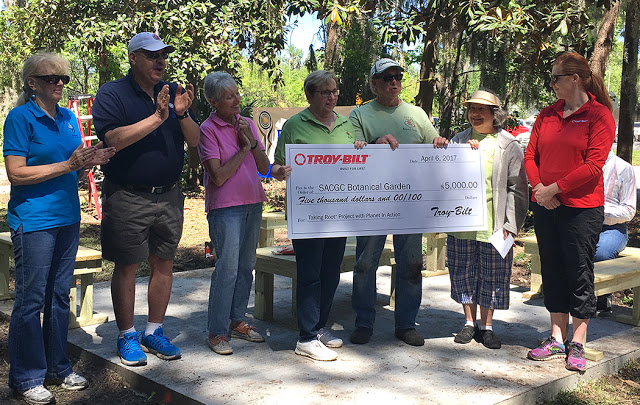 Officials from Troy-Bilt, Planet in Action and the botanical garden celebrated Troy-Bilt's donation.
The other good bit was that although I missed out on seeing so much of Savannah, I met some more great people including Amy from Get Busy Gardening who ended up being my travel partner for most of the trip as somehow the two of us kept getting stranded in the same places. After countless hours in airports, about five hours in a rental car, two hotels and a handful of bars, Amy and I got to know each other pretty well and I can assure you, she's a good person to get stuck in a bad situation with.
All of this means that things on the blog got completely backed up because believe it or not, all that travel mess didn't really allow for much time to actually work on things. (It's difficult to type when you're standing in one line after another.)
Allow me to catch you up. First off, the latest One Room Challenge started next week and I'm going to do it again. So later today (or possibly tomorrow) you'll see a post introducing my project (technically you've already seen it but I finally have some more focus on it and it's completely different from the bathroom I did last year.) I'll post the update on Thursday to get on schedule with the official guest participant posts.
With all the travel delays I felt like I was gone for ages but it was really only four days. Still I was shocked to see how much the garden had changed in that time. Daffodils are up all over the place. Garlic mustard weed is popping up all over (and now is the best time to deal with it). In between other projects on Sunday I pruned roses and a few more clematis, set up the temporary greenhouse (affiliate link) and suddenly felt overwhelmed with all there is to do.
More coming, but I just wanted to let you know, I'm still around and not planning to fly anywhere soon!
I am a compensated brand ambassador for Troy-Bilt. But I mentioned this project here because I thought you'd be interested, not because I was paid to. And of course, all opinions are my own!