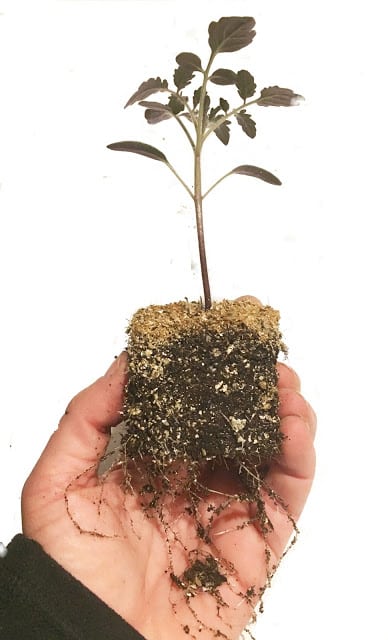 There comes a time in every seedling's life when it must move out of its cramped confines into bigger digs that will allow it to keep growing.
Given proper heat and light, tomato seedlings grow faster than most other kinds of seeds, so they need almost constant tending from the moment they are planted. I sowed my tomato seeds—two seeds per soil block—on March 25, put them on a heat mat and within five days almost every seed had germinated. Within nine days I had a 100% germination rate (that's almost unheard of) for the 80 seeds I planted.
By April 4 it was time to thin the seedlings down to one per soil block (the same applies if you are planting in cells or modules). I made a quick Facebook live video showing the technique that you can view.
By the time I got home last weekend, it was clear that it was about time to pot on the seedlings. I find it easier to know when to pot on when using soil blocks because you can clearly see the roots. By examining a block I could see that long roots were coming out of the blocks in every direction. That plus the fact that the soil blocks were requiring more and more water was the signal that these babies were growing and fast.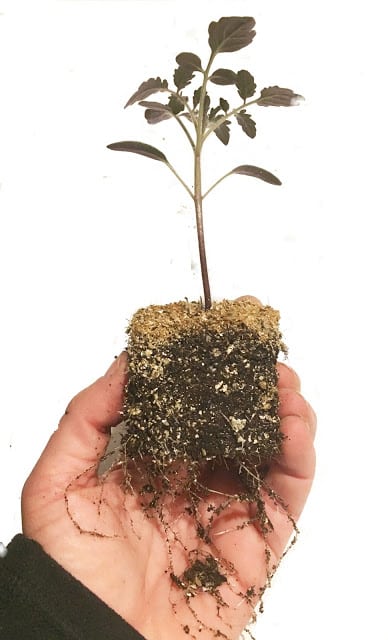 Although all the plants look healthy, with dark green leaves and, in most cases, at least two sets of true leaves, I was surprised at how tall they were. The stems were thick, which is good, but they were all about 4 inches tall, which seems taller than usual. Perhaps the bulbs in my grow light aren't as strong as they were last year or some other factor accounts for that. The good news is that the problem is easily fixed.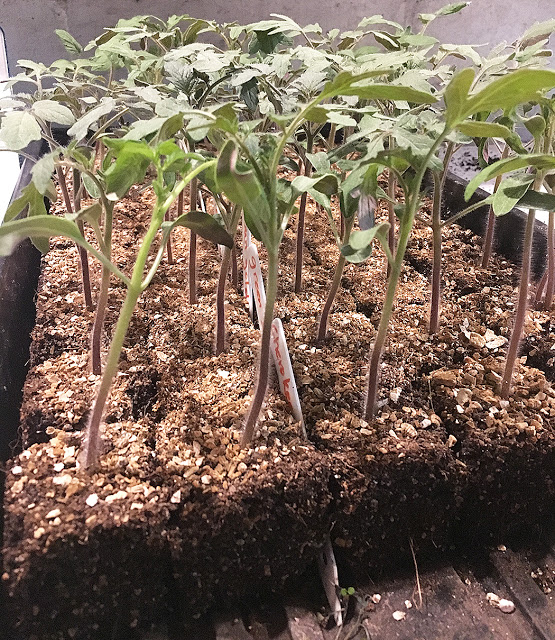 Prior to transplanting, the seedlings had thick stems that were a little taller than I would have liked.
You probably know that tomatoes should be planted either in a trench or deeply so that roots will form along the buried stem. That same advice holds for potting on seedlings. I choose to transplant the soil blocks to round 4-inch pots that are deeper than many square pots. I save almost all my pots from plant purchases for this purpose and just rinse them out. I know that you are supposed to sterilize pots in between uses, but I'm a lazy gardener and I've never done this.
Transplanting is simple: Just put a small amount of potting mix—I move on real potting mix at this stage of life, although I do not use those with fertilizer already mixed in—in the bottom of the container, rest the soil block on top, then fill the rest of the container with potting mix just very lightly settling the soil on top. There's no need to firm it down as watering will do that naturally. I left only about a half inch to an inch of stem sticking up above the soil level. The buried stem will create more roots and should help the plant thrive.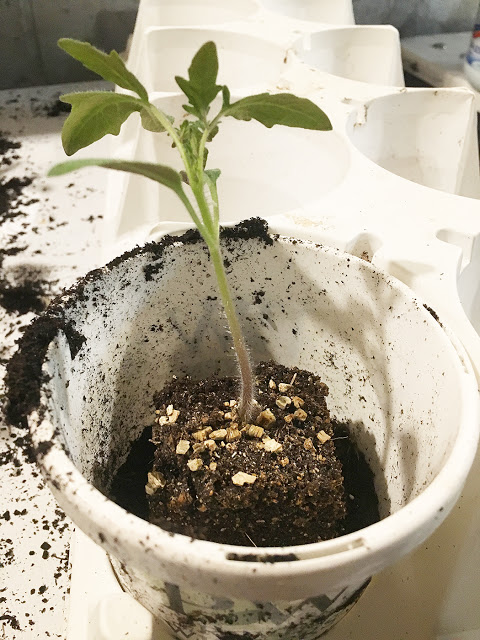 When potting on, I put a small amount of soil mix in the bottom of the pot, set the soil block on top and filled with soil, burying all but about a half-inch of the stem. The buried part of the stem will grow new roots.
This is where soil blocks really shine in my opinion. Because they haven't been pried out of a cell, there is basically no root disturbance and the bottoms of the roots are nicely spread out.
There is a danger of potting on seedlings into pots that are too big. When the soil-to-root ratio is high,  it can be easy to overwater them. If you're jumping up to the size of pot I chose without a stop at a smaller pot in between, you have to really keep an eye on the water and make sure you don't drown them, allowing the roots to rot. Presuming I can keep a handle on that, these tomatoes will live happily in these pots until the beginning of June when I'll transplant them to the garden.
From here on out the care for the tomatoes won't change much from what I've been doing. They will stay under grow lights inside for several more weeks before I move them out to the outdoor greenhouse and then gradually harden them off before planting. Because tomatoes are so sensitive to temperature, I transition them very gradually. It can take them weeks to recover from a temperature or light related shock and when you're growing tomatoes in the upper Midwest, every week is precious. From now on I will also fertilize with a very dilute fish fertilizer.
The stronger I can make my seedlings now, hopefully they better off they will be when they finally get in the garden. And that means healthier plants and more tomatoes!