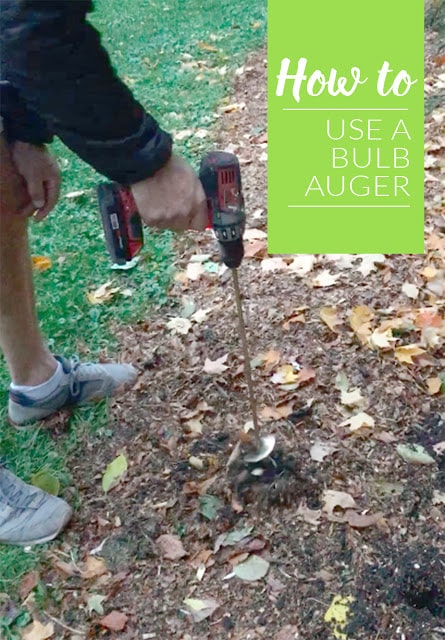 Last spring Mr. Much More Patient looked out the window at our still-gray landscape and asked why we didn't have more daffodils. They are a good bulb to grow here because no critters will touch them. Still, I don't want to add too many more to the gardens, as keeping them healthy requires leaving the foliage standing to die back naturally, and I don't love that look in my garden. (In fact I often cut off the leaves before I should, knowing full well this will affect their life span.) But we do have a lot of wooded areas that are quite bright in spring and would look lovely with some color. And I'd never have to worry about the foliage looking tatty.
So I told Mr. Much More Patient we could have mass quantities of daffodils if he didn't balk at the cost and would agree to help plant them.
And that's how we ended up planting 400 daffodils this week.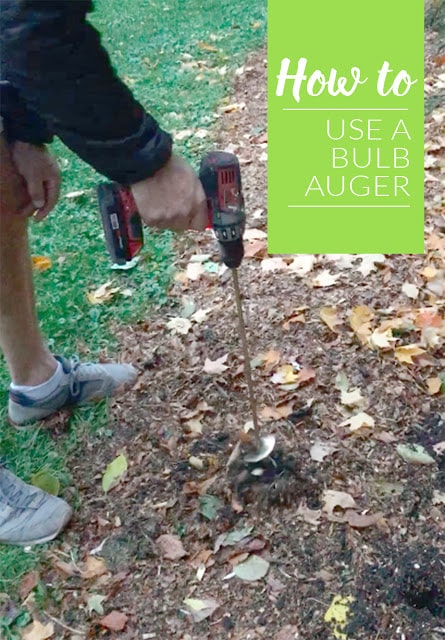 When I'm planting daffodils in the garden proper, I like to dig big holes and plant them en masse, but that approach wouldn't work well for the woods. For one, there are a lot of roots around and digging big holes is not easily done. I also bought varieties that are supposed to naturalize (i.e. multiply) more easily, so wanted to give them enough room to do their thing in the future. That meant planting them individually and there is no better way to do that than with a bulb auger.
Think of a bulb auger as a really big drill bit for a power drill. They come in different lengths, but most seem to be in the 24-inch range. In my opinion, bigger is better because that means less bending over. It does take a little practice to get the hang of the auger though, so here are a few tips to make sure you don't spin your hand off.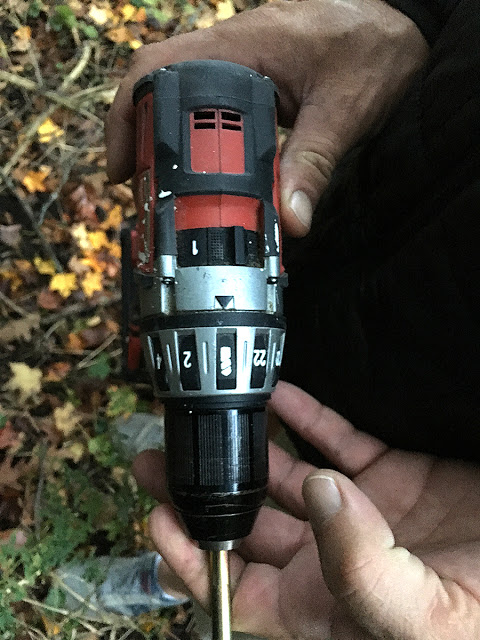 Set the drill torque on the drill setting and on a lower speed if you have a variable-speed drill. 
Put the auger in the drill the same way you'd fit in any drill or screwdriver bit. Then you want to turn the torque setting to the drill setting. If you have a drill with multiple speeds, put in on a lower speed setting. Our Milwaukee drill has two speeds and we run it on the slower speed for this.
Drilling a hole with a bulb auger is not the same as drilling a hole in a piece of wood, where you generally want to keep pushing. If you push like heck when you drill a hole in the dirt at some point the dirt (or more likely the roots, rock or something under the soil) is going to win and the auger will stop spinning but your arm won't. I'm not kidding … your arm keeps spinning. And it hurts. This is why you want it on a lower speed.
In order to avoid that, work the auger up and down as you drill, gradually working it down into the soil. If it does get stuck, don't try to push through it. Reverse the drill, back up a little and then start working up and down again until you've got the hole drilled to the depth you want (about 6 to 8 inches for daffodils, but they aren't overly fussy).
Doing the up and down motion leaves a lovely little pile of soil around each hole, so it's easy to refill after you put a bulb in the hole. One note: We noticed that we were using up the batteries on the drill quickly when we were whipping through holes so quickly. We went through a battery about every 100 holes. So make sure you have a fully charged battery and if you have a spare battery make sure that's good to go too.
Working with two people we were able to crank out those bulbs in no time, probably about an hour total. Mr. Much More Patient was on drill duty and I plunked the bulbs in the holes and covered  them as I went. I found it was much easier to dump the bulbs into a trug rather than try to fish them out of a bag every time.
There's plenty of time to plant bulbs still. In fact you can pretty much do it as long as you can get in the ground, but planting bulbs in really cold ground, when it's really cold outside, can't be much fun.
If you're in the market for a bulb auger, here are a few to check out.
Affiliate links follow. Thanks for supporting this blog!