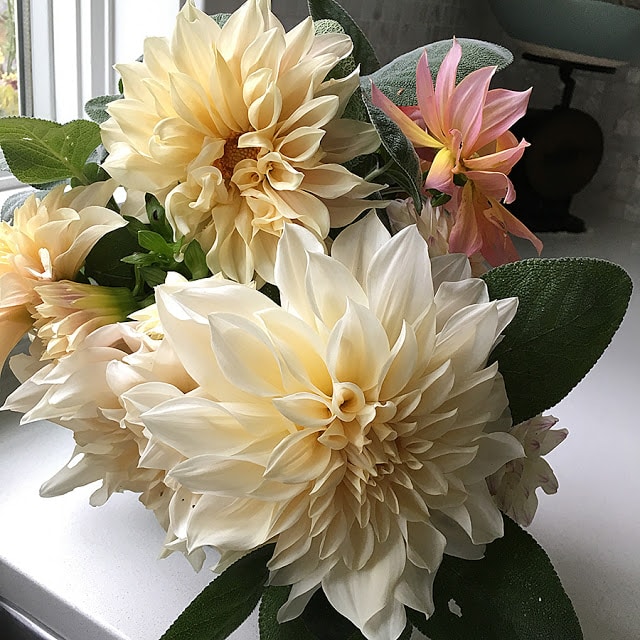 On Sunday I cut what I think will probably be the last bouquet of flowers from the garden this year. I thought it seemed late, so I looked back at last year and noticed that our first frost was on October 18. We haven't had one yet and the forecast for tomorrow is 70 degrees. I think the flowers are just pooped out from producing for so long.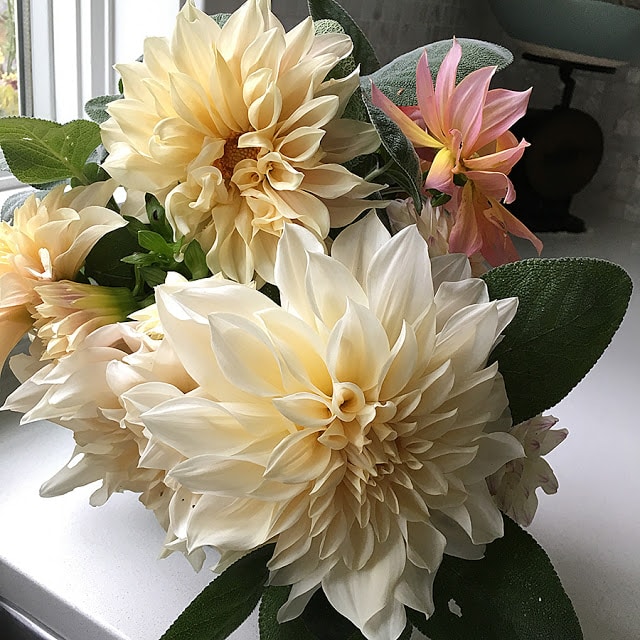 The Cafe au Lait dahlias have all been shades of cream since the weather turned cooler. The foliage is Bergaarten sage, which I grew as a foliage plant in the patio bed this summer.
We set the clocks back this coming weekend in what is becoming a completely ridiculous tradition of daylight savings time (or the end of daylight savings time … I never know when we're on it and when we're not). I was very aware of the impending afternoon darkness (although some sun in the morning will sure make getting up easier) when I was working in the garden over the weekend. I feel like there is so much to be done but I'm feeling no enthusiasm for any of it. I don't find the garden chores that must be done in autumn to be at all joyful.
One of my fall garden chores has become something of a tradition: heeling in pots for winter. In the beginning I had to do this because I had plants sitting around that hadn't yet found a home. These days I mostly deal with plants that I'm intentionally growing out in pots until they get big enough to plant out or perennials I've divided and potted up for our master gardener plant sale next spring. This year I am heeling in about 30 one-gallon or larger pots.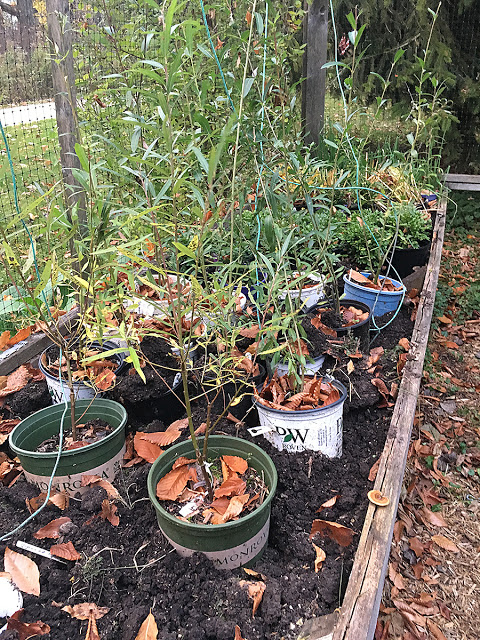 There's nothing fancy about heeling in plants in pots: dig a hole and stick them in. A little more soil should be added and then the whole thing will be topped off with a thick layer of mulched leaves.
The fenced-in raised vegetable garden is perfect for this. The beds have been cleaned out and I won't need them again until it's time to unearth the pots. And I won't have to worry about hungry deer browsing on any exposed stems thanks to the fence.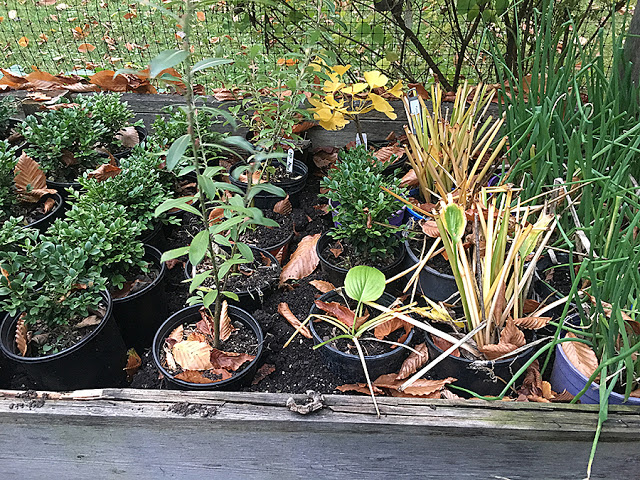 Walking onions, hostas, boxwood and willow are all spending the winter in pots.
There's no science to this. For me it's a quick and dirty job: dig a trench, put pots in, push back soil and repeat. Next weekend I'll mulch leaves and cover the entire bed in a very thick layer of finely chopped leaves. These can be moved to the compost or just mixed into the beds in spring.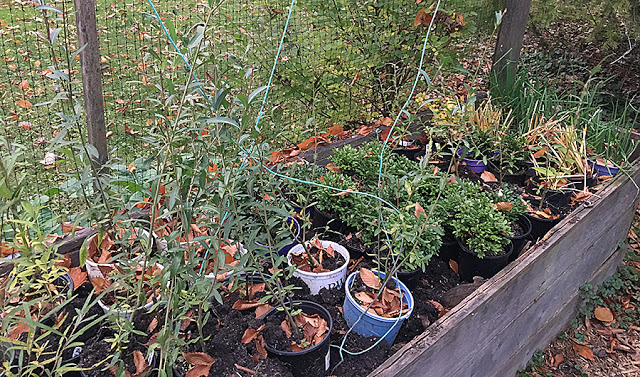 The fenced-in raised veggie garden is the perfect spot to overwinter all of these plants in progress.
It's rare that I lose a plant using this process, which I most certainly would if I just left them unprotected in their pots. And it's become a bit of a spring ritual to unearth the pots. And that's a project I enjoy much more.