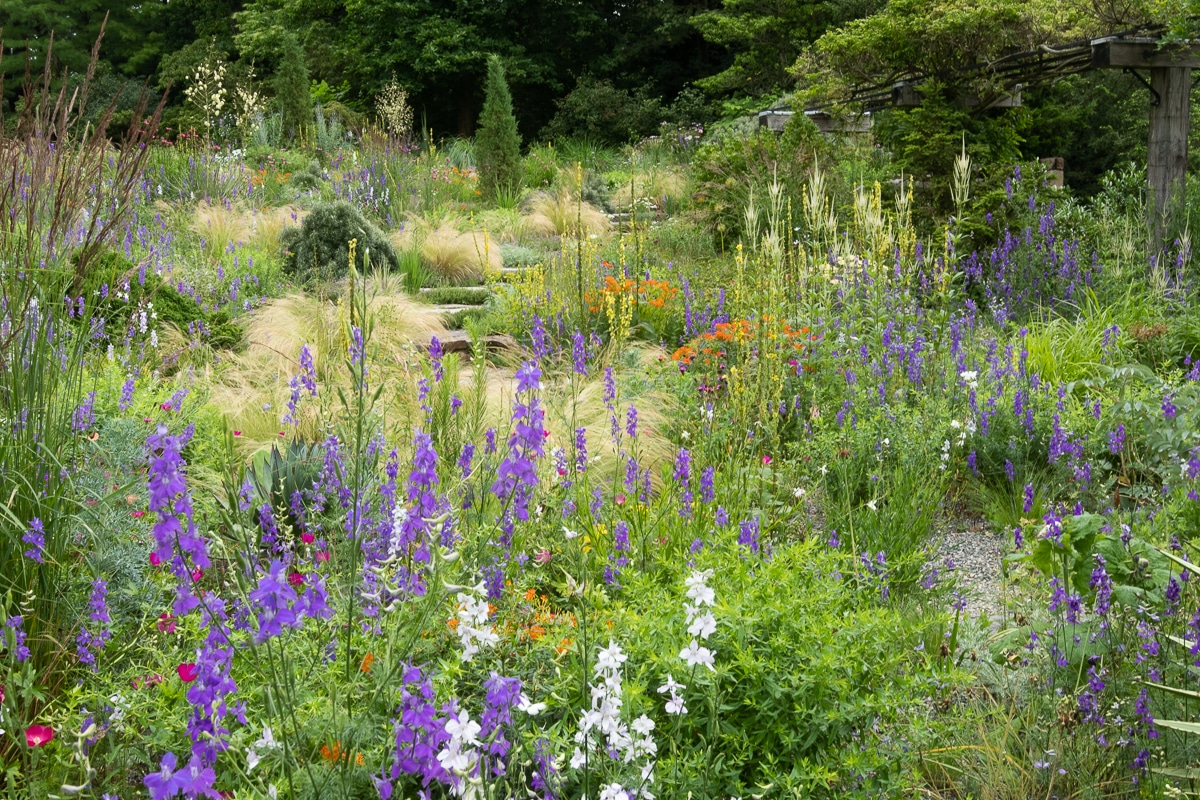 Well I'm predictable, that's for sure. 
Every couple years, almost without fail, I take on a really big garden project. I cannot explain what compels me to follow this arbitrary yet somehow predictable schedule, but I do.
And so, since I spent much of 2018 building the dream vegetable garden, and part of last year finishing that vegetable garden, another big garden project is in the works for 2020.
Like most random and otherwise unintended new garden areas that I take on, it started with an unexpected event. In this case, being forced to take down the giant ash tree on the north side of the driveway. Suddenly that whole area is screaming for attention and the "natural" plants that have grown there are unhappy with their relatively sunny new conditions.
So long story short, something new is going to happen there. I'm sketching things out and getting my thoughts together, and I'll be sure to share the plan as it develops. Mr. Much More Patient got very nervous when I started printing out graph paper and brought out the big 100-foot tape measure. He's learned by now that the cost of a project is directly related to the size of the tape measure.
So that's one of the items on the 2020 docket. 
Other to-dos include more work in the vegetable garden, mostly adding more pretty and productive plants around the perimeter (inside the fence of course).
I also hope to expand the compost bin system, which is not really exciting but long overdue. (When I went to link that article, I couldn't believe that I got it 10 years ago. It's been moved at least twice since then and is still going strong. I'd say I got my money's worth out of that.)
The rest of the to-do list reads like more of a plant list than a to-do list. Just the ones that come to mind right now (although I'm sure there's a note in my phone somewhere): 
Bottlebrush buckeye for the other side of the driveway. This plant choice brought to you by my trip to Pennsylvania last June when I saw it everywhere. The fact that it's happy in a bit of shade is ideal.
Sadly the 'Venus' dogwood on the north side of the house was a victim of the polar vortex of 2019. I watched it complete its life in my garden all summer. I just didn't have the heart to replace it. The good news is that thanks to a suggestion from a reader (or maybe a YouTube viewer, I can't recall), I've realized that I really need a purple-leafed something or other there. I'm sort of hoping not to do a Japanese maple there so a bit more research is in order. Initially I thought of a purple redbud, but I fear that a reliably hardy variety may not exist.
Last fall, for the first time I had some buck damage in the garden. Nibbling is always an issue here but I've never had a buck rub on trees before, and last year a big dope with antler knocked two trees over. One was a columnar apple near the deck, and I'm now rethinking the whole idea of it in that spot. 
Honestly I'm feeling a little overwhelmed by my to-do list, which is, perhaps an indication of my age. Years ago I thought nothing of endless garden projects, many of which involved very heavy stones. Just thinking about some of those projects makes me want to huddle up on my couch with a knitting for beginners book. 
So that's what's on the docket for the year. Certainly things will change, and odds are it won't all get done (probably more a function of a shortage of budget vs. a lack of interest). Whatever happens you know I'll take you along and whatever circuitous journey the garden takes this year.
So what's on your garden agenda for 2020?