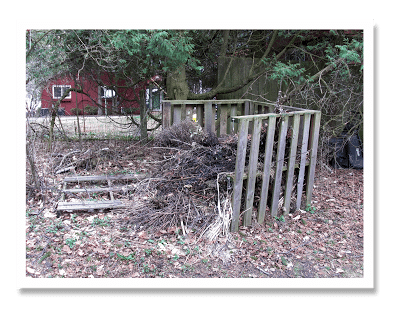 Confused? 
Well, turns out we needed a new furnace last fall, and since we were still in shock over how expensive propane was the winter before, we decided to connect to the natural gas line in the road. Then, in late winter, with the house plenty cozy with natural gas heat, we had the propane company come out and move the hideously ugly propane tank. A few years ago I had put up a reed fence to screen the propane tank and the compost bin, which I purposely set up behind the fence.
But with the propane tank gone, there was no more need for the fence, so I happily took it down. Then I looked out of the back door/kitchen door and saw this:
 And if I thought that was bad, what do you think my neighbor (right there in the background) thought? The pallet compost bin served us well for the cost of two hinges and a couple screws, but it was time for a new bin and a new location for the compost.
And isn't this better looking?
Best of all, we can't see it from the house, and neither can any of my neighbors (although compared to that other bin, it's so good looking it wouldn't be bad to look at).