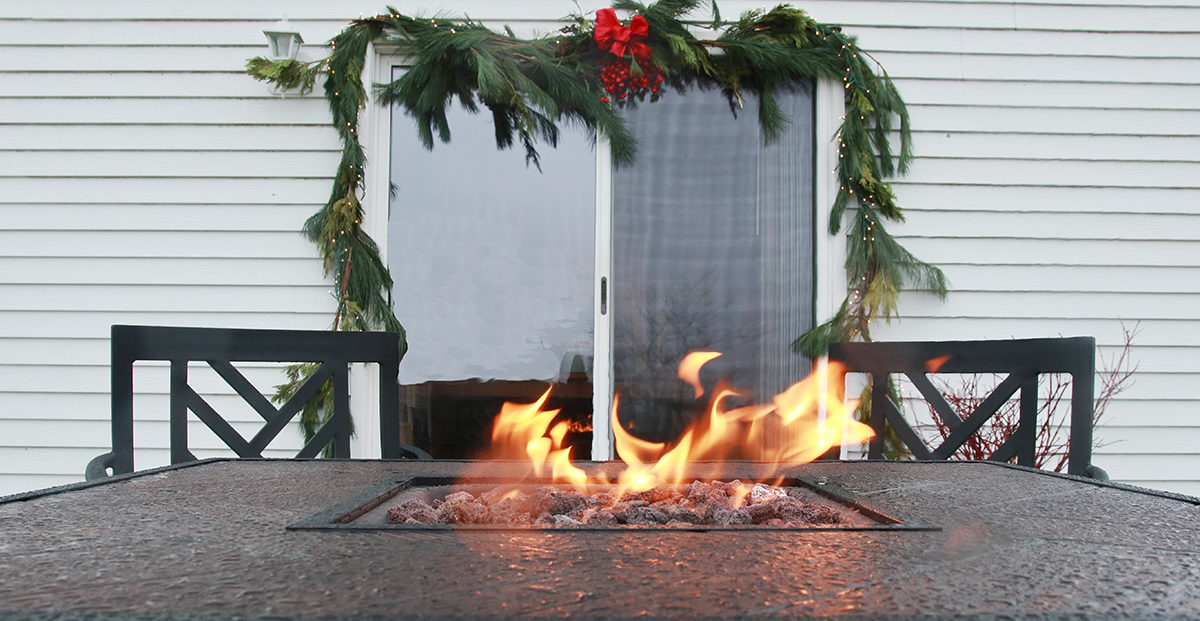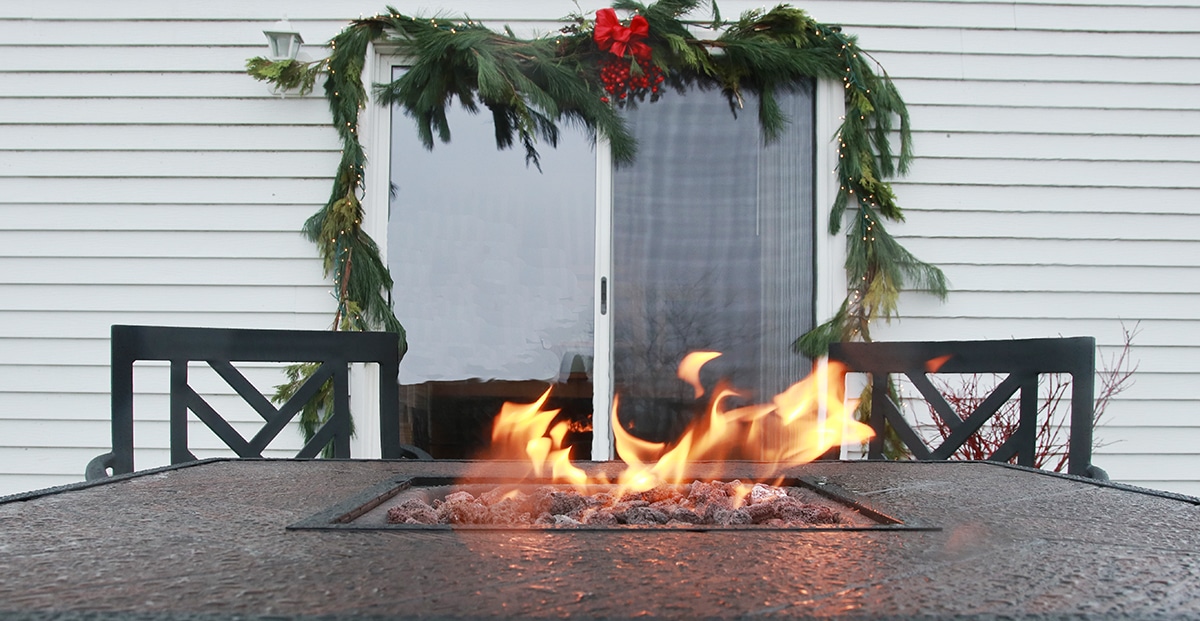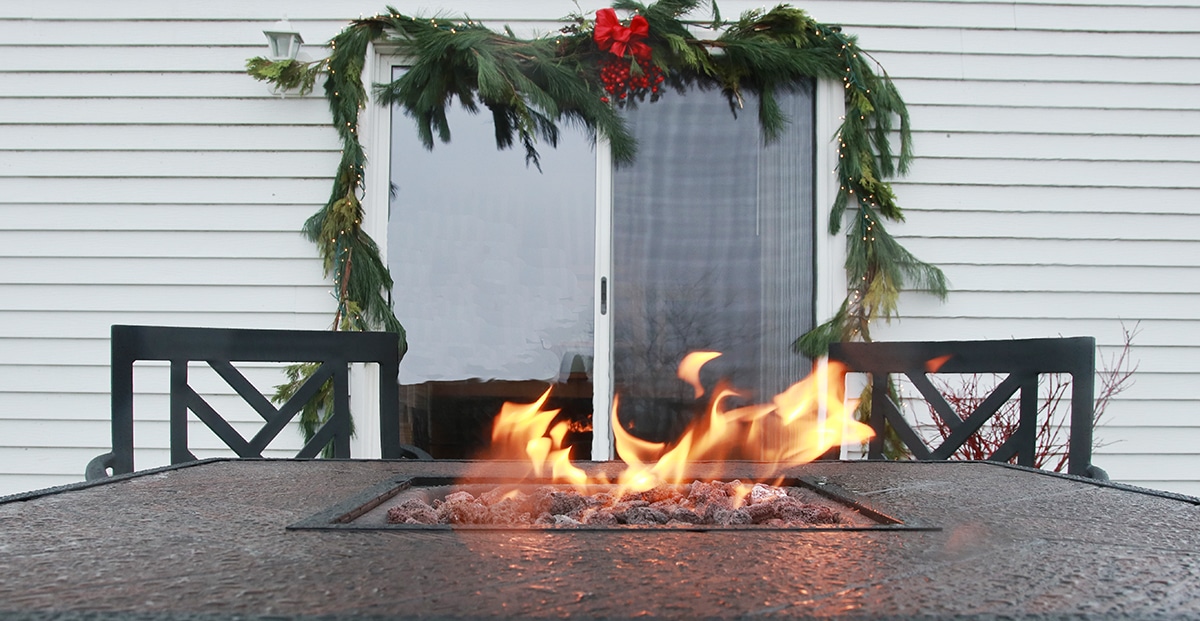 Lowe's Home Improvement partnered with me on this post to provide a big surprise to some great friends. All words, opinions and griping about the weather are my own.
If you aren't familiar with the Midwest, you might be confused by what you're about to see. The fact is that there isn't a lot of weather that deters us from doing much. We cook on the grill year round and so long as there is somewhere to warm up a bit, there is a fair bit of hanging around outside. 
With such long winters, this is mostly a self-preservation strategy. If we didn't buck up and get outside to get some fresh air we'd all go a little crazy with cabin fever. 
Which is why this very cool fire table (and hanging out at it) isn't really all that odd, even though it's now December. 
Every once in a while it's fun to do something nice for good friends, and that's where the Allen + Roth Fire Table comes in.  
I decided to do a patio makeover for my friend Dede and her family (who live close enough to easily invite me over for a party, should they be so inspired). Last summer they finally got around to installing a patio they've been meaning to add for years. 
They had the patio, but no furniture to hang out on there. The fire table and the Northvale Swivel Patio Chairs would be perfect for all seasons. 
But I wanted it to be a surprise, so I snuck over with the new furniture and some decorations to make it warm and cozy out there. 
This is where a gentle snowfall would have come in handy but what we got was freezing cold, pouring rain. But when you've got a couple hours to pull off a surprise, you work with what you have.
The chairs and the table went together quickly. I love when assembly directions have words (crazy, right?) and every part is labeled. It makes it so much easier, even when you're half freezing. The most important rule when assembling any furniture is to just hand-tighten fasteners until the end, then tighten opposing corners. 
With the furniture ready to go,I spruced up (pun intended) everything else up. The doorway was just begging for a garland, which I covered with a string of LED lights that hold the bulb up about 2 inches off of the wire to give the lights more dimension (I used these GE StayBright lights). 
I felt like the patio was feeling a little bare, even with the new patio set, so I picked up a window box and used it as container full of greenery to soften the step out the back door. Just because it's a window box doesn't mean you have to hang it under a window!
I filled it with mulch (normally I'd use soil—but I didn't have any and mulch will make it easier to move come spring) then topped with a 3-inch-thick piece of styrofoam. This allowed me to stick the evergreen branches in at an angle rather than straight up. Then filled in the middle with some dried hydrangea flowers and red twig dogwood. 
And on the far corner of the patio I used the top of a tree to make a mini Christmas tree covered in more of the small LED lights. It wasn't a lot, but defining the patio space seemed to make it feel a little cozier.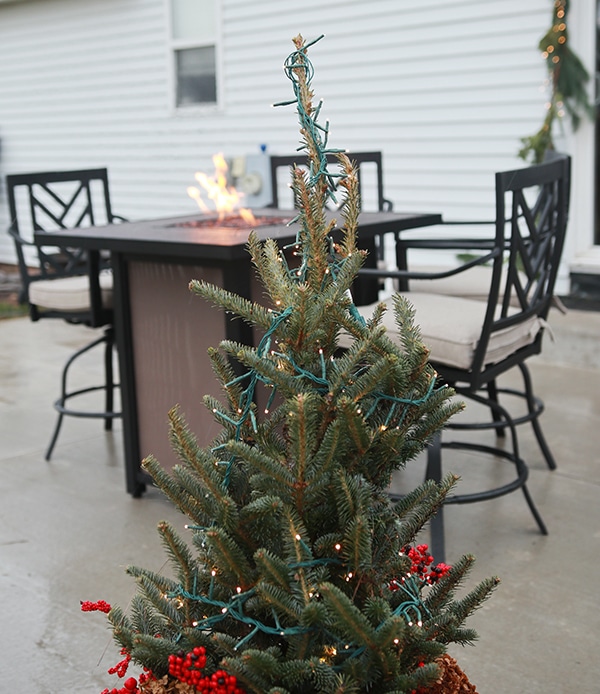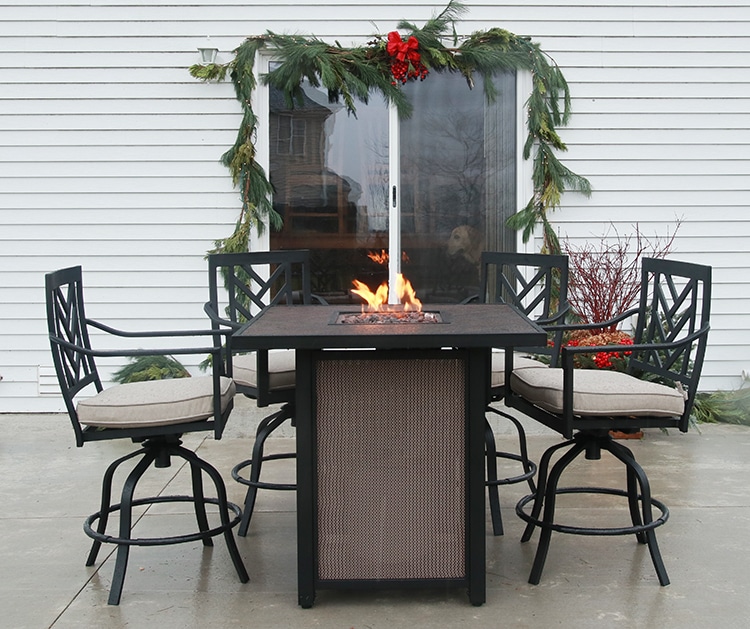 All set up, it was  great look. The bar height table and chairs were perfect for the patio, taking up more vertical space in a wide open area. The cushions are included with the chairs, which seems to be increasingly rare for outdoor furniture. 
The table is pretty clever too. The bottom is skirted mesh panels that obscure a propane tank that has a support keep it off the ground). When you don't want a fire, a metal cover fits flush in the tabletop. And an included vinyl cover helps keep the whole table dry and, in the case of crazy northerners, snow free.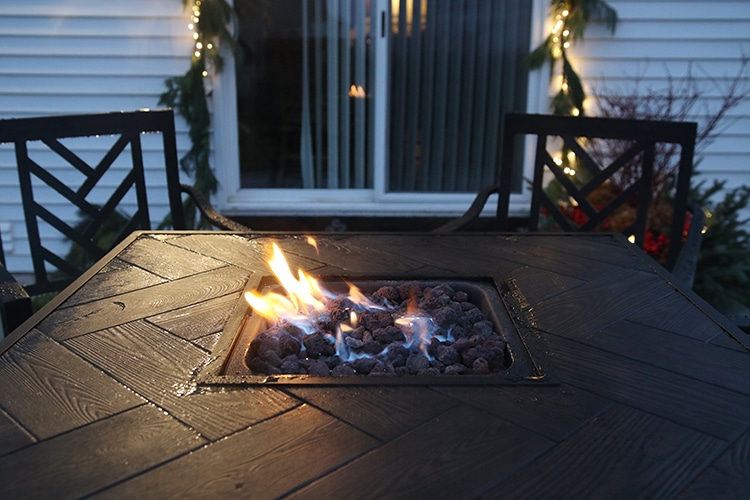 Before I left, I got the fire going and I was shocked at how much heat it puts out. It's perfect for hanging out on a chilly (or downright cold) day. 
Suffice to say, they were thrilled with the mini makeover of their patio. And perhaps even more impressive, so were their teenagers. I'm sure they'll get a lot use out of it and I'll be standing by the first winter party.