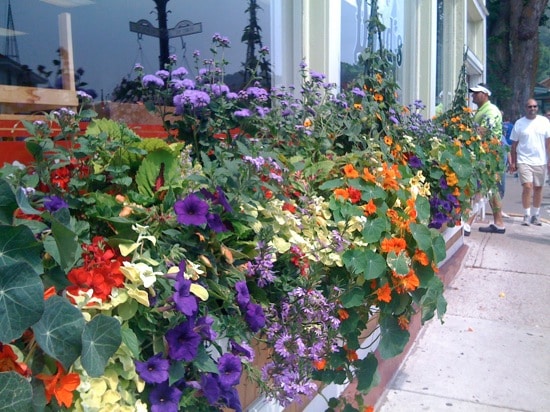 I cannot believe it's August already. That fact is particularly sad given that I haven't even weeded one section of garden for spring yet, nor edged any of the beds. Whoops.
When I was gone a couple weeks ago I was on my annual trip (via sailboat) to Mackinac Island. I didn't have as much time on the island this year so my annual garden touring time was cut short, but as I was waiting for a taxi to the airport (you have to love a taxi that has to stop twice on the way up the hill to rest the horses), I couldn't help but snap a few photos with my phone of the massive window box outside Doud's Market (the island grocery store).
This photo should run next to the word "abundance" in the dictionary.
I love the use of nasturiums in this window box because I love the texture the leaves provide as much as the pretty flowers.
It caught my eye from far away with its bright colors and sheer volume, but also because I knew it was designed by my favorite Mackinac Island garden designer, Jack Barnwell (check out my Q&A with him here).
In fact, Jack wrote about building the window boxes for the market in spring on his Facebook page, so it was even cooler to see them planted. Because there are so many people strolling the streets of Mackinac Island, it was impossible to get a straight-on photo showing the magnitude of this window box display. The boxes are under every window of the store, so there is probably a good 25 or 30 feet of flowers.
I think the idea of bridging the gap between window boxes with a black-eyed Susan vine is ingenious.
Even a begonia snuck into this planting!


These are very free-form plantings, which I think works so well with the whole cottage/resort feel of the island. There must be at least 15 different varieties of plants used in the boxes and the look is one of abundance but not at all chaotic. The overall color theme is purple and orange, but that ranges from peach and yellow to even orangey reds. I especially love how Jack used the black-eyed Susan vine to bridge the spaces between boxes but also as the "thriller" of the entire planting. Genius!