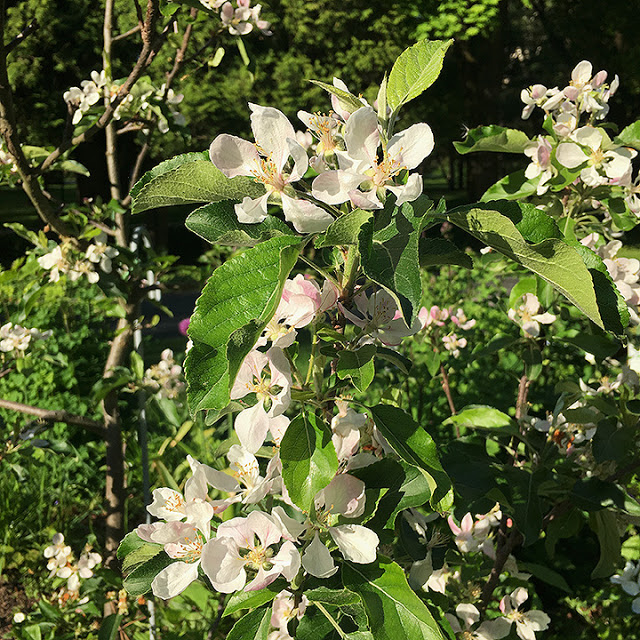 I grow an apple tree smack dab in the middle of the main part the garden, in one of the most noticeable places. It's on one of the very dwarf root stocks so it won't get huge and it has a somewhat wonky shape, as I think is somewhat common in apples.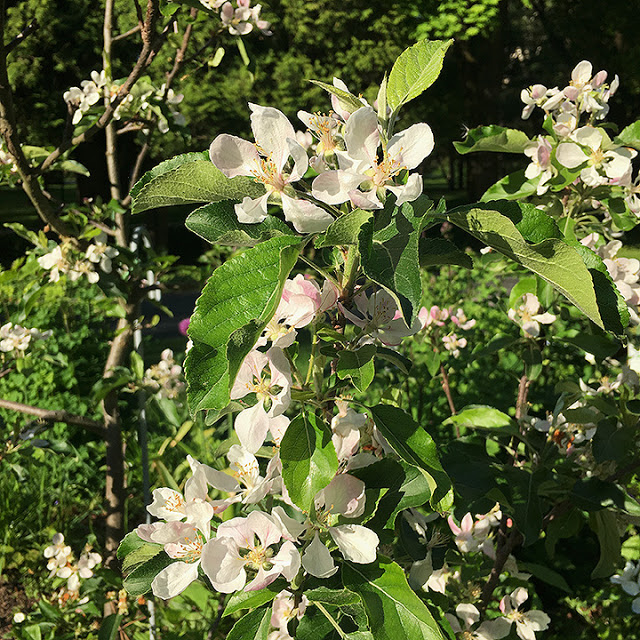 Apple blossoms are the prettiest.
Almost every person who has seen my garden has commented on it, and often not in a good way. 
 "Oh. An apple tree! Right there!"
"Is that really an apple tree?"
"Are you planning to move that apple tree?"
I know. It's sort of weird. We're used to seeing apple trees growing in a segregated area with other fruit trees or on the periphery of an ornamental garden. It's unusual to have one planted as a focal point.
I'll tell you why I put that tree where I did:
I was a nice sunny spot. Honestly, it was a practical decision.
I needed some height in that spot but I wanted something airy that wouldn't create a wall.
I think it's beautiful both in flower and when it's fruiting.
And most of all …
BECAUSE IT'S MY GARDEN.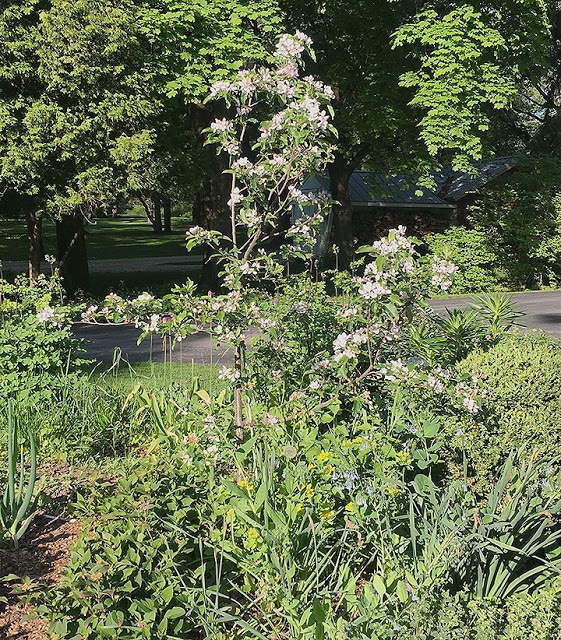 The apple tree in full bloom and glaring morning sun.
I've learned so much about gardening since I first stuck my shovel in the ground here 15 years ago, but I've also learned a little something about human psychology: Everyone will not love every garden. No matter what I've done in my garden, someone (usually a neighbor because not lot of other people see it) will make one of those comments. You know the ones: They all sound nice, and many of them are, but some have that little twist to them. Or they use the word "interesting" which rarely means interesting.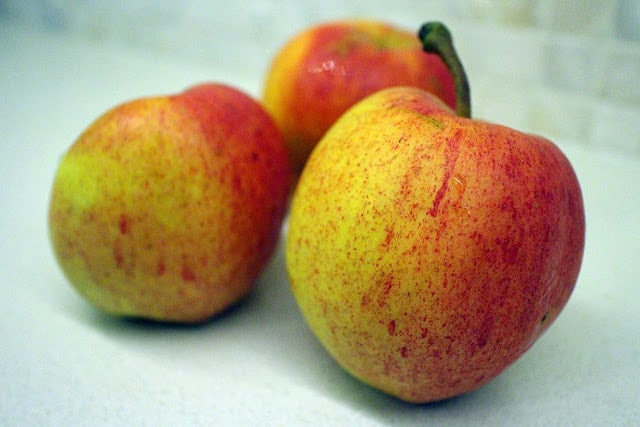 A few of last year's apples.
That used to bother me. I used start questioning what I was doing. You know what I do now? Nothing. I don't care.
This revelation probably came as much through my experience as a gardener as it did through life experience (aka getting older) and gaining more confidence in general, but I realized a few years ago that I don't care what anyone else thinks about my garden. That's not to say that I'm not interested in other people's opinions, particularly those of other gardeners, but they don't unilaterally determine what will happen in my garden as they might have a few years ago. I've written about how having my friend Linda and her husband Mark stop by for a quick tour was one of the best things I've done for my garden because it allowed me to see my garden through different eyes.
The apple tree is in full bloom right now, and I dare you to show me a tree with blossoms as pretty as apple blossoms, particularly when they are right in your face. When the blooms fade, shiny green foliage will be the star (along with the clematis I grow up the tree), and then hopefully apples will dot the branches. To me, it really has all season appeal.
You might not think so. You might not ever aspire to have an apple tree in the middle of your garden. That's OK. It's your garden.