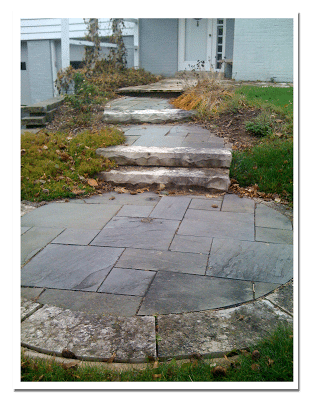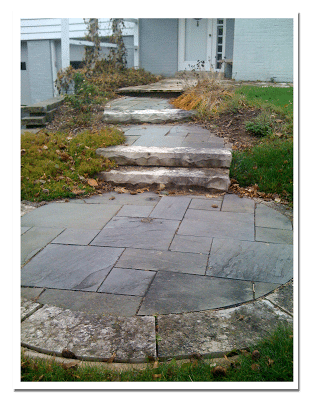 See this beautiful bluestone path? I'm about to inherit it. It is the stairway to the front door of a family member's house that is about to be torn down. Right before the big machinery comes to take down the house, I'm going to disassemble that path and take the bluestone.
But the question is, what should I do with it? Bluestone is a pretty formal material for my cottage-style house and garden, but certainly there must be a way to make it a bit more casual. Unfortunately I just can't figure out how.
Some of the pieces are quite large, maybe 30″ by 22″ or so on the biggest, and obviously some are already cut to have a curve. Right now we have a small fieldstone path going through a corner of the garden (pictures will be included in a future post on the topic) that we use every day as it is the main thoroughfare to our garage, and my husband would like that path to extend in some way to the garage. I'm not sure if there's some way to incorporate the bluestone into that (or if I should quickly scrap that concept).
Anyway, I'm open to any creative ideas you all have, because I really need help on this one. I don't want to lift up and move all the bluestone only to have it stockpiled behind my garage for the next decade. Nor do I want to take on a project so big I'll end up having to buy more bluestone to finish it (which is usually what happens when I get "free" materials). So help!