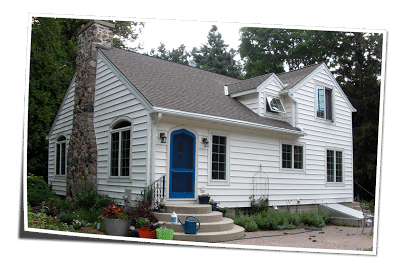 S
o far, we've changed very little about our house in the seven years we've owned it. But the first thing I did was paint the brown front door. I can't fathom how this cool door (certainly original to the house, which is now 70 years old) ended up brown, but that's OK, because after two days of stripping, sanding and repairing, it ended up this bright blue (conjure up an image of Greece in your head and you'll know the blue I'm talking about). I'm sure the brightness of the color was no coincidence. After seven years of living in beige rentals full of oak trim and shiny "brass" fixtures, I was dying to put color on SOMETHING. (Unfortunately I did the same thing with the guest bedroom and that didn't turn out as well!)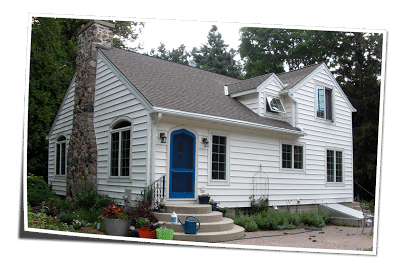 I stripped it twice (there was forest green and white paint under the brown), sanded it, and used a two-part epoxy with a filler to fill the cracks on the bottom (that part was fun because I got to shoot it in there with a syringe). After the epoxy was thoroughly cured, there was more sanding, priming and two coats of the blue paint.
Not only does it add some much needed color to our very plain white house, it's sort of become our signature "thing." Now I tell people to come to the "white house with the blue door."
I'm not a big fan of winter and lots of snow in February, but I do like a nice Christmas snowfall. Last year we had a big snowstorm a week before Christmas and I snapped this picture because I thought it was so charming.