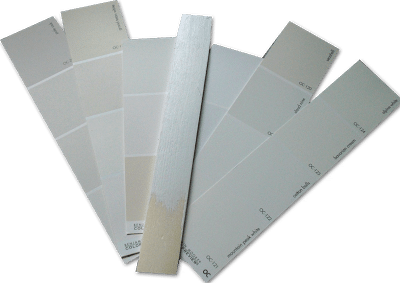 A nyone who has ever tried to pick out white paint will tell you that white is not white. Several years ago, as I set out to repaint much of the chipped and faded white trim in the house I went in search of white paint. That's when I first discovered how many whites there were in the world. Overwhelmed, I took in a large chip of paint (that's how bad the woodwork was) and had them match it. Well as you can imagine, that didn't work at all and I ended up with a gross gray color. So then I started playing with the colors and came up with a custom formula that I've been guarding with my life. The problem? Well, it's a pain in the butt to walk around with a custom formula, and it seems stupid to have one for white.
So I decided that I'm going to find a white made by a major paint manufacturer that will be around forever and start painting the woodwork with that. I'm looking for something that matches what I've been using very closely and if anything is a little brighter.
So last night I stopped at my favorite store—True Value—which is even MORE my favorite store now because they carry Benjamin Moore paint, and grabbed a handful of paint swatches. Then I found what was left of my custom mix, painted a paint stick with it, and started matching. As you can see from the photo … this is not easy.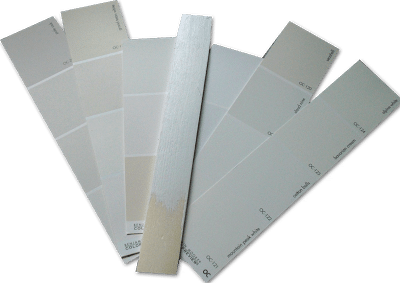 I also searched the good ol' World Wide Web for some advice and came up with a list of about 15 different Benjamin Moore whites that people claimed were the "best" for trim.
Right now my two contenders (which I'll probably buy pints of to try before committing … I currently have 6 pints of BM colors varying from cream to yellow to shocking cream sitting in my basement … anyone have some suggestions of what to do with them?) are Cotton Balls or Simply White. If anyone has some advice, boy, I'll take it.
And then of course, it gets even more complicated: Semi-gloss or satin? Oil-based or water-based? (Water, I'm thinking, with an oil primer underneath if need be.) These are more decisions than I make in an average day, for cryin' out loud.
One thing I'm NOT buying is the whole "it's just paint" thing. Sure, I know of all the home improvement things you can do, it's one of the least expensive, but paint (the good stuff anyway) isn't really all that cheap anymore and, more importantly, time is way too precious to put paint on unless you're going to love it.