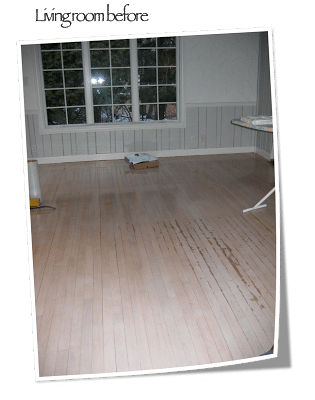 When we moved in, the wood floors were in pretty good shape, other than the fact that they were pink. Yep … pink. They are red oak and had been "pickled" which gave them a decidedly pink appearance.
Add in two enormous and often wet Newfoundlands and the fact that our house, which had previously been a rarely-used second home, was actually being lived in, and you have a pink floor in really bad shape. The finish was peeling up in sheets. I think water would get under a scratch in the finish and it just sort of bubbled up.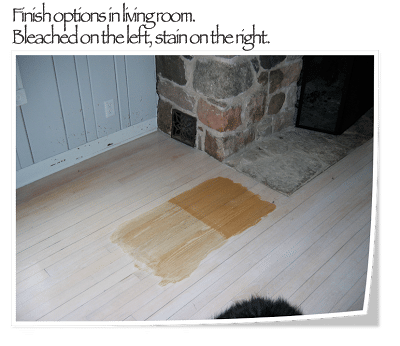 A few years ago we decided to have the floor redone professionally. This was definitely not a project we were going to take on ourselves so we hired a professional wood flooring company. We also found out about a ceramic coating, often used in commercial applications, that sounded like just the thing to allow us to keep the wood floors we love without having to be in a panic every time a 150-pound dog decided to run laps on it.
Much to the disappoint of our floor guy, we wanted to keep the floors light, but not pink. We opted to go with a bleached red oak floor. In the bedrooms we had fir that wasn't in the best of shape, and even though the floor guy told us it wouldn't take stain evenly, redoing the bedroom floors was not an option, so we told him to do the best the could. Ironically we ended up loving those floors almost more than the bleached floors in the rest of the house.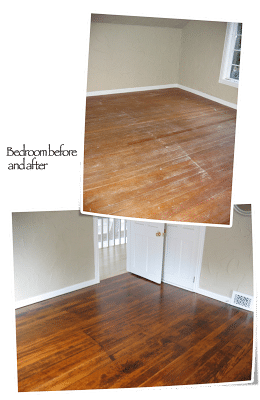 Three years later, the floors still look great, but it wasn't as simple as that. Something went wrong with the ceramic coating they put on and within two months the finish was peeling up. Apparently the coating manufacturer had a bad batch or something so they paid to have the floors redone. They are holding up well, but it was a HUGE drag to have to move out of the house twice. But time heals all, and we've mostly forgotten about that and now we still look at redoing the floors as some of the best money we've put into the house.