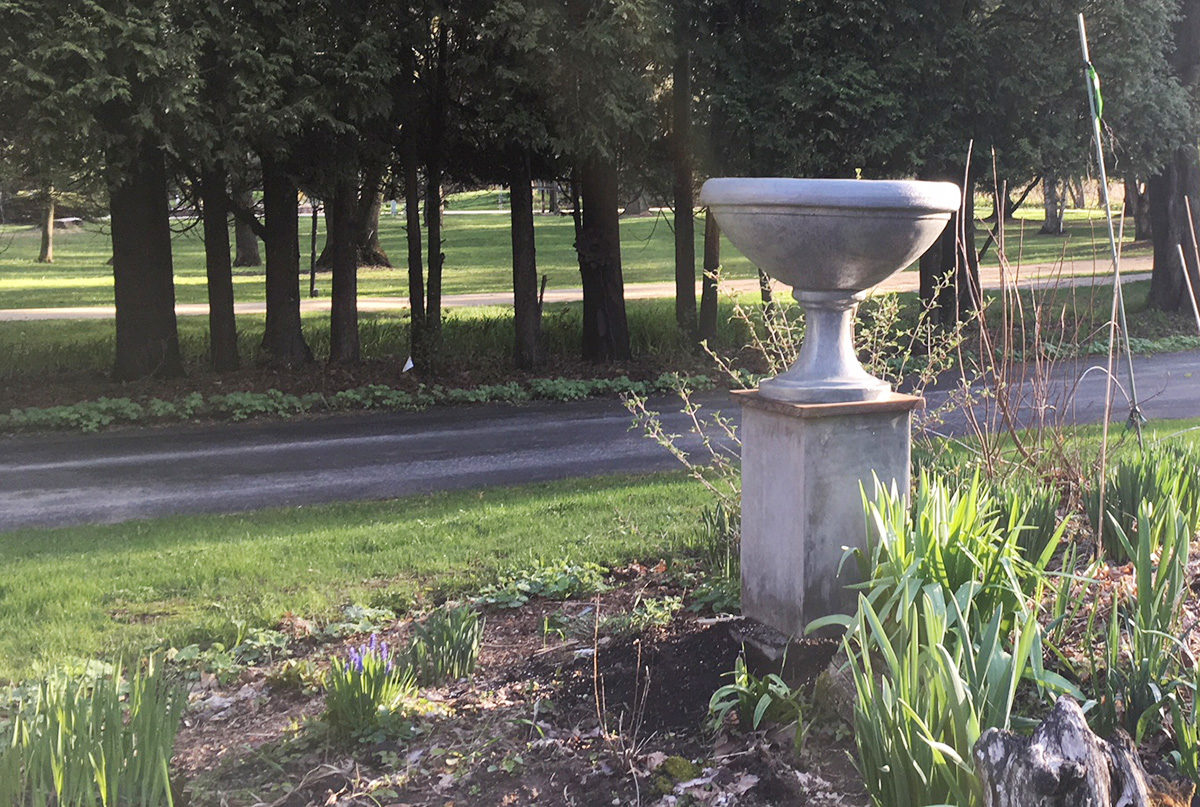 Sometimes what we picture in our heads for our garden is not how reality works out. That's the case with a little project I've been working on but I have faith it will improve.
This spot in the main garden off the patio is the closest thing I have to controversial area. Some of you feel very strongly about this spot in my garden (and not necessarily in a favorable way). You know that I'm always advocating that  you should do whatever you love in your own garden, but I appreciate hearing what others think of mine or what they would do if they were in charge.
One such conversation (that even got a little prickly on Facebook when someone told me it just looked like a bunch of weeds; ouch), involved the urn I have in the middle of the garden. I love having a planter in this spot. In fact I love planters tucked in borders as a rule, even though I have used this technique only rarely in my own garden. But it has been a challenge to get just right. It gets enveloped by the shrubs, perennials and vines around it and the whole effect is somewhat chaotic. Lots of suggestions for how to improve the situation, including choosing a bolder container for the area, were offered.
It just so happens that the urn in that location started crumbling a couple years ago and there was a real chance it might not make it through another year. That was all the excuse I needed to go on a hunt for a larger container that would allow for a bolder planting scheme. 
I have odd luck with container purchases. I get an idea in my head for what I want, search high and low to no avail then buy something else, only to see exactly what I want on the market a year or so later. I'm no trendsetter so there has to be another explanation for this, but it forces me to get creative. In this case I found this urn in the wrong color and decided to fashion a way to make it work. 
Changing the color of a container is not new. In fact I did it quite successfully with a pair of pots from the Restoration Hardware outlet last year. Although I followed the same process of lightly sanding, cleaning and staining, this urn is fiberstone, so it didn't take the color quite as well as last year's containers did. Still, two coats got it to the right color and now all that remains to be seen is how well it holds that color.
Then I needed a plinth to plunk it on. Target has really upped its container game (although they are all too small!), and this tall cement container was simple and perfect for the job. I topped it with a wood platform made from a cheap wood round I got at the big box store after I stained it and coated it in a lot of polyurethane. 
And here's the result. 
OK, I'll be the first to say that looks pretty awful. Ridiculous even. It is not the great unveiling I had hoped for. But here's why I still have faith that in the end this will look pretty good:
The plants in this bed are relatively tall. Soon they will be obscuring most the plinth and a good part of the urn.
I'll be filling the urn with a lot of trailing plants so I don't expect much of the urn to be visible by mid summer. 
Once the nearby Limelight hydrangea nearby is growing, the height will start to make more sense.
Or, it could go the other way and look terrible. Or maybe it will fall over. But I don't think it will. Sometimes you just have to have a little faith.