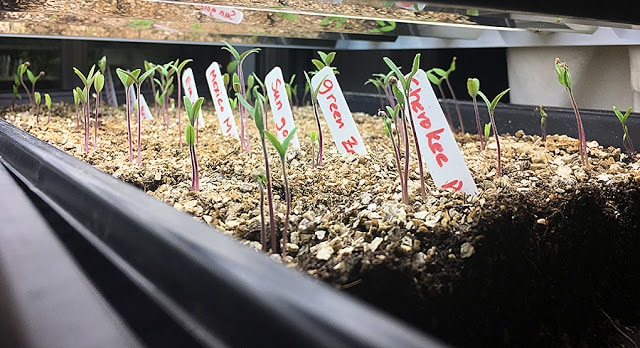 What a week. Well, weeks. I have been at an uncomfortable level of "busy" lately and I can't wait to be back to normal busy, which is my happy place.
But caring for my seedlings is a wonderful break. Two times a day I check on them, making sure they are properly watered, rearranging them under lights or on the heat mat, petting them and generally checking on their well being.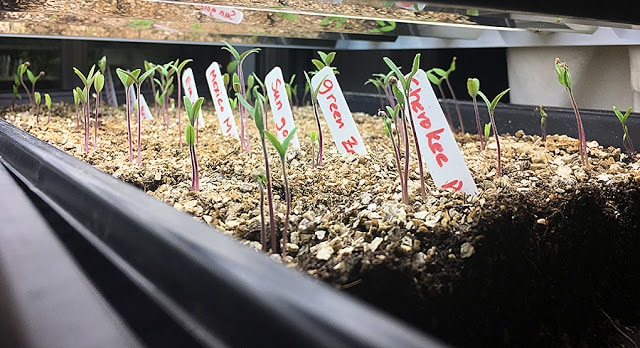 I sowed tomatoes last weekend and they came up so fast they were already stretching by the time I got them under lights.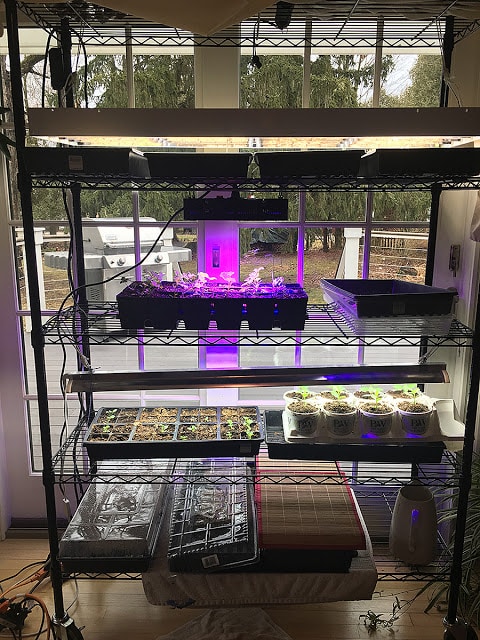 There's a bit of a Clark Griswold situation going on with the power cords in the lower left corner. Four-light fluorescent on top, new LED light in the middle, old two-light fluorescent second from bottom and the heat mat on the lowest rack.
This post contains a handful of affiliate links. Thanks for your support!
That peculiar blue glow is coming from the
new LED light
I got this week. I don't fully understand how to compare the fluorescent grow lights I'm familiar with to LED light, so this much smaller light, that apparently is meant to hang much higher is odd to me. I bought one of the less expensive lights I could find because I'm not quite sure how it will work. You can be sure I'll let you know.
Think zinnias and marigolds are has-beens?
No way
.
My friend Linda from Each Little World gave a
compelling review
of
this book
that had me running to buy it. Speaking of which, I'm excited to be seeing Linda this weekend at a gardening symposium she told me about in Madison.
I've been looking for some dining chairs to use when we have large gatherings that can be easily stored but are still sturdy. The requirements were that they either fold or stack, were comfortable and weren't hideously ugly. And budget was a factor.
After a lot of back and forth between a bunch of different styles, all of which I perceived as being a bit trendy, I decided I might as well go for trendy, but trendy that I like. I found this
black bistro chair
at Williams Sonoma and loved how it looked staged at a table, even if it has a bit of an outdoor vibe to it.  So then I went on a hunt to find it at a more realistic price. Here's what I came up with.
As far as I can tell, they are all the same chair and certainly the last two are. The descriptions and reviews for the last two say they are stackable and I love the idea that they will work equally good outside when we entertain in summer. I may get some cushions for them but I'll wait to see how they sit first.
That's it from here. Saturday will be a day for inspiration at the gardening symposium I'm going to and I'm crossing my fingers that I'll be able to get some time in the garden on Sunday. I have a lot of work I need to do as well but I'll go positively nuts if I don't get in there to do some cleaning, even if it's with a rake from the edges. What's on your agenda this weekend?