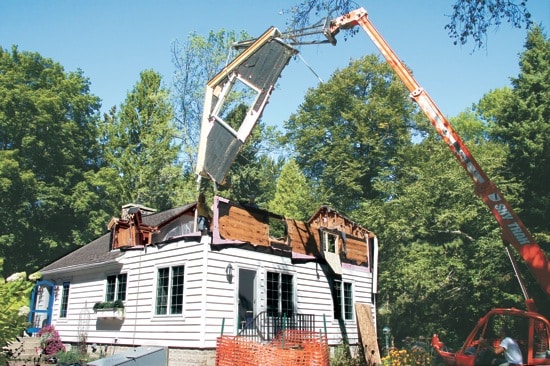 Honey, does it seem drafty in here to you?


This is the second part of a list on what you need to know before you renovate. If you haven't read part Part 1, check it out here. And now, here's the rest.
6. Have a friend who won't get sick of talking to you about your reno.
You need to have a person to run ideas by. Ideally this person will share your design style or at least understand and respect your designs. They need to be honest, because sometimes you really need someone to tell you that something is REALLY ugly, and you can't have someone mincing words. This person should not be your spouse (whose opinion also counts but in a different way). It should also, under no circumstances, be your mother.
7. Spend your money on the stuff you can't see.
I know this is one of those things you hear all the time, but it's true. And that's simply because as much as you'd hate to, you can always go back and change out an ugly light fixture in a few years when your budget had recovered a little, but you can't rip back into your walls and put in more insulation. We had to fix some structural issues on the side of the house we weren't planning on touching, but we did it at the same time because we couldn't fathom coming back in 10 years and ripping our house up again. We also took the opportunity to thoroughly insulate everything with a layer of spray foam insulation and then the regular rolled insulation. It's not a fun thing to spend money on but it's worth it.
8. Get what you want.
I guess this more a matter of what kind of person you are, but it works for me. I'm one of those people who would rather save up for a longer time and get what I really want rather than spend less but get something I don't like as much. For most people a renovation is a big deal and it was for us. I don't intend to do many (any, actually) more of these, so this was my one chance to get some of these things right. So that's why we spent a lot of time figuring out our priorities and deciding which things were really important to us and which things we could live without. For us, the bathroom was a priority, so we sort of went hog wild in there. We did manage costs by getting an inexpensive field tile and then spending more on the accent tile rather than using accent tile everywhere, but, in general, we pretty much got what we really wanted in the bathroom. That meant we had to cut costs elsewhere and one of those places was the bedroom floors. We wanted a gorgeous nailed-in hardwood floor but the cost plus installation was more than we were comfortable with. So we went with floors we could install ourselves to save money. We still love them, although I would have liked other floors better, but it's not a decision I regret. I'm certain if we had cheaped out on some of things we chose for the bathroom, I would regret it every morning.
9. Be a team.
If you are undergoing a renovation with a partner or spouse, remember to stay on the same side. There's no doubt it can be horrible and frustrating at times and you will both be at your breaking point because all you want to do is get dressed in the morning, have a cup of coffee and watch a little TV, but you can't find your clothes because you're living out of laundry baskets in the basement, the coffeemaker is covered in a quarter-inch layer of dust and you can't even find the television. These are the times when you can't lash out at each other. You have to share the frustration. One person gets to be frustrated and crabby at a time. The other one has to normal and sane, and remind the other that it will be over soon and it will be so worth it. You can switch spots later.
10. Consider being your own general contractor.
OK, I know that sounds really scary, and I certainly wouldn't recommend it for a new build, but honestly I think it's very doable for a lot of people. We chose a lot of our own subcontractors for various reasons, either because we wanted to give a specific company our business, or we had a friend who could do it better, etc. And every time we went with our own guy, they became our responsibility. Also, one of us was at the house almost every day, even if it was just stopping in for lunch. And if we didn't, invariably something was done incorrectly, or we were getting a call asking how we wanted something to look. And even with the subcontractors that were hired by our general contractor, we were often expected to communicate directly with them to ease the process. With the exception of the complicated structural issues in the beginning, I think we could have handled the general contracting just fine.
11. The construction guys will see your underwear.
Yep. At some point, no matter how much you try to keep your unmentionables out of public view, random construction guys will see your undies. What's worse is that if the renovation drags on long enough, you won't care anymore. And what's even worse is that if it drags on even longer, you won't even care when they see your dirty undies in the laundry pile in the basement (which sometimes looks a lot like the clean clothes pile since they are all being kept within a foot of each other). Hey I didn't tell you it would be pretty.