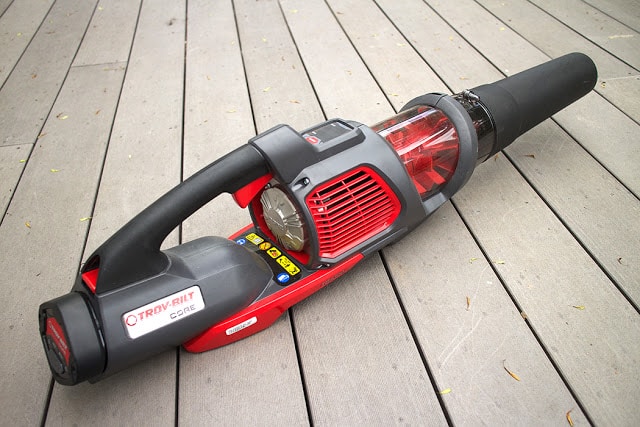 If you've read my power tool reviews before, you've probably picked up on a trend: I like power but I like it when it comes easy. What I'm about to say makes me sound like a pathetic girl, but I hate pull starts. I'll use them when I have to, but I feel like my arms aren't long enough to do it properly. That is probably ridiculous as I think I have relatively normal arms as far as length goes, but suffice to say, if I can avoid a pull start, I will.
In fact, why in the world can't I just push a button and have the thing turn on? Guess what? I can and so can you.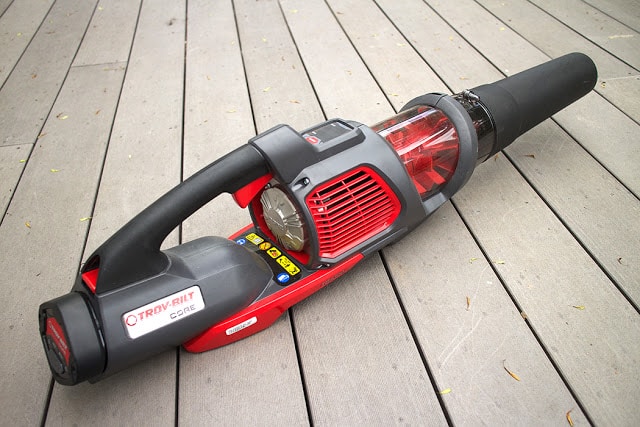 For me, that's the best feature of the new Troy-Bilt Handheld Blower powered by CORE (technically the TB4300): Squeeze the trigger and it's on. Squeeze it harder and it blows harder. Lighten up on your trigger finger and it blows softer. This seems incredibly obvious, right? And yet, this is the first power tool I've used that is just that simple.
CORE is Troy-Bilt's new battery-operated line of machines. It includes the blower, a hedge trimmer a string trimmer and, soon, a lawn mower. All of the machines operate off one pretty large battery, so you can save money by only buying the power tool after you have a battery and a charger. The blower kit, with a battery and charger costs $279, but if you already had the battery and charger you could pick one up for $179.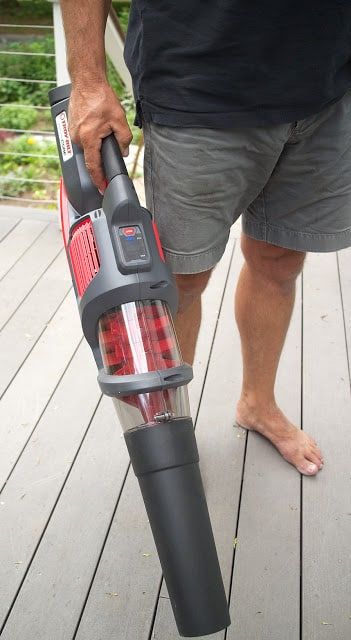 Doesn't everyone use their leaf blower barefoot?
As part of Troy-Bilt's Saturday6 blogger team I gave the blower a test after fully charging up the battery. Actually, Mr. Much More Patient snagged it before I could even get my hands on it and do you what the first thing he did was? He turned it on in our kitchen, opened the door and blew out the dog hair tumbleweeds.
You may be inclined to use this anecdote to judge my cleaning skills, but in my defense this happened during the peak of shedding season in our house (with Newfoundlands and dogs with undercoats it's called blowing coat for good reason), and even daily vacuuming can't keep up with the hair for a couple weeks in spring. No, I shared this story with you because it really says something about this leaf blower: It's battery operated, which means you really can use it inside, unlike gas-powered blowers (which I once read are some of the worst pollution offenders). Now, I don't actually recommend using it for this purpose as I learned that for every piece of hair that goes out the door, three go up and float down, which is generally not a good thing in your kitchen.
Love those lights.
I will also admit to being a sucker for good design, so forgive me for a minute while I wax poetic about lights. Yes, lights. The lights on the blower ramp up as you use more power. It's pretty, but more than that, it's practical. I won't say it's a light machine because the battery has some heft to it. But with the battery inserted, it is well balanced and not difficult to wave around while using it. It is certainly lighter and easier to handle than the gas powered model we previously used.
And of course, there are great benefits to not having 100 feet of electrical cord dragging behind you like you do with electric blowers.
I can't tell you how long the battery lasts from personal experience, but I just don't use a blower for long periods of time. In our yard we use it as the last step in cleanup, blowing debris and grass clippings out of garden beds and off the driveway and patio. We've recharged the battery, but not because it was dead, just because we figured it was a good idea since we'd used the blower several times.
This little video gives you a quick idea of what the CORE blower can do. Mr. Much More Patient starts it in Eco mode then pushes the Boost mode for more power and then decreases the power with the trigger when he gets near the plants. The deck was covered in tree bits but unfortunately it's a little difficult to see them.
As for power, I love how much you can control it. There is an Eco setting, which feels a little puny to me, but honestly it'll do just fine for most blowing. Tap the Boost button though and you get serious power. Of course you'll drain the battery faster that way so there's a trade off. I like that I can scale way back on the power when I'm around delicate plants. The other thing that is nice is that changing from more power to less is smooth, unlike other blowers that seem to rev out of control. If you've ever had your neighbor use a blower while you are sitting out enjoying cocktail hour and all you hear is the blower revving up and down, you know how annoying that is, and not just because it's interrupting cocktail hour.
I love the technology behind this tool. As we know, batteries are the future: Cars, phones, computers … it's all about batteries. I feel like Troy-Bilt has really stepped into the future with this one.
Disclaimer: I am a member of Troy-Bilt's Saturday6 Program which provides compensation to me, and in the case of product reviews, tools or equipment are provided to me at no cost for the purpose of providing an evaluation and sharing my honest opinions.
SaveSave