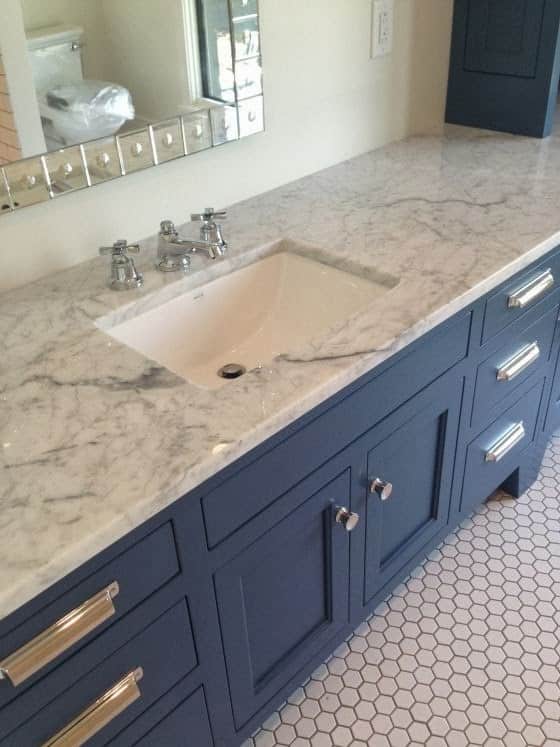 It never ceases to amaze me how one image can spur me in a direction I never realized I wanted to go in. A couple years ago it happened with a photo of a door painted black. Although I had never really given it much thought before, four hours later I was
painting our back door black
. I still love it.
And so it was with this picture.
It's not a particularly striking image but for whatever reason it immediately caught my eye. And in seconds I was considering doing something that had never crossed my mind before: painting the vanity in the downstairs bathroom navy blue.
I have never been one for temporary fixes when it comes to renovating spaces. That's why the downstairs bathroom, arguably the ugliest space in the entire house and the space we declared "the first thing that was getting fixed" when we bought the house still looks exactly like it did more than 11 years ago when we bought this place.
(WARNING: You are about to see one of the few spaces in my house that I deem to be too ugly for publication on the blog. You may choose to shield your eyes.)
Let's be honest here: It is a hideous room. There is an awful gold shower surround, badly frosted sliding doors opening to a fiberglass overly formed shower insert with a seat (am I weird for being slightly grossed out by the thought of sitting in the shower) and a pink laminate countertop on top of a pickled pink vanity. The vinyl flooring isn't great but it's not horrible, but this room has the dreaded wall texture and lucky me, it was applied AROUND the mirror and lights, meaning that none of that can be changed so long as that texture is there.
The room needs to be gutted. I have long wanted to rip out that shower insert and certainly the surround, but what would go there is sort of up in the air. I always assumed it would be a bathtub, but that's because I assumed there would be kids who would need a bathtub. That no longer seems likely but it might be nice to have one for soaking the occasional plant or just for resale (not that that's really a factor in any of our decisions). But there's no doubt about it, most adults prefer a shower they can step into instead of over, so if this is just meant to be a guest bathroom, then keeping it a shower might be more prudent.
We have no plans to take on this bathroom renovation soon. The upstairs and kitchen remodel are a little too fresh in our minds to take on another major project (please note, I also said we weren't doing the kitchen anytime soon and then just a few months later we did it anyway). But I'll be honest, it's starting to get embarassing to have to direct guests to that ugly bathroom.
The masters of make-do decorating are John and Sherry Petersik at Young House Love. Their make-do solutions never look like they are temporary and it appears to help them from losing their mind while they bide their time or save their money until they can redo a space exactly the way they want. Personally, I've always had a hard time spending money or time on something that's not really what I want.
But I'm starting to think that this disaster of a bathroom might be a place to try a bit of a temporary solution. Obviously the key to "temporary" upgrades is to keep the spending at a minimum. For me, that means paint.
So I painted the vanity. Twice, actually, because Hudson Bay, which I love on the walls of my office, was just a tad too slate-ish. So I got a can of Old Navy in semigloss. The Old Navy was the right call, but I think I would have been happier with it in satin. (Does anyone else struggle with paint sheens as much as I do?)

Hudson Bay on the left (already sanded) and Old Navy on the right.
To be honest, I'm not thrilled with how it turned out. I don't think it's worse than what was there, but it looks a lot like a person who hated their bathroom and decidedly randomly to do something to change it and painted the vanity. Funny how that turned out, since that's exactly what happened. I also bought some cheap hardware from Home Depot. I got a brushed chrome finish toilet paper holder and towel holder to replace the gross old shiny fake brass ones. Now I have four metals in this tiny space: icky, shiny 1980s brass on the doorknobs, shower and towel bar behind the door; chrome on the faucet and vanity knobs; brushed chrome on the towel ring and toilet paper holder; and sort of a pewter-type color on the light fixtures. It's really bad.
I think painting the wainscotting in the room would help a lot, as well as repainting all the peeling trim, and if I feel like investing more time in this room, that will be the next step. Or maybe I'll just start hating it so much that I take a sledgehammer to it some day.
Everybody has a room like this, right? Please tell me you do.