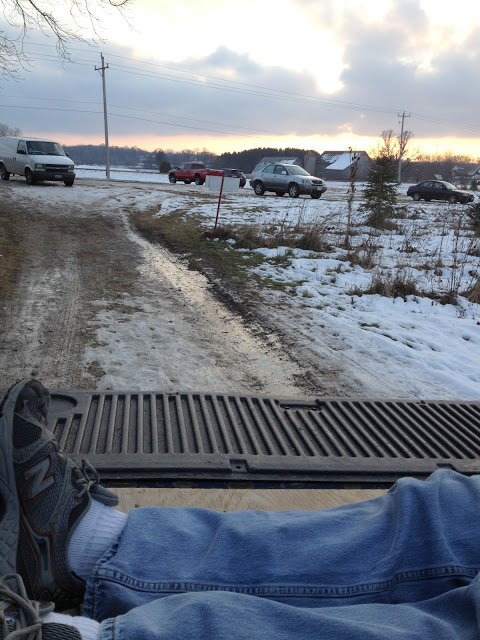 I've had all kinds of Christmas trees over the year. In 2004 I had a giant 14-foot tall thing that fell over within 10 minutes of finishing decorating (all future trees have been tied on top since then). The year we went to the British Virgin Islands right before Christmas we just had a small tree stuck in a pot outside.
Last year I put up a small tree
in an urn inside.
Many of these trees were fraught with stress (well, not the BVI year). I remember the year I absolutely flipped out because we got a tree that was "too small." It was not a happy year. I have literally been in tears on multiple occasions over the not-perfect tree.
But that was then and this is now. Welcome to the stress-free tree (a bit part of the stress-free Christmas I've been aiming for this year). You might notice that you are reading this just days (hours?) before Christmas. That's because I just finished it. And I'm OK with that.
Because we were shopping for a tree relatively late in the season, we knew a lot of tree lots would be picked over, and trees were already pretty stressed because of our summer of drought. So we decided to go back to the tree farm not far from our house, the scene of many an argument.
(It was also the scene of what certainly would have been a YouTube sensation if anyone nearby had a video recorder –this was pre-cell phone video days. We had both dogs with us. Hudson was probably 2 or 3 and Rita was either 1 or 2. That meant they were both huge and not so well trained. I was hanging onto their leashes when a seriously well-behaved lab–of leash and in a perfect heel– walked by. They went nuts and I was determined not to be the annoying person at the tree farm with the awful dogs so there was no force on earth that was going to make me let go of those leashes. So they pulled, and I hung on. I hung on to the point where was being dragged by my out-of-control dogs, over the stumps of previously cut down trees. It hurt and I got up bruised, covered in snow and burrs and more than a little embarrassed but I'll be damned, I was still hanging onto those dogs. They don't come with us anymore.)
Anyway, in order to keep the process from going array — that is to say, lasting for hours while I searched for the perfect tree — we showed up at 3:30 p.m. on a Friday. That meant that we would have a maximum of 45 minutes for the entire tree-buying process before the sun went down.
Our timing couldn't have been more perfect. The owner of the tree farm was heading into the field to pick up a tree in his truck and he invited us to hop in for a ride, which we did. It has been a long time since I road in the back of a pickup truck. It's sort of fun.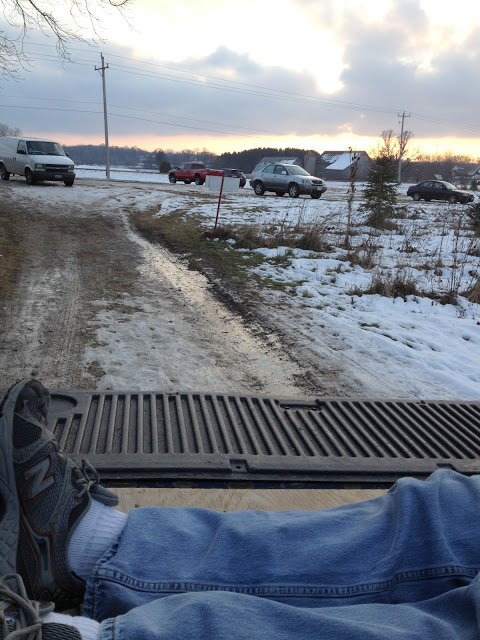 Pickup truck ride to the tree field.
We hopped out at the Frasier Fir field and he told us to cut whatever tree we wanted at whatever height we wanted (they charge by the variety, not the size). After shuffling around in the snow (a bit of a surprise because at this point we had no snow at our house and this far isn't far from us) and giving a thumb's down to about four trees, I found it.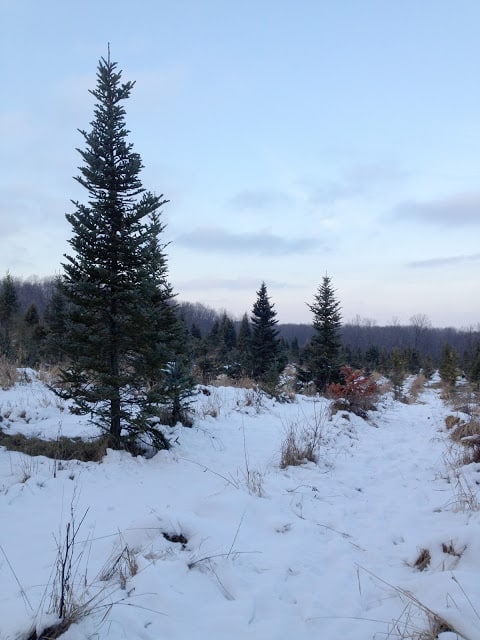 The one.
Mr. Much More Patient about fell over when I said I was sure of my decision, even after he pointed out a few less-than-full areas. I made a few cuts and then decided that was sort of a lot of work and handed the saw over to the lumberjack-in-training.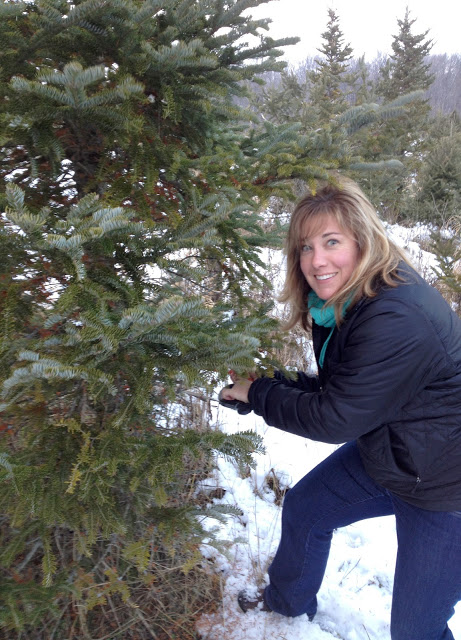 Holy cheesy smile.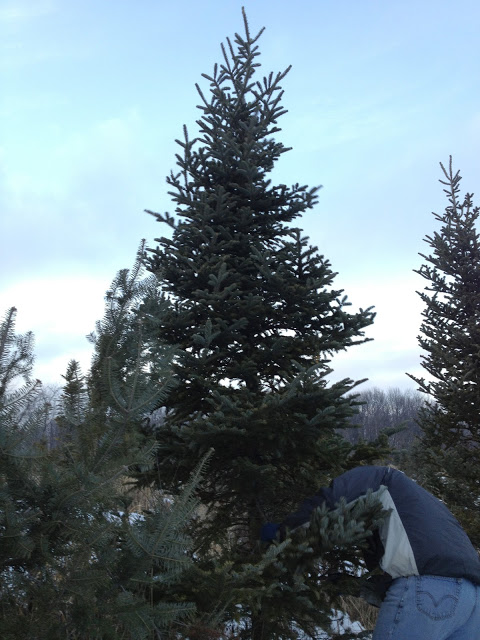 Better let the professionals take over.
And then we dragged that baby right out of the field. The owner swung back around in his pickup truck for it and we were checked out, wrapped up and full of hot cider less than a half hour after we arrived. A new record.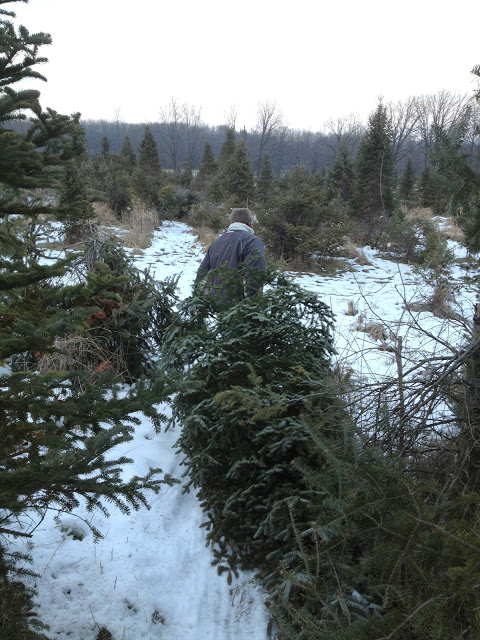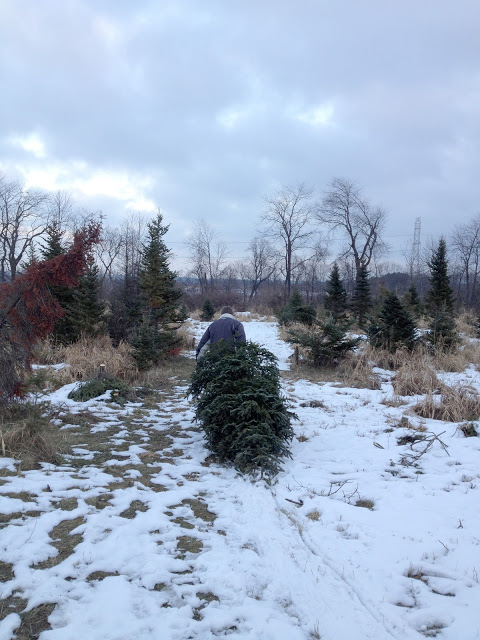 Sure the tree sat unadorned in the living room for the better part of a week. That's OK. Stress-free Christmas, remember? So I got the lights on (not particularly even or wrapped as nicely as I like, but that's OK) and several more days passed before I pulled out the ornaments and got that thing decorated.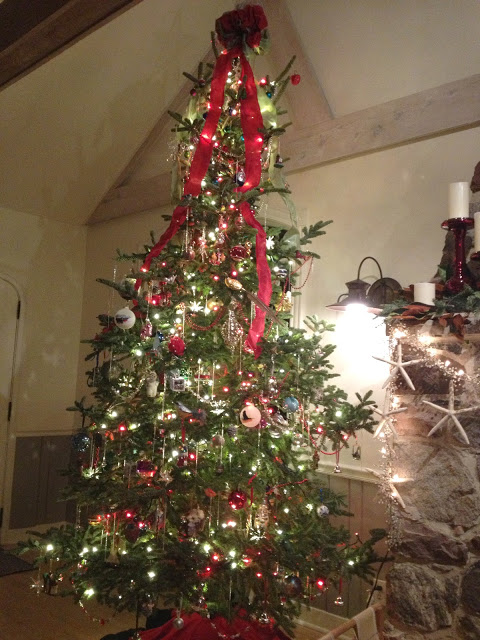 It's so tall I couldn't the star in the picture!
I like to have the tree down by New Year's Day so it won't be there for long. That's OK too. The ornament boxes didn't have to go far. The ornaments aren't spaced very well (although part of that is on purpose … only non-breakables can go on the bottom of the tree with two huge dogs around; and all bell-type ornaments hang on the bottom to tip me off when someone is rooting around where they shouldn't be) and it's far from perfect. And you know what? That's OK.
I'm writing this on Christmas Eve. I'm about to head into work and everything, save for a little bit of laundry, is finished. I have never, ever had that happen before. I'm convinced it's because I stopped caring about things being perfect and started just doing the things that mattered to us. Martha Stewart wouldn't approve, I'm certain, but that's OK (never liked her much anyway).
I hope you all have a wonderful, stress-free Christmas!