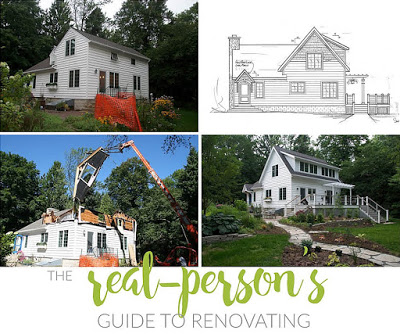 We are getting close to officially committing to redoing the downstairs bathroom. This is a big deal because (1.) this was the room we swore had to be redone immediately when we first saw the house we would buy—more than 13 years ago, and (2.) it is pretty much the last room to be renovated in this house.
Everything we've done in this house has been "designed" by Mr. Much More Patient and me and pretty much every project has been a combination of professional contractors and DIY. Through all those projects I feel like we've gotten pretty good at this whole renovation thing, from a real person's perspective. With so many renovation shows on television, it can be easy to think that the only way to do a renovation is to hire a designer and a contractor and sit back and relax, but that's not practical for most people.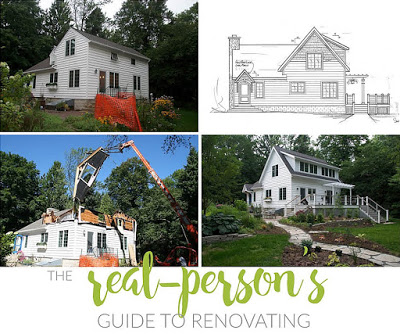 So I thought I'd share a real person's guide to renovation.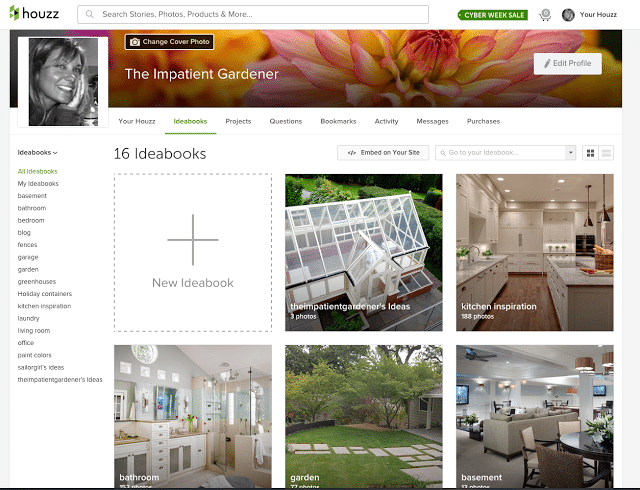 Start by saving photos like crazy on Pinterest and Houzz. Don't even pay attention to what you like about the photo at first, just save it and then go back later to see what themes emerge.
1. GET A VISION
Thank goodness for Pinterest and Houzz. Both sites have made it easy to like pictures without a lot of thought and for me that's important at the beginning of a renovation. I just like pictures and then go back later and look for themes the come up or little touches I liked over and over again. I couldn't tell you what my design "style" is, but you'd probably get a good idea if you looked at my Houzz ideabooks.
2. START SOURCING
Did you notice how I haven't mentioned making a budget? Here's why: Unless you have a very specific amount of money set aside for a renovation that you're going to spend no matter what, I find it difficult to impossible to set a budget early on in planning. You will have no idea how much a faucet or a toilet or a counter will cost until you actually think about buying one so your budget could quickly become a moot point before you even get started. As I start to firm up specific elements that I want to incorporate, I add them to a spreadsheet along with potential sources so I can keep an eye out for sales and keep an eye on the budget at the same time.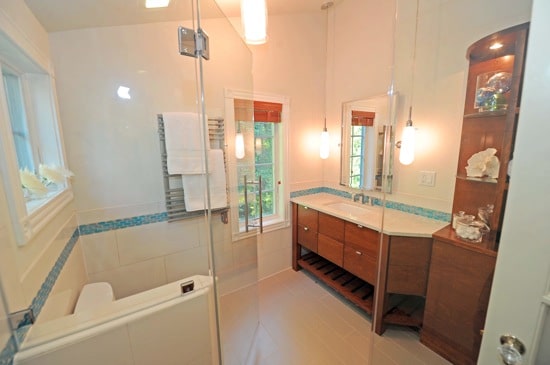 The sink, which is really nothing special but I really loved it, was the first thing I chose for the new bathroom upstairs and every part of the design referred back to the sink. Pick what you love the most and use that as the basis for every other decision when designing a space.
3. PICK YOUR STARS
As you are sourcing things for your project, you're bound to fall in love with a few things. If they are in the realm of affordability, great. If they aren't, start searching for a lower-cost alternative. But either way, if you really love it, if it gives you heart palpitations, use it. Cut the budget elsewhere to allow for it and then make it the star of the show. In every room we've renovated I've fallen in love with one or two things and they became the jumping off point for the entire design. In the upstairs bathroom it was, of all things, a $90 sink. In the downstairs bathroom, which I'll tell you more about soon, it's the floor tile. I think it's really important to allow yourself to have the one (or maybe two) things you really, really want in a room. You'll never regret getting them, but you'll definitely regret not having them.
4. CONSIDER YOUR CO-DESIGNER
I think a lot of couples have one person who takes the design reins and another person who sits back and speaks up once in awhile, and that is certainly the way it works in our house. Mr. MMP doesn't speak up often when it comes to design specifics (we definitely start on the same page though), but when he does, he almost always gets what he wants. If one person only wants one thing in a room, for goodness sake, let them have it or at the very least find a compromise that they really like and you sort of like. For our upcoming bathroom project Mr. MMP really wants a faucet that is completely unlike what I had envisioned for the space, but he likes it, it's in the budget and heck, it's only a faucet. It is not going to make or break the design. And let's be honest, renovations can be stressful; keep it light where you can.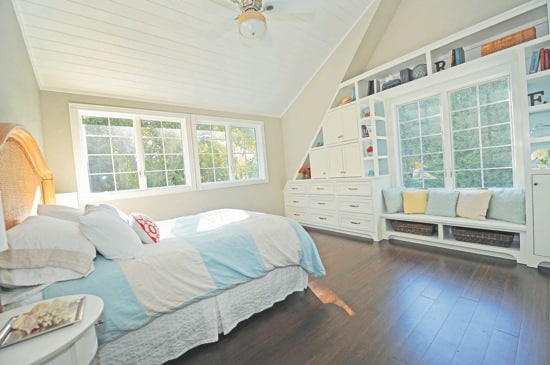 I knew I wanted big built-ins in the master bedroom, but in order to afford that, other things in the budget had to give, so I did all the painting in the room (except for the ceilings), including the built-in, I made the cushion for the window seat (which didn't make it into this early picture of the room), and we chose floating floors we could install ourselves. By taking on the projects we could do ourselves, it freed up some of the budget for other things and satisfied the DIY itch.
5. FIGURE OUT WHAT YOU WANT TO DO
By this point you've got a good idea of the scope of the project and where your budget is at and you should have an idea of how much of a project you'll have to do to stay within the budget or how much you want to do. Once you figure that out, you can start getting quotes from contractors, but be upfront about what part of the project you want to do yourself. Some contractors will be reluctant if you plan to do a part of the project that can hold up the whole show yourself. Keep looking. It's your project: do what you want and find a contractor who will work with you. I pretty much always do the painting, which I'm confident I can do myself vs. taking on a project like tiling, which I've never done. Small finish details such as installing lights and some fixtures like doorknobs and towel bars are also things we'll take on to help cut the budget. Whatever you do, be realistic about what you can reasonably take on because there is nothing worse than having to pay someone to finish or fix something you spent days or weeks on to begin with.
6. START SHOPPING
A lot of people just work through their contractors to get the parts they need for a renovation, but I've never done it that way. I'm a pretty savvy shopper, so I feel confident that I can often pick up plumbing fixtures, doorknobs and utilitarian lighting at a better price than a contractor would charge me. Sure, they will probably buy it for less, but a lot of contractors will charge retail to their clients and keep the difference as part of their fee (which is at least partly understandable as they do have to spend time sourcing and delivering those items). This is where the spreadsheet comes in: I'm constantly looking for sales. On Black Friday, when everyone was shopping for gifts, I was ordering plumbing parts, but I got a lot of them for 15% less than the lowest prices I'd seen previously. Just make sure that everything you order will work in your space by confirming with contractors if needed. Use a cash-back program like Ebates, which finds coupons for you and gives you cash back through Paypal or a check. I started using Ebates before our big renovation and I'm now up to $1,200 cash back. Sometimes it's only a few dollars on an order but all of that adds up quickly.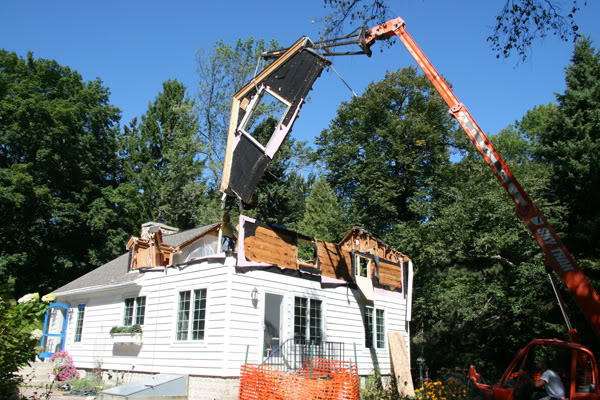 When your house looks like this, you better make sure you're on the same page as your contractor and if you're not, it's helpful to have another person around to be the nice guy while you lay down the law.
7. HAVE A WHITE HAT AND A BLACK HAT
I've talked about this before because this is a big lesson I learned during our major renovation five years ago, but contractors have to be managed and there are going to be times when it's not necessarily fun. For us, it worked to have one main contact person (usually me) who hammers out all the important pieces of information with the contractor as well as being the go-to person for questions (which I'd then usually take back to Mr. MMP if we had to make another decision). But sometimes that person needs to be rather firm about something. You can't be a pushover. So if there are times when something is not going right, the point person should be the first one in to handle it and that can make you go from white hat status to black hat status. And that's where your partner comes in (and if you don't have a partner in life working on a renovation with you, I suggest you introduce an interested friend early on in the process to the contractor) with the white hat. When things got tense, Mr. MMP would come in and reinforce the message of what needed to happen with a sympathetic undertone. "I know this seems like it's not a big deal, but it's very important to Erin, so it needs to happen," is one approach that worked well for us. By justifying your contractor's feelings on the matter but also being firm about the issue at hand, everyone ends up feeling warm and fuzzy. The contractor does what he needs to do, you go back to being friends and your project ends on a happy note.
Some day I'm going to go a little more in depth in how to deal with contractors, but I'd love to hear from some contractors who are willing to speak candidly about what makes their job easier and why the do the things they do (like starting a project all gung-ho for a few days and then disappearing for three weeks, which is the main complaint I hear from people).
Anyway, those are my tips for doing projects in the real world. I'm not a designer, but I know what I want for my house. I'm not a contractor, but I know what I can manage on my own and what I'm not ready to take on. And I'm not a relationship counselor, but I know that you CAN make it through a renovation without killing each other.
What tips do you have for a successful real-life renovation?