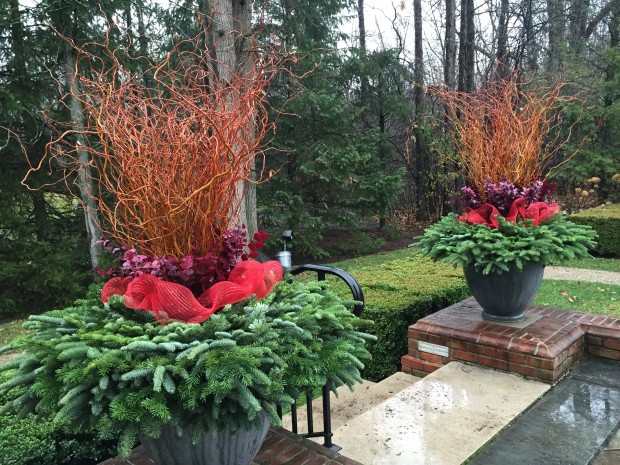 I'm a late Christmas decorator. At least it seems late, since I usually finish it up a couple weeks before Christmas, which is apparently late these days. But I like to take advantage of milder weather to do my outdoor containers, which is easily my favorite holiday project.
I'm busy gathering materials now. I picked up some $6 wreaths at Home Depot on Black Friday. They look like $6 wreaths, which is to say rather plain and uninspired, but by the time I'm done filling them out with other greens and nice bows, you'll never know. I also cut a mound of red twig dogwood over the weekend and I'm hoping to score the branch cut-offs from people's Christmas trees at a few places like I did last year.
As usual, the best place for inspiration when it comes to holiday containers is Deborah Silver's blog, and this year she treated her readers with step-by-step articles on how those works of art come to life. I've been using foam to stick branches in for a couple years now and it makes such a difference, and not just because the soil in a lot of containers is frozen already. I highly recommend spending a little extra to get foam for containers.
Here are Deborah's tips:
Of course, having a big building to do all the main work in (along with a lot of helpers) would certainly make this process easier, but one must make due with what they have.
I'm also loving bleached pinecones (Deborah uses some on her amazing garlands), so I'll be following
this tutorial
on how to do that.
I don't have a real vision on exactly what I want to do this year, inside or out, but maybe that will make it more fun. The plan is to finish up the outside this weekend.
Do you decorate outside as well as inside?