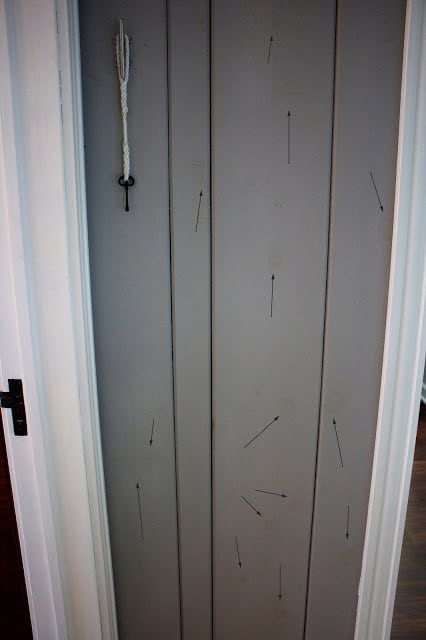 It's crunch time. It might not seems like it, but the clock is ticking. The holidays are over and the daily arrival of another seed catalog reminds me that it's only four or five months until all waking, non-working, non-eating hours will be spent in the garden. And that means that any indoor projects that need doing better get done in these dark days of winter.
If you're a homeowner there are always projects to be done. I look around and see a ton of painting that should be done even though it seems like just two years ago or so I painted every square inch of this house. The chipped paint and unmatched trim colors in some rooms are a reminder that I actually didn't paint much of anything downstairs.
And then there's the ugly fact that some of the painting that needs to be done is actually repainting some of the walls I did paint during that marathon. Here's the problem: knots are not your friend. All of our custom wood paneling (made to match the existing random-width panels in the house) and the wood ceilings in the bedroom had knots. And if you're painting wood with knots, they will rear their ugly heads at some point.
The knots in the bedroom ceiling started bleeding through the paint within six months. For awhile I could look past that, but now it really looks shabby. Recently I noticed that some knots are very noticeably in the hallway upstairs. In both cases, measures were taken to make sure this didn't happen. The painters spray-primed the boards with Zinsser BIN shellac-based primer. When we painted the paneling, we spot-primed the knots with the same primer, which is supposed to seal the knot. We followed that up with more all over primer plus two coats of paint.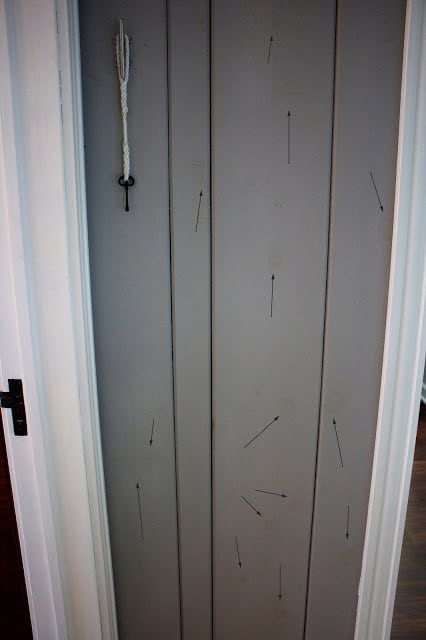 Do you see those sneaky knots coming through the paint?
What I think I've discovered is that you really need to seal knots twice several months apart. We had the painters come in about a year ago to look at the ceiling and they did a test patch of BIN followed by a coat of paint and it still looks perfect with no bleeding. They are coming back and repainting the ceiling when it fits in their schedule.
So in addition to the other painting projects around the house, I'll probably be adding that hallway wall to the list.
But painting is not a fun thing. The results are almost always fun and worth the effort but it's not exactly a project that makes you want to leave work early to run home to get started on. Fortunately there are a lot of other, more enjoyable, projects to be done.
Even the little stuff needs to be done and provides a certain amount of satisfaction.
Remember when I showed you the bathroom key and mentioned that I thought it would look much better on a three-strand line? Thank you Mr. Much More Patient for splicing one up for me. While he was in splicing mode he also made a little rope necklace for the key for our ship's clock.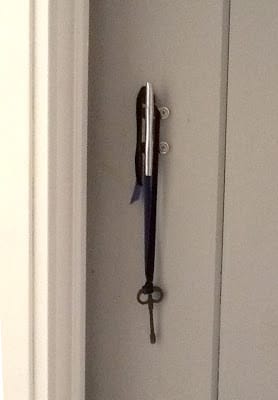 The key before.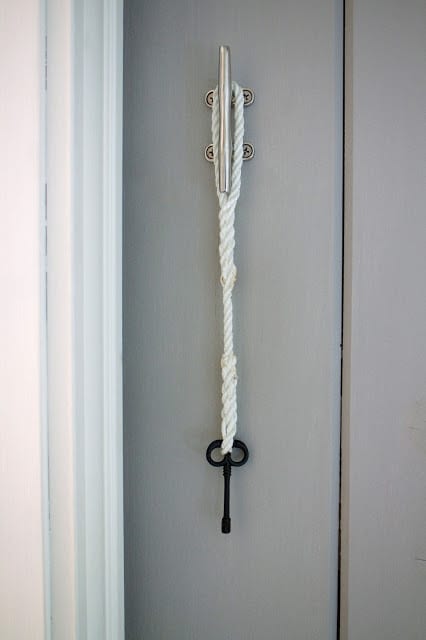 Ahhh, that's much better.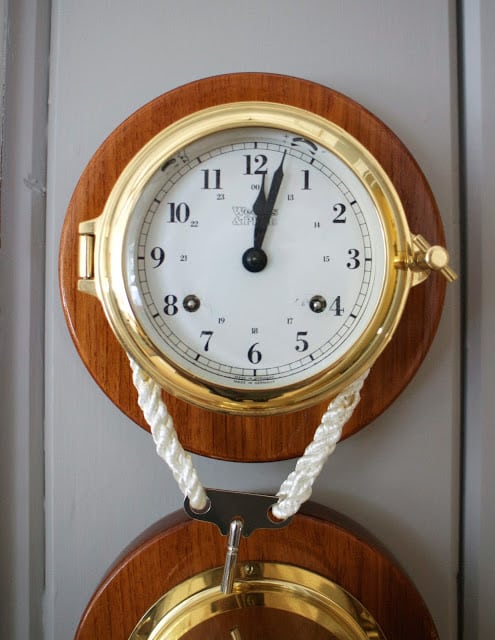 Big projects will come in time. And so will painting. But hopefully not in too much time. Tick tock, tick tock.
So what about you? Do you have a long list of projects to get done in the dark days of winter?
P.S. Just for giggles I had to show you what emerged during a painting project Sunday night. I was using some paint from the paint closet that I haven't touched in I don't know how long. When I was stirring it up something emerged from the can. I pulled it out and lo and behold it was a tape measure. I don't know how or when it got in there, but now I know that I'm not making it up when I say that tape measures just go missing in our house.