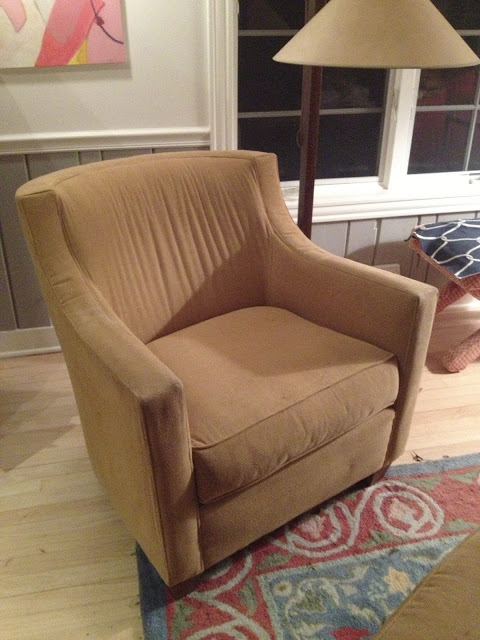 The mustard yellow chair and ottoman in the living room went away Monday morning. They are off to get a new look at a local upholsterer.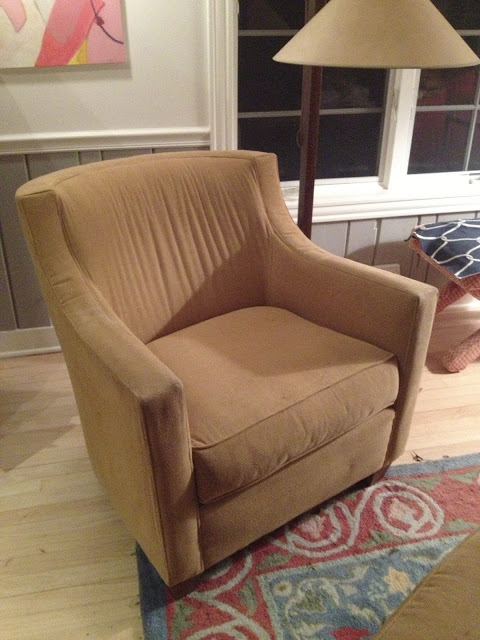 Yeah, I should probably vacuum before I take pictures.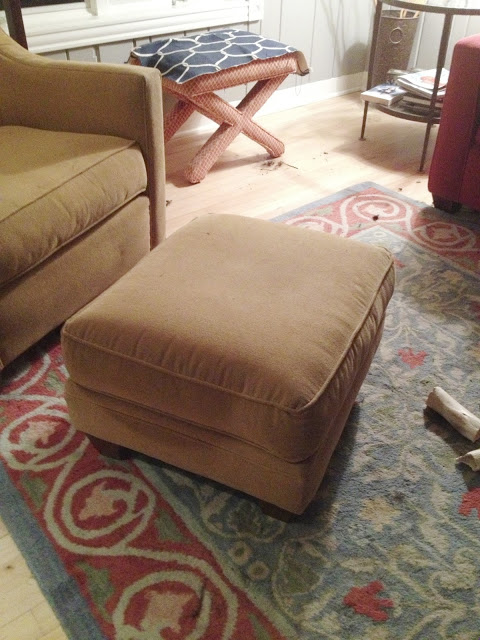 The ottoman (and more dog fur). You can see the fabric swatch on the X-bench in the background.
I love that chair and, like our sofa, it pretty much has someone sitting in it every night. It is 12 years old and has held up really well and I still love the look of it. We're going an entirely different direction with the fabric for it, and I have to admit, I'm a little nervous. Honestly, I'm a lot nervous. What if it doesn't work with the rug (that is FINALLY coming this week; nothing like waiting since May)? What if I tire of the pattern?
We're having it recovered in Calico Corners' Twist fabric, which looks a little bit like a chainlink fence in a swatch until you realize it's a very large pattern. It also has a great texture to it and I love textured fabrics. I'm also having contrasting welt put on it in an off-white to match the white in the main fabric. I tried to find a Sunbrella fabric that would work but believe it or not I had no success. So I ended up with a random off-white. I bought all the fabric during Calico Corners' big fall sale so I wouldn't say I got a great deal on it, but it at least brought it down to a realistic price.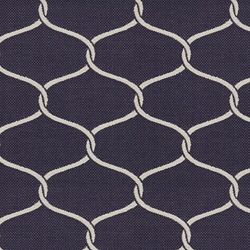 Calico Corners Twist Indigo fabric
See how sharp contrast welting can look? (P.S. I should not have done a search for contrast welting … I have yet to find an example of it on a print and now I'm worried it will be too busy.)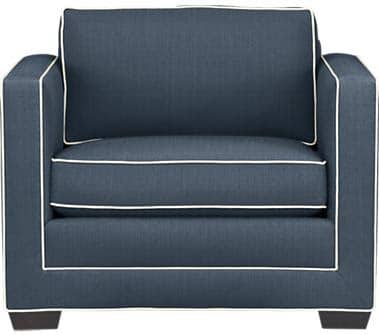 Crate & Barrel chair from a few years ago.
Unfortunately the reupholsterer said it will be three to four weeks to finish it. I hope he's the underpromise-and-overdeliver type and he'll be calling me in two weeks to tell me it's finished, but I sort of doubt it. One of the wicker chairs from in front of the fireplace will stand in for the time-being, which may not be a good thing. It was readily apparent last night that the dogs love the idea of having an entire area rug to themselves. They won't be happy when the furniture goes back to its normal locations.
It's nerve wracking to take a design risk, but I rarely do it so I figure it's about time. Committing to a pattern is hard thing to do on anything bigger than a throw pillow and I really don't know how it will turn out. I'm even more worried about the contrast welt, but I love it every time I see it in a photo so it's time to turn that into action. Right? Gosh I hope so.