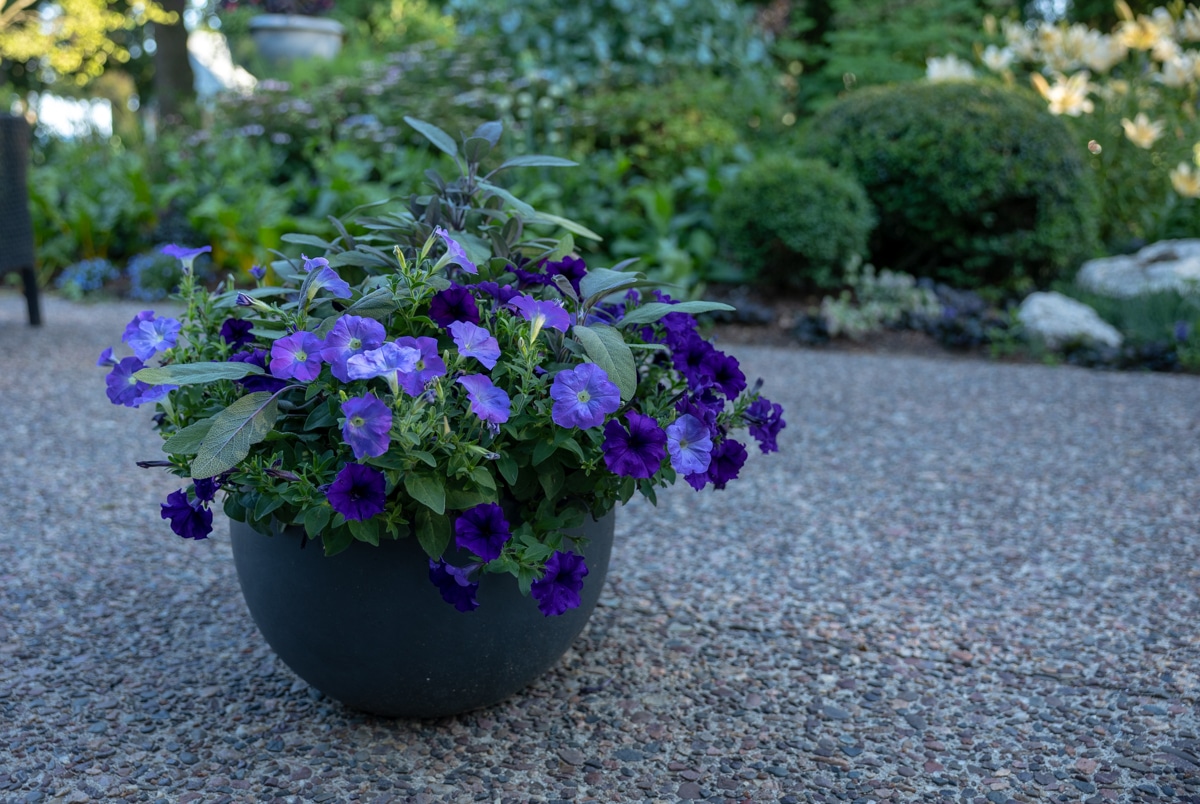 Thank you to Wave Petunias for partnering with me on this post. 
I'm often asked a question that is perplexing to me: "Do you grow annuals or perennials?"
I don't fault the people asking the question as I think there are some people who grow one or the other, and perhaps that was more typical in the past. But the best parts of my garden rely on the combination of annuals and perennials, not to mention, shrubs, trees, bulbs and even vegetables. 
Annuals, with their season-long color and seemingly endless array of colors, are perfect for tucking around the garden to fill in a gap until another plant fills in or just generally brighten things up. And perhaps the best all-purpose annual is the petunia.
This year I have Easy Wave Petunias in containers as well as in the ground where they bring a much needed splash of color as other plants (ahem, dahlias) take their time getting around to blooming. Easy Wave Petunias bulk up quickly (in fact I mostly bought 2-inch plants sold in six-packs) and have a nice mounded habit that works well in containers but also fills those pesky holes in the landscape.
Easy Wave Petunias come in oodles of colors and I was feeling a strong monochromatic vibe this year. For one container I combined Lavender Sky Blue and Blue (which reads purple to me) with purple sage for a dark, textural vibe.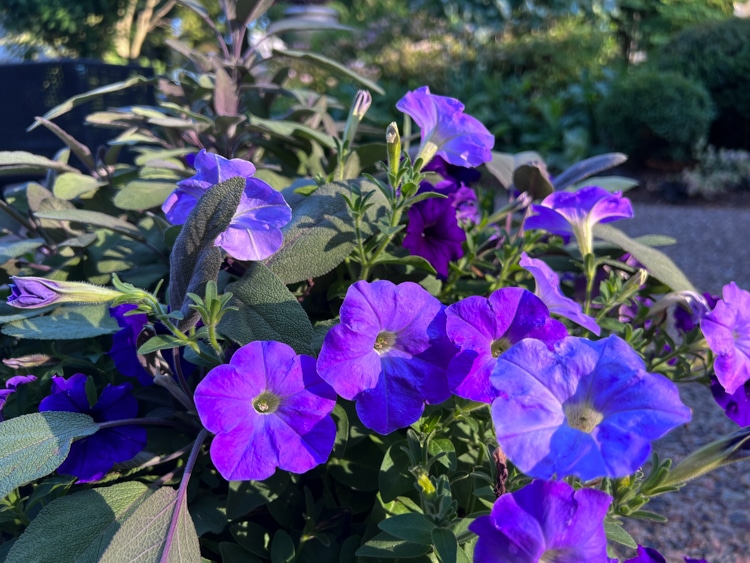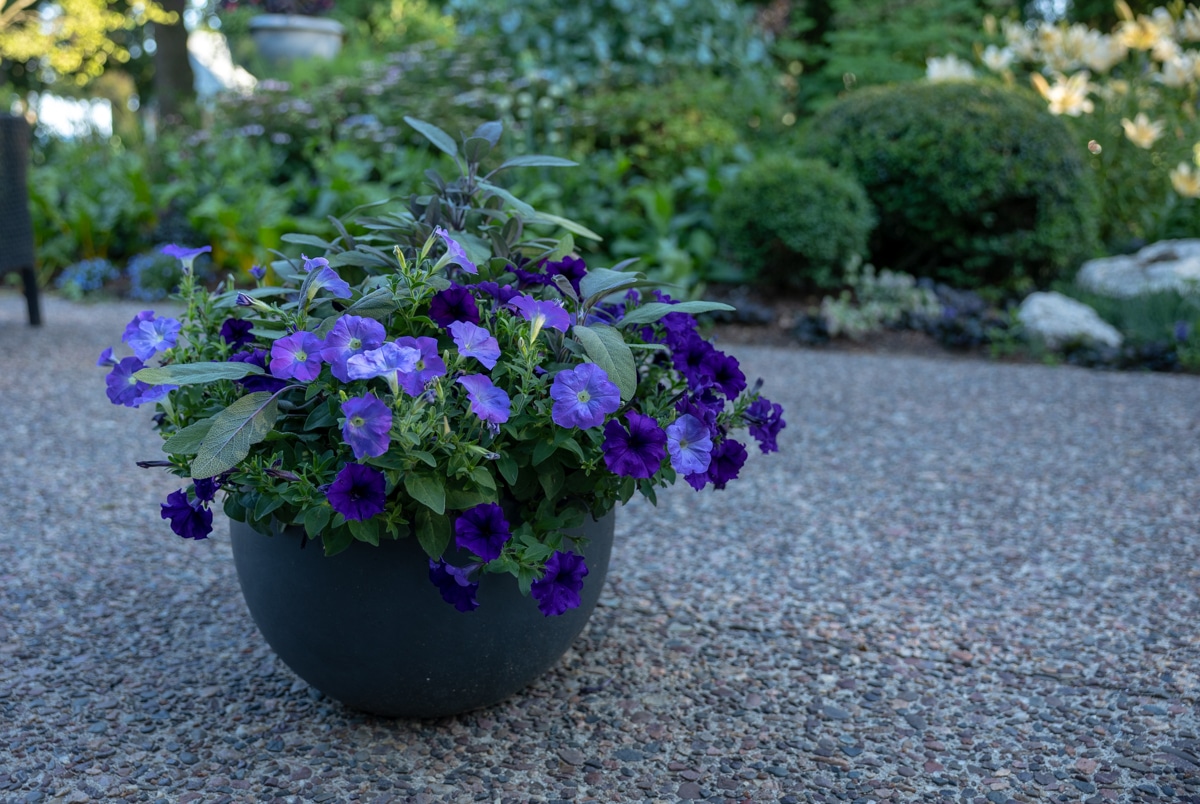 I used those same colors in a nearby bed right off the patio, bringing color to an area with dahlias and alliums, including the seedheads of Allium christophii.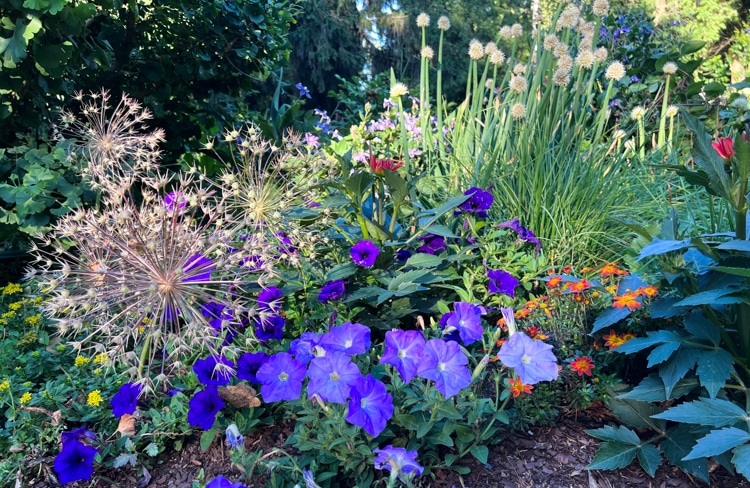 In the circle garden, where I like to mass plant in segments, I mixed together all the different pink Easy Wave Petunia colors I could find, from Rose Fusion to Plum Vein. A few surprises snuck in there, including a couple of reds and one white, but the overall look is pretty interesting, especially since different colors have slightly different sized flowers.
All of these are really just getting going. Easy Wave Petunias get about 6 to 12 inches high and can grow to more than 30 inches wide, so these will keep bulking up all summer.
GROWING TIPS
Like all heavy-blooming annuals, Easy Wave petunias appreciate regular fertilizing. I fertilize my containers with a synthetic water-soluble fertilizer every week to 10 days starting in July. I like to keep things organic for my in-ground beds so I usually use a seaweed or fish fertilizer every couple weeks on those plants.
Petunias are also one of those plants that appreciates the occasional trim, so as soon as mine start getting a little leggy, I will cut them back by half (or even more sometimes). 
Budworm can be an issue on petunias. I've only dealt with them once in my life, so I don't do anything more than keep an eye on them when I'm watering, like I do with all my plants. An organic spray with BT can be used to control budworm.
Petunias will do best in full sun, but you can push them into part sun without a problem.
Petunias are a classic annual, perhaps the classic annual that have been popping up in and around my garden for years. 
Easy Wave Petunias seem to nail that happy in between place of filling in well and holding up to other perennials in mixed containers and the ground without outcompeting its neighbors. It's pretty much a perfect partner.