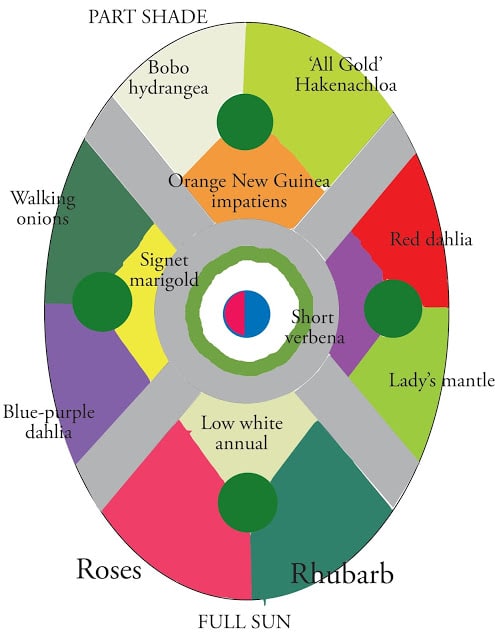 There are so many things happening in the garden at this time of year that it's nearly impossible to report on it all here. But it is certainly blog-worthy when actual progress is made on a project!
Most of the weekend was dedicated to working in the circle garden, to the detriment, of course, of the rest of the garden, which is sorely in need of attention. But there is real pleasure in getting some actual gardening done in this area, which I've been renovating since last fall.
When we last left the circle garden, I had ripped out the existing paths and created new ones with metal edging and paver base, which will be topped with decorative gray gravel when all the planting is finished, weeded it like crazy and shared the design plan.
Somehow there was a lot of excessive soil after the path project last year but I left most of it in the beds assuming it would settle a bit. As it turned out, it didn't, and the better part of three hours was spent hauling very nice soil to a pile. I'm guessing it was about a yard and a half if not two yards just judging from the size of the pile.
Then I was able to get back to my beloved, if not quirky, chive hedge. I dug up everything that was already planted on the edges, just to inspect it and make sure it was weed free (a worthy effort judging by the pile of weeds I had), and then divided everything to outline every section of the garden in chives. I don't know that they'll grow together this year yet to form a proper hedge, but probably next year.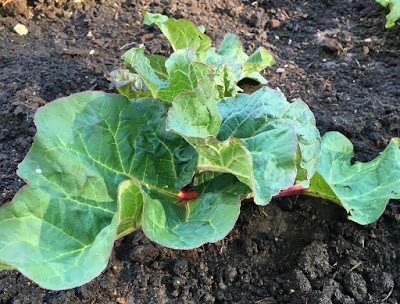 Rhubarb from grandma's garden that probably originally came from her parents' farm.
The next day I picked up four boxwood ('Baby Gem' which is a cultivar I've not used before and not the one I went to pick up—I had been planning to buy 'Winter Gem'), one for the center of each section. Then I laid out all my stakes and string again and created each planting area. I rehomed some rhubarb from my 100-year-old grandmother's house for the rhubarb area, but I'm sad that I won't be able to harvest any this year. And I also replanted the Egyptian walking onions I overwintered last year. I'm a little light on those so I'm hoping to find someone in my master gardeners group who can spare a few.
From here on out, it's really just planting left to do in that garden and I'll take on that project as I get plants or as things are ready to transplant. It's lovely to see progress though. And for a few precious moments I know that there is one weed-free spot in my yard.