This is the hardest part of growing plants from seed, if you ask me. I started my first seeds at the end of February and I was so into them. I tended them lovingly. I checked on them four times a day.
And now, well the relationship has changed. There are still plants to be started and hundreds to be tended. But there are far more pressing and exciting jobs to do in the actual garden. Frankly, I get a little sick of my seedlings by now because they are just so needy. Well not really, but they apparently want water, light and warmth.
I jest. A little. But I will admit that I don't approach the care of my little baby plants with the same zeal that I did two months ago. Still, I've put a lot of effort into them so far. This is no time to shirk my responsibilities.
The tomatoes have grown about another four inches or more since I shot this photo.
Let's start with the tomatoes. I never used to start my own tomatoes from seed but you can grow so many interesting varieties that you just can't find if you buy plants. I planted 80 tomato seeds from eight varieties, two in each soil block, just in case one didn't germinate. Guess what? I had 100% germination! After thinning, that means I have 40 tomato plants. In case you were wondering, I have room to grow about 10 tomato plants in total, and my mom is growing a few different varieties that I'd also like to try. All will find homes, but seriously, next year, someone tell me to control myself!
Anyway, the tomatoes are growing far better than any other year. I can't explain why, but I did start feeding them about once a week with a very dilute fish fertilizer after I transplanted them to 4-inch pots. But the fact that they are growing so well is becoming a problem. It's still too cold for them to be outside in the temporary greenhouse (nights are still cold here), but they have outgrown all my lights. I may have to start adjusting the height on my racks inside to accommodate them.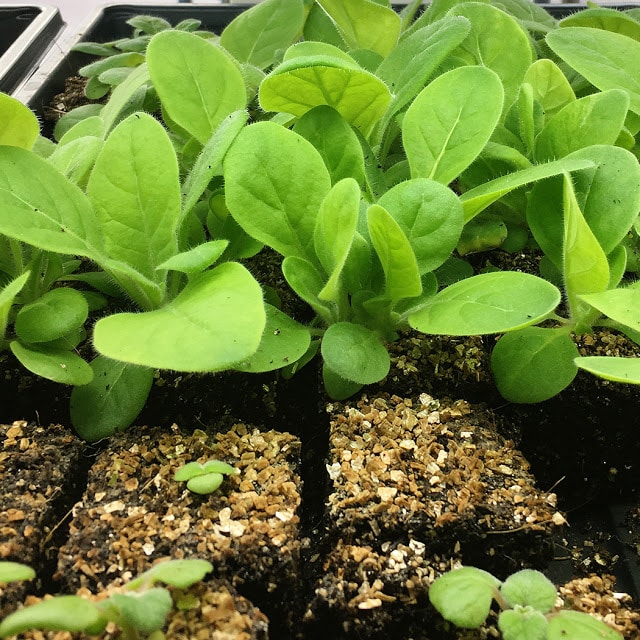 Nicotiana in the back with tiny Plectranthus in the front.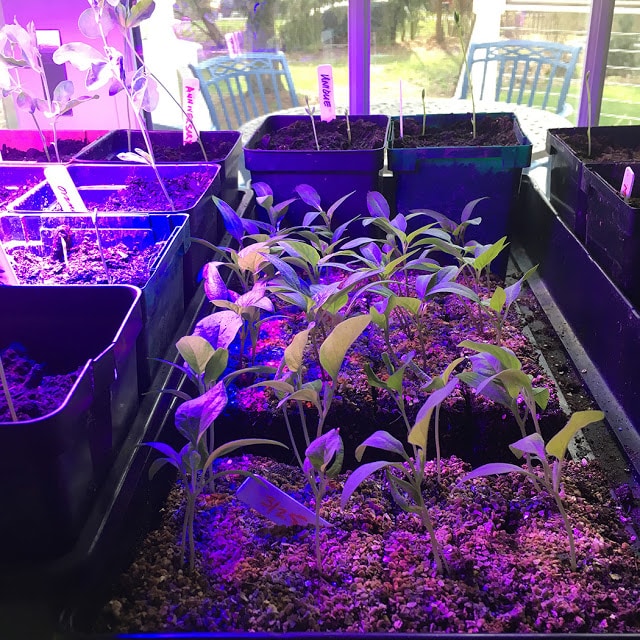 Peppers and eggplant under LED lights.
Everything else is growing well, although not as rapidly as the tomatoes. I've had two relative disasters: gomphrena (only two germinated out of 16; something I blame on not soaking the seeds long enough before sowing) and zinnias, which continue to be a thorn in my side. I plan on direct sowing zinnias later, but I like to start a few ahead as well, especially the Profusion zinnias that I like to use in containers. Only about four the Profusion seeds germinated in each of the two colors I planted. I'm really sad about that and I have no explanation for it.
Out in the greenhouse, the foxgloves, poppies and parsley are trucking away, seemingly not minding the cool nighttime temperatures.
And believe it or not, there are seeds yet to be sown. I wanted to start a few cucumbers and lettuce inside ahead this year, just to extend the season a little bit. I'll direct sow each as well. I also went to get more decorative with my lettuce planting, which will be easier to do with plugs rather than seeds.
I did a quick Facebook live video Monday night after work where I sort of ran around the garden looking at seeds, so for the complete rundown of what's happening in seedling land, check that out below (worst freeze frame ever; it's like Facebook purposes picks horrible scenes).
How are you feeling about your seedlings now? Are you still as fired up as you were in late winter?