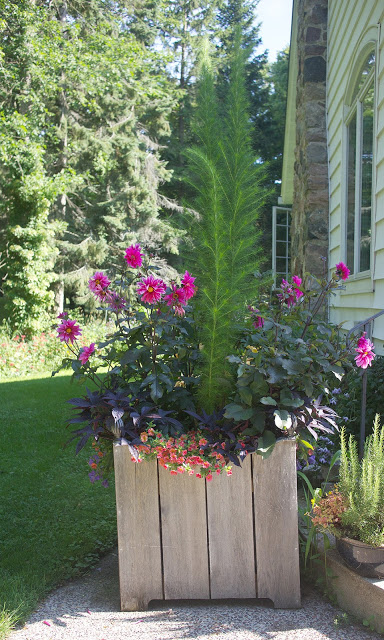 I was impressed in particular with how good the big planter by the front door looked. The 'Roxy' dahlias were blooming well, and even though the Eupatorium 'Elegant Feather' was showing signs of needing some water (it has a good tell: the tips flop), overall this container fared well. (The housesitter was watering the containers for me).
The 'Betty Corning' clematis by the front door was also in full bloom and looking fantastic, but it is mature enough that whatever it does, it does all on its own.
But other areas of the garden weren't looking as great. In fact, they were positively junglelike. There is a fine line between lush and overgrown and I'm pretty sure my garden crossed over it while I was gone.
I meant to trim back the nepeta along the path before I left but I ran out of time, so when I got home it was completely flopped. One of the first jobs was cutting it back (for I think the third time this year). It will rebound quickly and look great in a couple weeks.
I also should have anticipated that the 'Annabelle' hydrangea would need some support. That's just the nature of Annabelles and it does it every year but it never occurred to me. Now it's completely flopped and I'm not sure there's any propping it up. Unfortunately and surprisingly the 'Incrediball' and 'Invincibelle Spirit' hydrangeas also flopped over, which is uncommon. I think we had some serious rain while I was gone.
One of the things I was fastidious about before I left was deadheading the roses and that definitely paid off. The container rose is full of new buds.
Cutting off all of the sweet pea flowers before I left (for the best smelling bouquet ever) also paid off. The vines were covered in new fragrant flowers when I got home and the very first thing I did was cut a new bouquet. Cutting back, weeding and generally wading through an unkempt garden can wait when there are sweet pea blooms to smell.
SaveSave