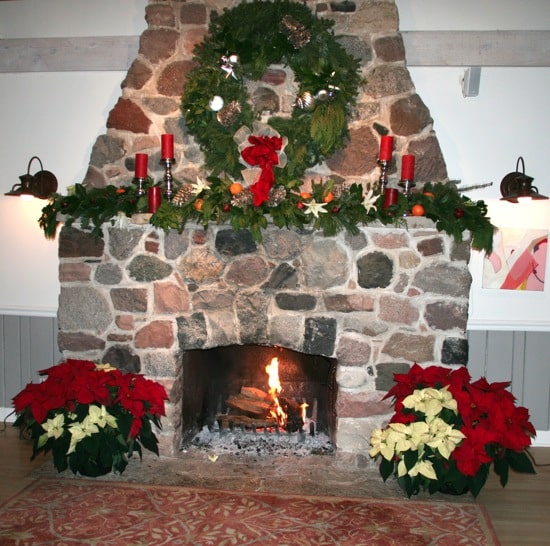 I did my mantel twice this year. No sooner had I gotten the wreath up than I found out that the newspaper that had featured the house in the home and garden section was interested in doing a special Christmas cover shoot at our house. They were looking for a big fireplace in front which a local group of high schoolers who put on a madigral dinner every year could pose in sort of a celebratory, raucous party scene. They knew I had a bit fireplace.
I had no problem with that. The problem came in when it came to setting a renaissance-type scene. I'm not sure any style could be more opposed to my usual M.O. and frankly I was flummoxed on what to do. And I didn't have a lot of time in which to do it.
I threw a whole bunch of greens on the mantel for starters. I didn't wire them or anything. I literally just stuck them up there. I mostly used the branches I cut off the tree, but I also filled in with cedar and white pine (like I did with the wreath). Then I filled in some lemon leaves (which are NOT lemon leaves. I've seen them called salal tips, but I will have to find the botanical name) to get a different texture in there. After that I threw (again, literally) some oranges and apples on top and borrowed some candlesticks from my mother-in-law (the dear woman let me take them right off her completed mantel). Because the starfish in the wreath would not at all work I just covered them with lemon leaves to obscure them.
To complete the over-the-top look (which is what I associate with that renaissance feel), I added some fresh Casablanca lilies at my good friend's suggestion.
The group was supposed to bring props with them; lutes, flutes, goblets, etc. Unfortunately they didn't, so the photographers (two of them: one to take the shot and a second to help set it up) had to get creative with posing. I had NOTHING in the house that would work, although they did end up using the single goblet I borrowed from a neighbor mid photo-shoot.
Here's the photographer standing on a ladder in the doorway to the living room.
Here's the side few (the chair isn't visible from the front-on angle the photographer was shooting from).
The kids were troopers. They were in those heavy costumes and our fire puts out some serious heat. Even with the windows open it was hot in front of that fireplace (hot enough that I fried one side of those poinsettias in front of it). After they were finished I went back to a more traditional (for me) look. Gone were the candlesticks, fruit and flowers, and in came the stockings, glass bead garland and starfish. It really could benefit from some candles, but I was ready to be done decorating that mantel!
The furniture and mobile are back too.

I'll post a photo of the newspaper cover when it comes out later in the week.