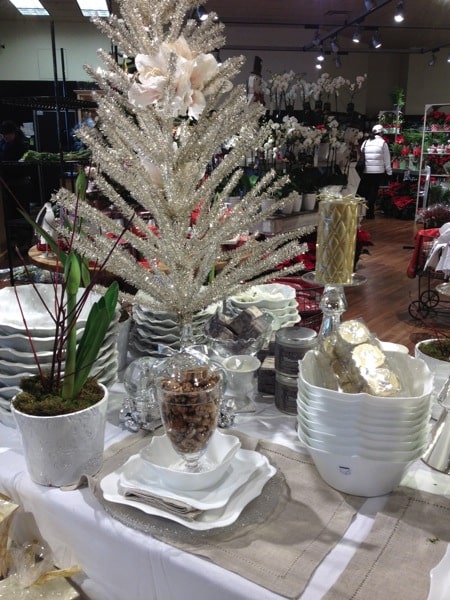 It's amazing where you can find interesting displays this time of year. I snapped this picture in the gift second of the grocery store this weekend. I just love the feel of this tables cape. I tend to prefer more color around the holidays, but this is so casual and sleek at the same time. And yep, I bought those linen placemats.


 
On a different shopping trip earlier this holiday season I snapped a picture in Pottery Barn. Turns out it has kind of a similar color scheme. I really love those candlesticks on the coffee table, but the real reason I took this picture is because I thought that couch was the most ridiculous thing I'd ever seen. Seriously there is no where to sit on that couch, there are so many throw pillows. Maybe that was the intention so they didn't get weary loungers, but still. That's just silly.


 
And at a trip to one of my favorite nurseries  I snapped these pictures.
I don't care what percent off that tree is. That thing is U.G.L.Y.


 
Traditionally colored poinsettia with Euphorbia Diamond Frost? Maybe.


 
Creepy purple poinsettia with Diamond Frost? Not a chance.


 
Part of me sort of loves this way over-the-top garland just dripping with ornaments.


 
I thought this fountain was pretty funky cool. The price ($1,500) was certainly not, but I think in front of the right house this could be pretty fantastic.