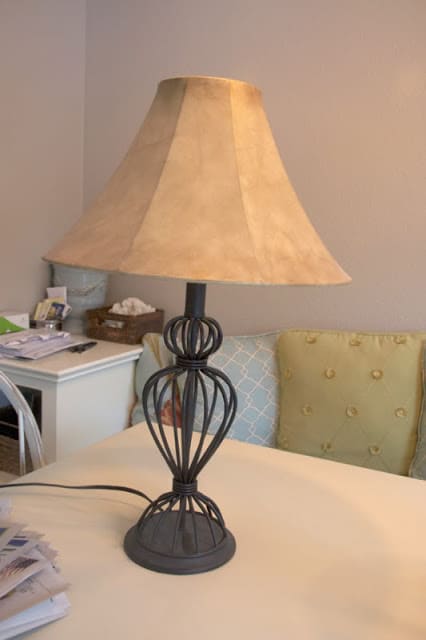 How about a little before and after to start the week?
I bought this lamp at Target about five years ago or so and honestly, I don't know what I was thinking with that shade. It sat in the guest room which really always was a decorating disaster. I think I was trying to go too many directions in the old room. So this time around, I wanted to keep it simple enough that even I couldn't screw it up: yellow, gray, white, black.
So I bought a new lampshade, because I really detested the shape of the old one. It was, I think, $9 at Target. I'm very into these great geometric patterns these days, such as the great Imperial Trellis and my current favorite China Seas Aga from Quadrille. Have you priced those fabrics? Let's just say that I don't have any shoes that cost more than a yard of it. I looked for a less expensive option with a similar feel but had no luck. If I had found something I would have just wrapped the lamp shade in it, trimmed it out with more ribbon and been done with it.
But that was not to be. So I made my own pattern with painter's tape and some spray paint. I couldn't find tape that was skinny enough so I bought the one-inch Frog Tape and sliced it lengthwise into three pieces. The I measured out every three inches on the top and bottom of the lamp shade, and made a criss-cross pattern. It wasn't perfect because the bottom of the shade is 2 inches bigger than the top, but it was close enough. Then I went back and cut out some of the sections.
This is what it looked like when the taping was finished. I also taped a piece of waxed paper over the top to keep spray paint from coating the inside of the shade.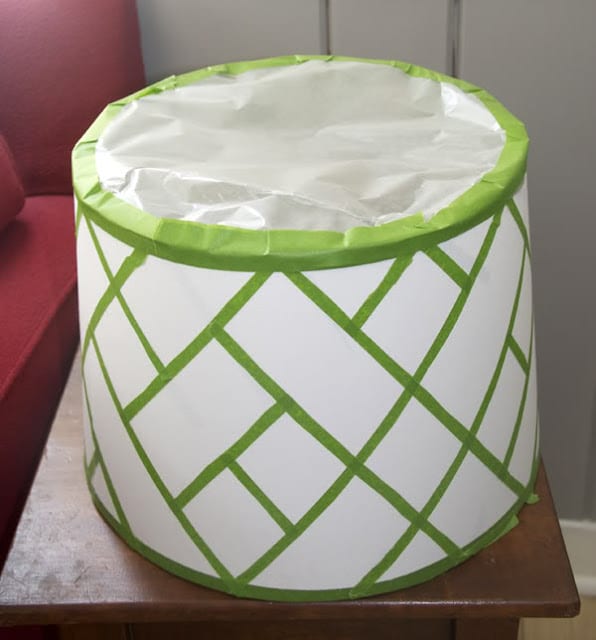 Then I just took some "Pewter gray" spray paint and did two light coats. In the meantime, I spray primed (I like the Zynsser BIN primer) and spray the lamp a bright yellow.
And here's what it looked like with it was finished.
And here's a few sneak peeks of it in the new guest room. Obviously this room has a way to go. The bed needs a headboard. A rug would be good I think. And there is a giant wall crying out for some art. Plus, I'm not sure the furniture layout is right. Still, you get the idea.
And what do you think about that light on the ceiling fan? I mentioned it before (here) and as I suggested then, opinions on it appear to break down entirely on gender lines: men hate it, women love it.