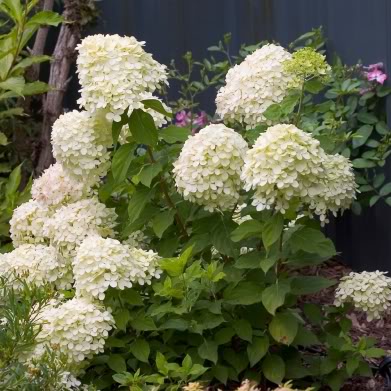 You all know I have kind of a thing for Tim Wood, right? I certainly mention him enough here. Well, that's not entirely true, even though he seems to be a very nice, intelligent and sort of funny guy. I really have a thing for his hydrangeas. (Honestly, Tim, I'm not stalking you … just your plants.)
Little Lime looking gorgeous.
He mentioned Hydrangea paniculata Little Lime at the Proven Winners Outdoor Living Extravaganza last year and I could tell then he was excited about it. But last year I was a bit overcome with my feelings about Incrediball. I'm now, however, anxious to get my dirt-covered hands on Little Lime.
(A quick departure here to discuss Little Lime's name. Little Lime is the trademarked name, but the cultivar name, according to the Spring Meadows site is 'Jane.' So who are you Jane that you got so lucky as to have this little beauty named for you? Maybe Tim Wood will find a new hydrangea that is has all the properties of Little Lime but the flowers turn blue. The cultivar can be called 'Erin' but I'll let him use a different trademarked name.)
I love Limelight. I have one growing in my garden that I have to prune pretty heavily to keep in check and it loves me for it. I see them all over the place and think they really might be the most amazing hydrangea there is (other than those tricky blue ones, that is). Remember the garden I crashed last summer that had hedges of them? I still have dreams about it.
A Limelight hedge … love at first sight.
But Limelight is a big girl. Big-boned you might say so as to not hurt her feelings. And that means she's great for some spots, but not so much in others. What the world needed was a Limelight Mini Me, and now Tim Wood has given us just that in Little Lime.
Briefly, Little Lime is about half the size of her big sister, just 3 to 5 feet tall vs. Limelight's 6 to 8 (or even 10) feet. She's equally hardy (to zone 3!) and gets the same amazing lime green flowers that turn white, then pink then almost burgundy. I leave the flowerheads on my Limelight all winter and they are beautiful against the snow (that is, earlier in the winter when I can still find the beauty in snow).
If you don't believe me, check out this great video of Tim Wood, Limelight and Little Lime herself pitching the new girl as the next "Garden Idol." (You may have to register to view the video but it's worth it.)
As I design some new gardens in the back yard I know that both Limelight and hopefully Little Lime will feature prominently in them.