You know how sometimes I publish a little to-do list that shows you what I'm all working on and what's been finished? I am going to spare you that because reading it would take up FAR too much of your time. I have balls in the air, folks. Lots and lots of them.
I feel like I have about 20 projects that are this close to being finished enough to show you, but very few are actually finished. I sort of hate that feeling.
I did finish up one small project last night though.
As you know, I have an almost unnatural love of gadgety things and you'll find more than a few of them in the new kitchen. I am all about smarter storage and part of that is finding things that come to you.
Even though people swear by them, we just weren't willing to give up an entire cabinet for a pull-out trash can. At the same time I have developed an obsession with things on sliders, especially if they have a soft close feature that sucks them up the rest of the way.
A lot of companies make slide-out shelves, baskets and storage solutions that are easy to retrofit into your cabinets and although we had some things built in by our cabinet maker, we opted to do the undersink storage ourselves.
Even though we have a 36-inch cabinet for the (monster) sink, by the time you stick plumbing and a garbage disposal in there, there's not a lot of room left. The garbage disposal, which is a first for us in this house thanks to the fact that Insinkerator now makes one that is designed to work for septic systems (I'm not sure if that's just a marketing ploy or a real thing but I read good reviews of it so we went for it), actually takes up much more room than I had planned but I'm so happy to not have to clean out the drain basket every day.
Originally I ordered a two-can pull-out unit for the garbage and recycling, but when it arrived I realized there was no way it was going to fit so unfortunately I had to send it back. That was a rather expensive lesson in making sure to measure really well before you order something. When they say 22-3/8 inches, they mean it. Plan B was to order a single can pull-out trash basket (I believe it is made by Rev-a-Shelf) and move the recycling to the pantry.
Ahhh, a fresh, clean cabinet. Other than all those holes in the back. Clearly someone was looking for a stud and had a hard time finding one.
There are always the occasional misses when it comes to hitting the garbage can and I know from experience that cabinets that house garbage cans can get pretty grungy. I wanted to line the bottom of the cabinet with something that would be wipeable and not easily stained. The old kitchen had a piece of leftover vinyl flooring in the bottom of the cabinet but it curled up at the edges creating an even bigger mess. They sell plastic trays for this purpose but I discovered that they are pretty stiff and meant to be installed before the counters (and presumably the plumbing) are. They are also upwards of $50 which seems pretty darn steep to me.
I thought it would be so easy to find cheap rubber matting to cut to size and slide in there, but believe it or not, the only thing I could find was black, and that seemed so, um, industrial. Then I thought about peel-and-stick vinyl tiles. I was able to pick up six of them for 99 cents each at Home Depot.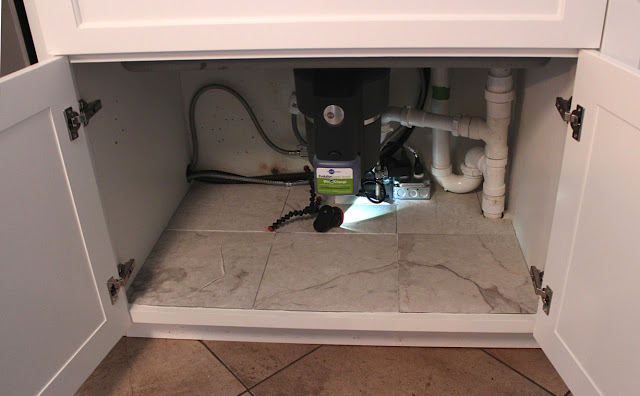 Everything laid out before sticking it all down. Looks just like marble doesn't it? Right?
I installed them the same way you would install tile: with the main tile you see centered and a full tile. That was the front center, so I had to trim down the tiles in either side of it by about a quarter inch. The tiles in back had to be cut to fit around various plumbing bits and pieces. I had no idea how easy these tiles would be to cut. Originally I started with a utility knife but I made the last cuts with a regular old scissors and that worked just fine as well.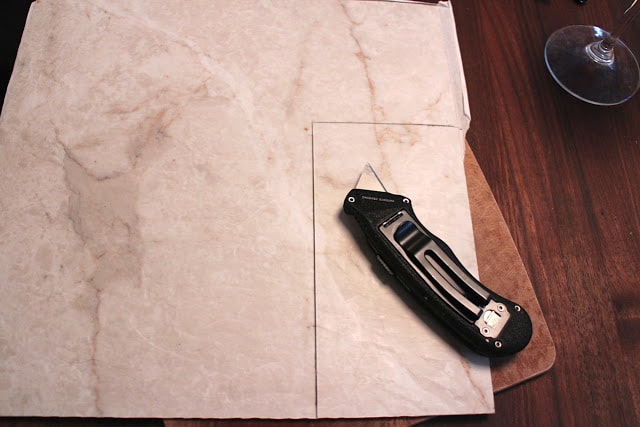 They cut easily with a utility knife, but I found later that a scissors worked equally well. And yes, once again I was doing a project during cocktail hour.
But I may or may not have been really careful about making square cuts. I'll be honest. I was too lazy to go to the basement and get the square so I just used another tile to make straight lines and I was more successful in some cases than I was in others and some tiles have small gaps where they butt together. I didn't want any crumbs or bits of dirt getting in there and being permanently gross, so I used a clear silicone caulk between all the joints just to seal the whole thing up.
Everything all stuck down with the joints caulked with clean silicone caulk.
Installing the pull-outs was actually easier. The garbage pull-out came with a paper template, so we just had to decide where we wanted to mount it, tape the template down and pre-drill our screw holes. This unit is actually meant to attach to the cabinet door, so you remove it from its hinges and pull the entire door out to access the bin, but we didn't want to do that, so we mounted it back about an inch so you'll open the door and then pull out the bin.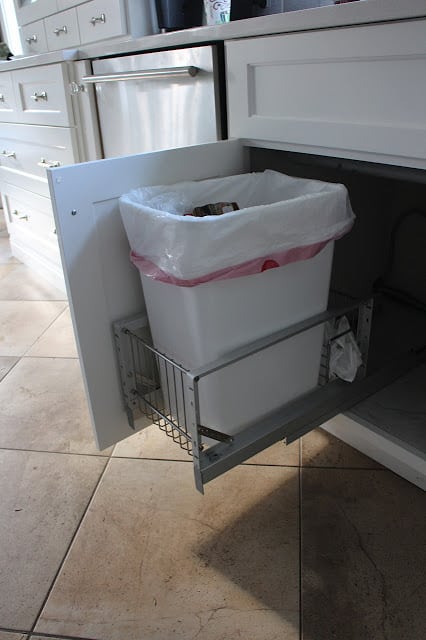 The garbage can that came with the unit just barely fits under the sink, but it fits nonetheless.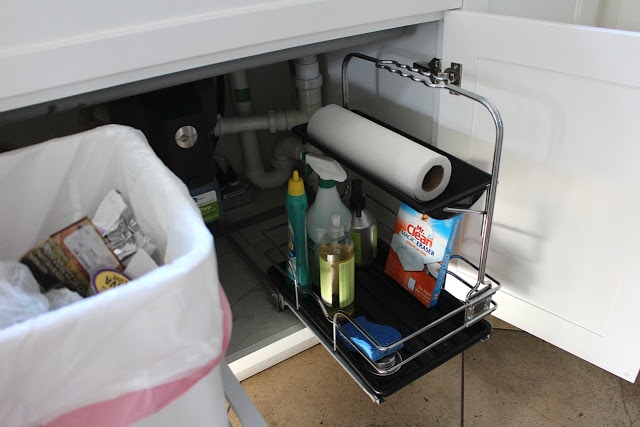 On the other side I mounted a little pullout to hold cleaning supplies and the roll of paper towel, which we decided we didn't want cluttering up the counter anymore. (Funny story: Cabinet maker extraordinaire Ryan actually devised a very cool gizmo to make the paper towel roll actually fit up into an upper cabinet so you wouldn't see it but could easily access it from below, but Mr. Much More Patient nixed it because he didn't want to give up the space in the cabinet, which I understand). We don't have children, so we can safely keep cleaning supplies under the sink but I understand this is a no-no if you have kiddos. I did make a bit of a mistake in mounting this one, which was equally easy to mount even though it didn't come with a template. I mounted it a little farther back in the cabinet, not realizing that when we pulled it out it would be still half in the cabinet. We decided to live with it like that for awhile to decide if it really bothers us before we drill four new holes and fill the old ones.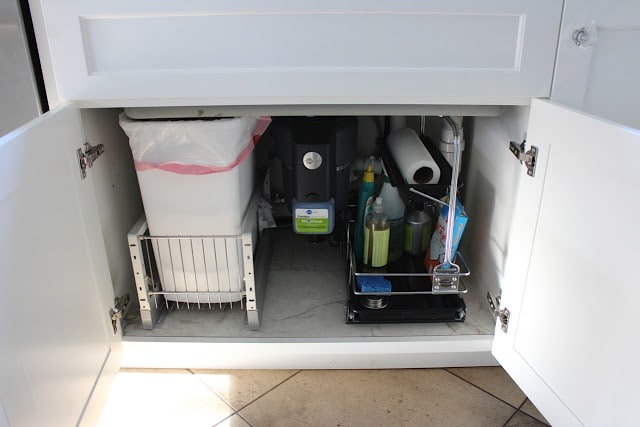 All organized and geeked out!
We're loving the pull-out trash, which is a huge improvement over the old way, which pretty much involved pulling the entire bin out anytime we were cleaning up and the geek in me is quite content with having all our cleaning supplies corralled on the other side. And there is still a little room in the middle for the dishwashing detergent.