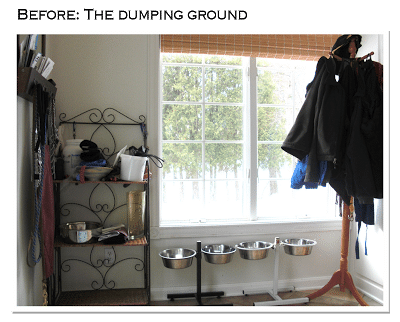 W ith the table finally the right length (but not yet finished), it was time to turn my attention to the area on the other side of the door, aka, the dumping ground. As I've mentioned before, we have no proper entryways into our house and neither door to the outside has a closet within less than 30 feet and two rooms away from it.
I set up a wicker and iron shelf by the door when we moved in that I planned to use for an always-too-large cookbook collection and a place to set mail. Well, you probably know what happened over the course of the next several years: dumping ground city. We had all manner of clutter collecting there. The bucket of change (we collect all our spare change and any random bills found while doing laundry and turn it in about every year or 18 months that allows us to splurge on something. Most recently we got a snowblower and half of a lawnmower out of all that spare change), gardening gloves, my good pruners, various dog accessories, random keys (I have no idea what some of them open but I kept them because some day I'm sure I'll need them), and a bunch of other junk.
Then we had a coat tree so filled with jackets that it occasionally fell over. And in the middle of all of that are the raised dog feeding dishes.
With all the new storage space I gained in the banquette I was able to move all my cookbooks (the lesser used ones went in behind the sliding doors, which will require a crawling under the table to access and the ones I use more often went in the bottom open shelf built into the banquette) and the various doggy-related items (all in the drawer by the door for easy access).
Well, I gave glazing a try by mixing a whole bunch of glaze with some blue (the first blue I bought for the buffet turned bookcase that was painted over when I decided it wasn't turquoise enough) and slapping it on with a foam brush after wearing down some of the sharper edges with a good sanding. I also sanded over the words a little bit, attempting to achieve an "old box" look. I went back and used a little brown glaze on the corners and edges to "dirty it up" a little bit. Looking at it now I might have gone too far, but I'll just sand it a little more and try again if I decide I can't stand it.
Then I gave a similar treatment to a piece of wood I picked up at the hardware store in the sale bin. It was already routered on the edges so it was perfect.
I picked up some really cool hooks that are supposed to keep coats from getting "hook marks" in them. They are pretty modern compared to everything else that it going on there, but I like the eclectic look of it all.
We mounted it all on the wall, making sure the coat hook board was mounted into two studs because I can see that loading up quite a bit. The box is the perfect place for our keys (there's a divided area on one side to keep smaller items contained), gloves and hats.
The difference is unbelievable. Clearing out the cluttered bookcase shelves-turned-clutter collector certainly helped, but the biggest difference came when we moved that coat tree out of the way. We gained a whole window back! The kitchen looks so much bigger and the whole feeling is just much more calm.
See for yourself what a difference a few changes made. And just imagine what a little paint on the walls will do to improve the situation even further.
Want to see where this mini kitchen makeover started? Click here and here.